Google Voice vs Skype: Complete Guide [2023]
We may earn small commission from the products mentioned in this post. visit here for more details.
Google Voice vs Skype: You are not alone if you have reduced down your calling software options to Google Voice or Skype.
Google Voice and Skype are two of the greatest calling tools on the market, so comparing the two is a genuine battle of titans.
In the IT market, both Microsoft (Skype) and Google have established themselves as industry-leading pioneers. Sure, there are other firms with well-known brands, such as Apple, but when it comes to VoIP (Voice Over Internet Protocol) solutions, these are the two most popular choices among consumers and businesses.
The question then becomes: should you use Skype or Google Voice?
Today, we will do our best to show you which of the two VoIP providers is the better choice for your calling needs. To assist break down this comparison and help you understand the difference between Skype and Google Voice, we will evaluate cost, dependability ratings, convenience of usage, and a few other aspects.
Google Voice vs Skype: Price
So, first and foremost, let us get this out of the way. No matter who you are contacting, Google Voice is free for personal use. You may call ANY number in the United States for free (Voice, Mobile, or Landline). If you are considering Google Voice as a business telephony option, you may add phone numbers for $1 or less per month per user (the more employees you have, the better the price per user).
There is a free Skype option for personal usage, but there is a catch. You are probably dialing a different Skype phone number.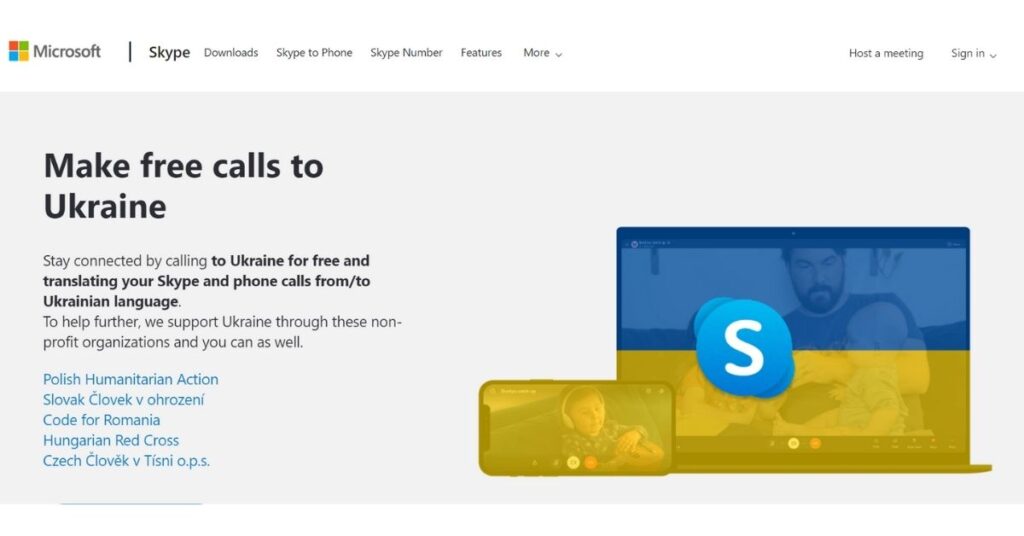 You will need to pay for credits or a monthly membership if you want to make phone calls to other phone lines (mobile or landline). Calls in the United States are $6.99 per month on a monthly subscription basis.
If you choose Skype for Business, you will pay $2 per month per user, which is more than twice the price of most Google Voice business installations (which typically cost less than $1 per month per user).
Google Voice is the winner.
Reliability Of Google Voice vs Skype
Google Voice is backed by a mega-brand (Google) with nearly limitless resources. It is no surprise, then, that they have one of the lowest downtime rates of any VoIP provider.
Skype's services are likewise backed by a major brand (Microsoft), although it is a little shakier.
Indeed, you have undoubtedly seen a "blue screen of death" (BSOD) from a Microsoft operating system at least once in your life, and Skype users have reported more lost and disconnected conversations.
If you want more than anecdotal proof, go to the third-party website Trustpilot, where Skype has a 1.0 out of 5 star rating. This is not ideal.
Google Voice is the clear winner.
Google Voice Personal vs Business: Difference, Better? [2022]
Google Voice vs Skype: Which Is Easier to Use?
There is not much of a difference between the systems in terms of how easy they are to use (both personally and from a business viewpoint, where less training time implies higher productivity from your team). Both VoIP calling applications are simple to operate.
Google Voice may be accessed via a web browser or a mobile phone (i.e. smartphone, tablet). This is ideal for startups and small businesses since it allows you to use current phones to provide your staff with a working company phone number.
Although Google Voice does not have a dedicated desktop interface, it integrates flawlessly with Google Chrome (plus it syncs with your Android devices). If you need to make a phone call from your computer, simply go to the Dashboard and select "Make a call."
You may use a desktop program, a mobile device, or an internet connection to view your Skype Dashboard. They do, however, provide you with an additional alternative. For us, this is not enough to switch from Voice, and if you are currently using G Suite, you will be astonished with how Google Voice can combine with your existing productivity tools to improve communications at your company.
Winner: Tie
FAQs
Is Google Voice going to be phased off by 2020?
Google also plans to deprecate Google Voice functionality in Hangouts early next year, which means you will not be able to make or receive calls with Google Voice in Hangouts. In addition, starting in November, Google will no longer allow you to dial phone numbers from Hangouts, and group video chats in Hangouts will utilize Meet.
Is Skype compatible with Google Voice?
To make a call, go to Google Voice in your browser (rather than Skype) and click the Call icon. Type the phone number or person you would want to call, choose Skype as the calling method, then click Connect. Skype should start ringing in a few seconds, indicating that you have a new call from your Google Voice number.
What does Google Voice's future hold?
Hangouts will soon lose functionality for Google Voice.
Google, on the other hand, plans to redirect Hangouts Voice users to the complete Voice app starting this month if they wish to text or call. Google claims Hangouts will stop supporting Google Voice in early 2021.
Why Do We Prefer Google Voice Over Skype?
In the conclusion, we suggest Google Voice as a free calling alternative for personal use and as a less cost, more dependable VoIP calling alternative for enterprises, based on these three considerations.
While Skype has shown to be a good rival and may have a greater brand recognition due to its long use, Google Voice is the superior choice for personal or business calling due to its low cost and reliability.
Screen sharing, message archiving, SMS, and other features are available from both Google and Microsoft. And if you like the Microsoft platform and are motivated by all things Microsoft (Office 365, Windows 10), Skype may be a better fit for you, but we have worked with a lot of folks who are extremely happy with G Suite after converting.
If you would like to learn more about how Google Voice might benefit you and your business (even if you already use the Microsoft platform), we would be happy to speak with you and provide you additional information. We like it a lot and utilize it at Suitebriar.