7 Top Games like Tiny Thief to Play Right Now! [2023]
We may earn small commission from the products mentioned in this post.
Games like Tiny Thief: Tiny Thief was an adventure video game, following a story of a tiny child-like thief, with the goal to rob all the items from his enemies. It was a point-and-click game unlocking foreign types of fun and adventures.
However, the developer of the game named Rovio Entertainment discontinued the development of the game and also removed it from all the Play Stores. This means – the game is not available, at least legally, anywhere on the internet.
The game was good, and one the best point-and-click adventure video games of that sort. So, what will you do now? Sit back and hope it gets back to business sometime in future? No need for that.
Why? Because, to all the fans of Tiny Thief who still like the game, and are now looking for some other games like Tiny Thief — you all are welcome to this article containing a list of the best 7 games like Tiny Thief to try right now!
List of Games like Tiny Thief:
1. Love You To Bits 
Love You to Bits is an underrated puzzle point-and-click adventure video game where you will be following the journey of Kosmos – a clumsy, newbie space explorer who is in search of his robot girlfriend, Nova. 
Love You to Bits starts with a fatal accident, which causes all Nova's body pieces to scatter in outer space. Therefore, you have to help Kosmos find all the pieces by hunting down multiple different quests and tasks.
Key Highlights
Hidden Objects: Love You to Bits is not about just one puzzle or quest, but you will also be facing many hidden object situations where you have to retrieve important hints which will lead you to Nova.
Explore new places: Love You to Bits is mainly about exploring a variety of planets and places in outer space, meeting new aliens, and solving hard yet interesting puzzles.
Help Kosmo and Nova unite: Love You to Bits revolves around the touching past, and heartbreaking present of Kosmo and Nova, and you have to help both of them unite happily in the end.
2. Year Walk 
Year Walk is another good adventure video game, originally only developed for cell phones. It is somewhat based on an ancient Swedish custom named Årsgång.
Year Walk talks about how in old age men used to try many ways to get a sneak peek of the future, and with this game, you will be following the old-age men through a variety of adventures.
Key Highlights
Explore myths and creatures: Year Walk contains an integrated encyclopedia that will tell you many things about mysterious creatures and myths shown in the game.
Hints: Year Walk will take you on a ride of multiple different adventures, and just in case you get lost, then the hints feature will do the best work in guiding you to success.
Updated art and map: Year Walk's new edition has been updated through its art and even new locations on the map are added.
3. Device 6 
Unlike other games mentioned in this article, Device 6 doesn't follow the usual quest and task adventure game criteria, but it is an interesting text-based adventure video game exclusively on iOS systems.
Device 6 uses images, text, and songs to guide you across a bunch of puzzles, and you will be helping the protagonist of the game, Anna, to solve these puzzles and escape the unknown island she is trapped on.
Key Highlights
Text-based: Device 6 is an entirely text-based game where you will rarely see any videos and proper game graphics, except for the text and pictures to help you understand the situation better.
Not just any mystery game: Device 6 revolves around various conventions of games and literature. It is a blend of novella and puzzle – enough to attract players into the mystery of neuroscience and technology.
4. Agent A 
Agent A: A Puzzle in Disguise is a good adventure game where your mission is to disclose your enemy, a.k.a. Ruby La Rouge's secret hideout to stop all her evil activities and plans.
Agent A consists of five interesting chapters, and can also act as a good Escape rooms video game. Here, you have to use your sharp detective skills and also solve a variety of puzzles like hidden objects and other logic-based puzzles.
Key Highlights
Hundreds of puzzles and screens: Agent A consists of about 100 inventory-based puzzles and about 50 puzzle screens.
Explore tens of places: Agent A comes away with 35 different environments and places to explore and Escape.
Achievements: Agent A offers 30 achievements to collect, if you wish to get the trophy of a professional Hunter.
5. Lumino City 
Lumino City is an award-winning puzzle-adventure game, a rather slice-of-life and indie video game where you go exploring the city and on numerous adventures to help those who need you.
With Lumino City, you can have your time exploring beautiful graphics in the game like gardens in the sky, giant waterwheels, beautiful houses built on cliffs, and more.
Key Highlights
Find Grandad's secrets: Lumino City offers to go on adventures, but since our main character is immensely connected with her grandad, and there are certain things she doesn't know about, then you can help her find all grandad secrets.
Handmade graphics: Lumino City has this interesting type of graphics, handmade graphics where you will clearly see how the world at Lumino City is made of paper or some similar materials and standing like an object in a project.
Unique gameplay: The gameplay of Lumino City doesn't have the usual puzzle quiz and hidden object included, but contains a totally unique gameplay where you will be completing all different types of tasks.
6. Detective Grimoire 
Detective Grimoire: Secret of the Swamp has Detective Grimoire as the protagonist of the game – currently called at a place to investigate the recent murder involving the owner of a small tourist attraction found dead within the deep embrace of marshes – with mythical creatures of the very tourist attraction as suspects.
Through Detective Grimoire, you will be exploring the surrounding locality, searching for clues, inspecting the scene of the crime, and many other locations, grilling the suspect, solving a good number of puzzles, and finally – uncovering the identity of the murderer.
Key Highlights
Characters and scenes: Detective Grimoire has a fully voiced and animated cast of characters with fully detailed scenes and destinations to search.
Beautiful graphics: Detective Grimoire comes with breathtaking digitally painted graphics involving beautiful environments and scene locations to explore.
Follow Detective Grimoire's thoughts: apart from following the gameplay of the game, you also have to manage and assemble all of Detective Grimoire's thoughts to reach conclusions.
7. The Sailor's Dream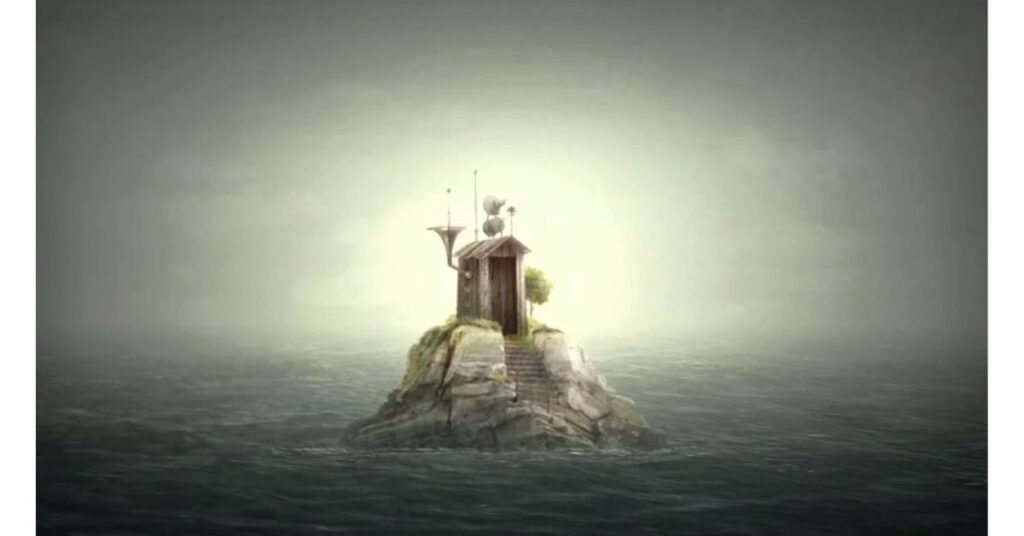 The Sailor's Dream is yet another unique mystery-adventure game in this list, where the only objective you have is to satisfy your curiosity and have a peaceful and relaxing narrative experience throughout the game.
With The Sailor's Dream, you will be experiencing living in an ocean dream world, which includes time passing, even when you are not actually present there. Also, you will be visiting a variety of forgotten islands and picking pieces to make full memories.
Key Highlights
Detailed and Breathtaking graphics: The Sailor's Dream video game comes with detailed and breathtaking graphics – giving off a somewhat vintage and mysterious vibe.
No gameplay: since the main motive of the game is to help you satisfy your curiosity without any objectives – there is no specific gameplay you need to follow, and you are free to do whatever you want in the game.
A new storytelling experience: according to several 5-star reviewers of the game – the game is more like a movie, and overall it offers a beautiful storytelling experience.
Final Words
Tiny Thief showcases beautiful graphics and unique gameplay – along with a good plot to follow. However, instead of waiting and hoping for it to come back to business, you can try literally every game mentioned in the list of games mentioned above!
All the games carry different gameplay and style of graphics – and if you were a true fan of Tiny Thief, then trying an assortment of similar games can also do the work.
With this, we have successfully presented the list of the best games like Tiny Thief and hope you now have enough games like Tiny Thief to play.
Frequently Asked Questions
Are there any good games like Tiny Thief for iPhone?
If you are searching for some good games like Tiny Thief for iPhone or for any other iOS system, then you can try the unique Device 6 mystery and adventure game, totally text-based, where you will be solving the mystery through only text and images.
What games are like Tiny Thief?
Detective Grimoire, Lumino City, Love You To Bits, Year Walk, Agent A, and The Sailor's Dream are some of the good games like Tiny Thief.