9 Best Games like Gauntlet to Play Right Now [2023]
We may earn small commission from the products mentioned in this post.
Games like Gauntlet: Gauntlet is a hack-and-slash dungeon crawler video game – a popular part of the Gauntlet game series. It is a known action-adventure game where you get to choose any one of the four distinct heroes with each having special abilities.
Moreover, Gauntlet is a popular co-op multiplayer video game – filled with immense action and intense graphics and mechanics, indeed a must-try if you like action-adventure RPGs.
However, if you have already played this game and are currently searching for more games like Gauntlet – then we are glad to inform you that the article mentioned below offers a well-curated list of the best games like Gauntlet currently on the internet!
List of Games like Gauntlet:
1. Diablo III 
Diablo III was one of the top-rated games, similar to Gauntlet – a hack-and-slash action RPG video game. It is set in a world that is destroyed by a never-ending conflict, or rather a cold war between Demons and Angels.
Diablo III stands as the third installation in the whole Diablo series. It is a dark fantasy world of Diablo and takes place 20 years after the events mentioned in Diablo II.
Key Highlights
Meet different characters: Diablo III will introduce you to a variety of heroes and along with that, you will also meet followers, NPCs, and artisans.
PvP mode: Diablo III is fun when you play in the single-player mode, but if you wish to have an extreme level of fun – then the game also offers the PVP mode where you can play with other players.
Monsters: Diablo III follows the accurate path of Diablo II when it comes to the variety of monsters – accordingly categorized into animals, undead, Demons, and more creatures.
2. Victor Vran 
Victor Vran is another dark fantasy video game, an isometric action RPG with a huge collection of items, outfits, demons, powers, destiny, cards, and weapons.
At Victor Vran, your skills are equally crucial as your character, gear and build, and you will be experiencing some intense combat action where you have to jump, dodge, and unleash strong powers to win over all your enemies.
Key Highlights
Customize difficulty: Victor Vran allows you to customize the difficulty of your gameplay and levels with the help of cursed hex items.
Randomly generated items: Victor Vran lets you randomly generate items along with the already handcrafted ones, and you can also enhance each item with the help of transmutation.
Multiplayer mode: Victor Vran has the multiplayer mode, which either allows you to invite your gamer friends to defeat a strong boss, or play with other players from across the world.
3. Van Helsing
The Incredible Adventures of Van Helsing, or just Van Helsing, is a popular action and adventure video game – inspired by the original Van Helsing horror film — here to give you a taste of all the adventures of Van Helsing.
Van Helsing will have you as the MC, and you have to put on the usual wide-brimmed hat and grab all your weapons before taking on the incredibly adventurous journey of Van Helsing. You have to save the world where science is terrorizing the peace between mortals and monsters.
Key Highlights
Spiced-up story: Van Helsing originally followed the main plot but the story still got a bit of advancement and was filled with humor and snappy dialogues.
Alter skills: you have the capability of using some special skills to alter the original skills of your followers.
Customize your character: Van Helsing lets you customize your character with a detailed level-up system, and you get to decide which abilities you need to hunt.
4. Children of Morta 
Children of Morta is a popular action RPG video game with roguelike elements. It follows a plot involving the Bergson family, the well-known custodians of Mount Morta, who have to try their best to save the mountain from corruption.
In simple words, Children of Morta is about a powerful family of heroes with their virtues and flaws against the upcoming corruption.
Moreover, Children of Morta follows a unique storyline, taking place in a faraway land – managing well with the emotions common to us. It's mainly about what sacrifices the players are ready to make to end the encroaching darkness.
Key Highlights
Procedurally generated dungeons: Children of Morta has all the dungeons procedurally generated where you will be meeting with the new layout each time with a new adventure.
Multiple types of attacks: Children of Morta will help you experience attacking in many different forms, and conquering distinct skills like magic spells, stuns, healing, passive skills, ranged attacks, blocks, and more.
5. The Ascent 
The Ascent is again, a popular cyberpunk-themed action RPG video game – a solo and co-op action shooter taking place in a cyberpunk world. Here, The Ascent Group, which was on the top, has recently collapsed and now it is a challenge – whether you will be able to survive without it.
With The Ascent, you will be experiencing many interesting things like joining The Ascent Group arcology, meeting different types of creatures from the galaxy, starting as a slave and then leveling up powerfully, and more.
Key Highlights
A Cyberpunk World: The Ascent will let you explore the brimming cyberpunk world with its big range of districts, where you will meet new allies and enemies.
Mature content: The Ascent is only for tough players since it comes with immense scenes openly supporting gore, bad language, and violence.
Customize your character: The Ascent will let you customize your character with cyberwars that suit your favorite playstyle.
6. Tomb Raider 
Tomb Raider, also called Lara Croft: Tomb Raider, is an action-adventure video game series presented in the third person perspective, and you will be taking the role of the lead character – Lara Croft.
Tomb Raider further explores the gritty and intense origin story of the well-known Lara Croft, along with her ascent, starting as a young woman to becoming a hardened survivor in this cruel world.
Key Highlights
Beautiful plot: Tomb Raider follows the tough story of Lara – only armed with the skill to push beyond the limits of a mere human.
6 different player outfits: is, you have decided to buy the 'Game of the Year' edition of Tomb Raider, then you will also get 6 single-player outfits for Lara, which you can use whenever you want.
4 characters: Tomb Raider is specifically about Lara Croft, but it contains about 4 total important characters.
7. Fable III 
Fable III is another good action RPG open-world video game, standing third in the full Fable game series. It takes place after 50 years of the events of Fable II, with currently Logan as the head.
Fable III further follows the player's character as a hero, who is currently forced to participate in a quest to become a revolutionary leader to fight against Logan – the villain of the game and also the hero's older brother.
Key Highlights
Unique gameplay: Fable III doesn't involve usual gameplay where you will be walking, jumping, climbing, etc, but it will include the complete process of meeting new people and deciding on strategies and plans to defeat the tyrant King.
Socially leveling-up: one of the top features making Fable III a success is that the usual combat skills are no more the main focus to level up, but the character also needs to depend on his social combat skills.
8. Minecraft Dungeons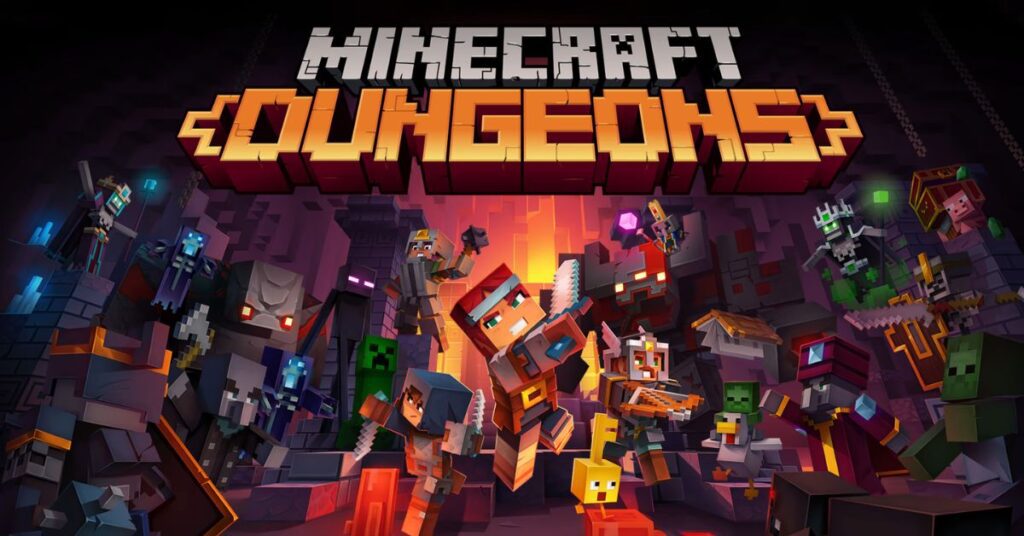 Minecraft Dungeons is a popular dungeon crawler game – a spin-off of the popular sandbox video game, Minecraft. In this game, you have to fight in an exciting action adventure and you are allowed to go solo or with your team of gamers.
Additionally, Minecraft Dungeons allows up to 4 players to play in the multiplayer mode. Also, the main objective of the game is to save the villagers and beat the villain, named Arch-Illager.
Key Highlights
100s of power-ups: Minecraft Dungeons has more than 250 unique gears, enchantments, and artifacts as power-ups to help you perform better in surviving the powerful attacks of enemies.
Personalization options: Minecraft Dungeons has multiple personalization options where you can customize your character to fight close-up or hang back with ranged attacks.
9. Baldur's Gate: Dark Alliance 
Baldur's Gate: Dark Alliance is an underrated real-time action RPG video game – a hack-and-slash game presented in the form of a 3D perspective with rotatable isometrics.
Baldur's Gate: Dark Alliance will push you to experience an epic Dungeons & Dragons adventure which is filled with intricate puzzles, sinister monsters, and intense action — where you only have your mastery of cold steel and spells to fight.
Key Highlights
3 characters: Baldur's Gate: Dark Alliance offers you 3 different customizable, main characters, and each of them has distinctive powers, abilities, and appearances that will steadily develop through the game.
Realistic experience: Baldur's Gate: Dark Alliance offers an overall realistic experience, inclusive of explosive spell effects, detailed environments, creatures, etc.
Final Words
The above-mentioned list of the best games like Gauntlet contains a good collection of RPGs – each offering a different gameplay, story, and highlights to keep you entertained till the end.
In addition to all that, each game has an intense graphics style with details to give you an even better experience.
In conclusion, if you like the overall concept of Gauntlet and are wishing to find some rare gems like it – then the above-mentioned list contains just the right amount of games you must try right now.
Frequently Asked Questions
Are there any games like Gauntlet?
Fable III, The Ascent, Lara Croft or Tomb Raider, Minecraft Dungeons, Van Helsing, Baldur's Gate: Dark Alliance, and Diablo 3 are some of the promising games like Gauntlet to try if you are currently into action-adventure RPGs.
Are there any more games like Gauntlet on Steam?
Fable III, Lara Croft or Tomb Raider, Baldur's Gate: Dark Alliance, Van Helsing, The Ascent, Lara Croft: Tomb Raider, and Minecraft Dungeons or a few more games like continent on steam – all currently available at the Steam store for a moderate price.