9 Top Games like Disgaea to Play Right Now! [2023]
We may earn small commission from the products mentioned in this post.
Games like Disgaea: Disgaea is a well-known game series of tactical RPG video games debuted in 2003. These games are set in a fictional universe named Netherworld and are well-known for their unusual RPG elements like complicated gameplay.
With Disgaea, you can have fun playing with multiple characters, weapons, classes, and a meaningful storyline. Additionally, the best part about this game is that it doesn't only have a couple of games in the series – but literally has over 10 games already released.
Yet, if you have tried this series and are surprisingly already done playing all the parts of it – then you have landed on the perfect article because we are going to tell you which games like Disgaea you should try next – all curated in a systematic list mentioned below.
List of Games like Disgaea:
1. Final Fantasy Tactics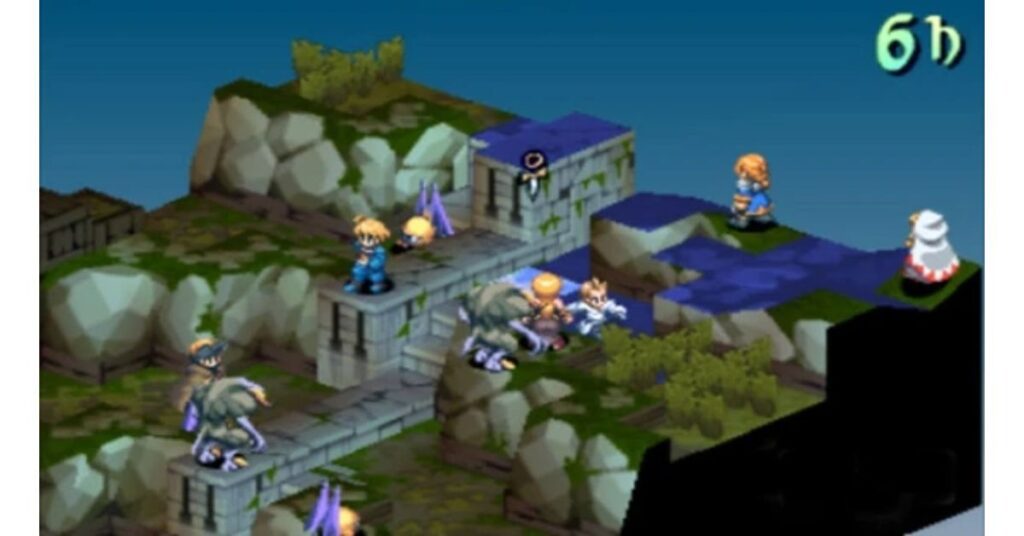 Final Fantasy Tactics is a tactical RPG video game for PlayStation video game consoles. It takes place in a faraway unified Kingdom including seven regions – all currently in the middle of a war of lions.
Final Fantasy Tactics mainly features battles on a map that is divided into a grid. As for the gameplay – every unit on the grid shall be executed and as the main hero, your actions will only reach certain boundaries of a certain unit.
Key Highlights
Job system: Final Fantasy Tactics follows a proper job system and has many classic job classes like a white mage, black mage, dark knight, archer, chemist, dancer, ninja, engineer, astrologist, and tens more.
Recruit monsters: Final Fantasy Tactics has a special job named Orator, through which you get to recruit various monsters and creatures like chocobos.
2. Fell Seal: Arbiter's Mark
Fell Seal: Arbiter's Mark is a popular turn-based tactical RPG game – a story-driven video game taking place in a fantasy world, that includes vibes of steampunk.
As the MC and player – you will be taking control over Arbiter Kyrie, who is an agent from the immortal council and is currently on a job to preserve stability and order. Along with that, your other major objective is to lead troops through difficult encounters and hardships till the end.
Key Highlights
Deep class system: Arbiter's Mark has a deep class system that has more than 30 classes with 300 abilities, which also lets you customize every character through selections of passive, class, and sub-class.
100s of equipment: since the game is mainly focused on battles, and to win over enemies, Arbiter's Mark will help you equip your army with more than 250 different pieces of equipment.
3. Tactics Ogre: Let Us Cling Together
Tactics Ogre: Let Us Cling Together, or just Tactics Ogre is a tactical RPG video game from 1995. It is divided into 4 interesting chapters with an amazing storyline, and its gameplay is divided into two modes – battle and worldview.
Tactics Ogre follows a storyline depending on player choices in important key scenes, and every choice will lead to different routes — while they will all start from Chapter 1 and end on Chapter 4.
Key Highlights
Classes: Tactics Ogre is more fun due to its wide range of character classes – offering over 75 jobs, including archer, assassin, beast tamer, necromancer, octopus, priest, princes, Shaman, exorcist, ghost, and many more.
10 weapons: Tactics Ogre helps you choose your own fighting style because it offers you about 10 weapons, including swords, hammers, Spears, crossbows, guns, and more.
Crafting: Tactics Ogre has a good variety of crafting recipes divided into chapters 2 and 3 for items such as weapons, medicine, armor, blowguns, gems, etc.
4. Fire Emblem Fates 
Fire Emblem Fates is another well-known tactical RPG game for Nintendo 3DS consoles. It has two versions and each one presents a different story with a distinct ending.
Fire Emblem Fates include Garon as the MC. It further involves two different kingdoms that are going to be involved in a great war with each other. As the main character, you will be choosing one of these countries and fighting from its side to win over the other.
Key Highlights
Create an avatar: Fire Emblem Fates allows you to create your own avatar for the game and provides you with many customizable options, including gender, body, and size, and female avatars also come with special hair accessories.
Level-up skills: irrespective of the character you choose, each one of them has their own personal skill and they can also opt for a level-up skill with 5 slots.
Characters: Fire Emblem Fates features more than 60 playable characters, each showing off their personal and additional skills in specific routes.
7. La Pucelle: Tactics 
La Pucelle: Tactics is another good tactical role-playing video game for Nintendo, PlayStation, and Microsoft Windows platforms. It is packed with a lot of additional content that includes new recruits, scenarios, and DLC characters – along with new music, travel, and voices.
With La Pucelle: Tactics, you will be meeting two characters – Prier and her sibling Culotte, along with a Demon-hunting organization named La Pucelle. These two characters have recently passed their finals and are getting ready to do the fighting work with Demons and zombies.
Key Highlights
Elements: La Pucelle: Tactics lets you carry about 149 elements with you at once, and you can also use your skills and powers to strengthen these elements.
Purify lands and enemies: after defeating enemies, you can use your power to purify the land and those enemies before moving on to fight against others.
Endings and Gameplay: La Pucelle: Tactics is not your usual small RPG game – but a big video game with more than 100 hours of gameplay and multiple different endings.
8. Vandal Hearts 
Vandal Hearts is another promising tactical RPG video game, featuring a fair variety of characters who will join the battle party throughout the game. Additionally, this game offers a fantasy battlefield in which you have to use your sword and Magic to conquer multiple empires.
Vandal Hearts follows a meaningful plot. It starts thousands of years back with a good person and how his descendants took advantage of his legacy to rule over regions. Today, the same regions are under the influence of some dangerous creatures and as the MC, you have to fight and win over them.
Key Highlights
Characters: You will play the part of Ash Lambert, who's the hero and alongside you, Diego, Eleni, Clint, Huxley, Kira, and more will take multiple other jobs like knight, archer, and Monk.
Classes: Vandal Hearts concludes with 7 classes and every character mentioned in the game fit at least one of the seven classes like armor, swordsman, hawk, monk, mage, cleric, and archer.
9. Front Mission 3 
Front Mission 3 or Front Mission Third, is again a tactical RPG video game for PlayStation, which includes the destruction of all the enemies that come your way. In this game, you will be protecting a particular allied target and your only goal is to kill and protect.
As for the gameplay, Front Mission 3 has mechanics from its prior two games in the Front Mission game series. However, its main focus is on RPG elements and includes tasks and events like completing missions, setting up wanzers in the middle of inter-missions, and more.
Key Highlights
Over 15 wanzers: since wanzers play a big role in the game – Front Mission 3 offers over 15 ventures, including Hoshun, Zeros, Lylas, Pare, Kasel, Genie, Prov, Foura, Shunyo, Kyojun, and many more.
Over 20 characters: Front Mission 3 has over 20 characters in total, including Yuji Kuroi, Masao Sasaki, Alisa Takemura, and tens of more, each with personal and advanced skills.
10. Vestaria Saga 
Vestaria Saga is an underrated yet interesting strategy role-playing video game. In this game, positioning, weaponry, and movement are vital to winning, and you have to move your units across a classic map to fight with monsters, imperial soldiers, and anyone who becomes an obstacle in your way.
Vestaria Saga further follows a Prince from the royal family, who's currently fighting to protect the last of his family, fully defined to secure a future for it. However – the future is more complicated than he expects.
Key Highlights
Choice-based stories: Vestaria Saga choice-based stories will change the coding to your choice, and every story path comes with a different ending – a couple of which will not even have you alive.
More classes, skills, and weapons: Vestaria Saga offers you over 20 distant characters which can be handled along with a good variety in weapons, skills, and classes.
Final Words
Disgaea is indeed a fascinating and interesting game filled with many characters, classes, elements, and interesting things – with good work on graphics and animation of the overall game series.
Indeed, one would take a good set of months to complete all the parts in the series – but, if you're already done with them, then as already mentioned above – the list of games like Disgaea mentioned in this article contains all the unique yet similar games you'd be interested to try next.
Frequently Asked Questions
Are there more games like Disgaea for PC?
If you have completed all the games from the Disgaea game series and are looking for more similar games like Disgaea for PC, then you should try La Pucelle: Tactics next.
Which are good games like Disgaea 5?
Vestaria Saga, La Pucelle: Tactics, Tactics Ogre, Fire Emblem Fates, Final Fantasy Tactics, Vandal Hearts, and Front Mission 3 or some of the good and similar series like Disgaea.