9 Top Games like Fear & Hunger to Play Right Now! [2023]
We may earn small commission from the products mentioned in this post.
Games like Fear & Hunger: Fear & Hunger is a horror and survival game – a dungeon crawler set in a dark and hopeless dungeon. It concludes with multiple misfortune adventures and many roguelike elements — along with a heavy foundation of JRPG.
Alongside, Fear & Hunger is a popular immersive simulator video game that includes multiple characters and a variety of gods. It is also known for its unsettling yet extraordinary art style and concludes with fair battle mechanics.
Fear & Hunger is worth a shot if you are into the horror or action-adventure genre. On the contrary, if you have already tried it and loved certain highlights – then we are glad to inform you that the article below contains the list of the 9 best games like Fear & Hunger to try out right now!
List of Games like Fear & Hunger:
1. Exanima 
Exanima includes a story taking place 20 years before the scenes of Sui Generis. It's a scope-limited video game with an intermediate goal, where you have to explore, participate in fights, unfold secrets – and survive in the unusual and unforgiving 3D isometric RPG video game.
Exanima sounds like an ideal game if you are currently into the originally dark and low fantasy universe. It promotes exceptional attention to the unique art style with detailed and realistic simulation – with a specific aim to provide a deep dynamic gameplay experience.
Key Highlights
You are allowed to access new abilities and permanently save a variety of characters if you complete early content.
It offers a good assortment of range to combat along with new close-quarter maneuvers.
You get to experience complex NPC dialogues and interactions.
Has a large nonlinear main game that follows early content.
You will be always experiencing new encounters, environments, and items.
It offers multiple moddable thaumaturgic powers and abilities.
2. Silent Hill 2 
Silent Hill 2 is an old psychological survival horror video game following a realistic yet unsettling art style. It's best if you love details in art style and follow the deep and meaningful story of James – who has recently received a letter from his deceased wife.
Furthermore, Silent Hill 2 follows a sad and horrifying story where James heads back to the place where they shared multiple memories – in hopes to see her at least once more. Strangely, by the lake, he sees a woman, eerily smiling at him – looking just like her deceased wife, with the name, Maria.
Key Highlights
It will give you a realistic horror story experience while you will actually play the main character.
Since the game is psychological horror – you will be partaking in a masterclass psychological survival horror based on a well-known series.
The game has a purely realistic art style with chilling visuals and soundtracks.
3. Resident Evil Village
Resident Evil Gaiden is another one on the list, whose art style should be noted as its highlight. It's an action-adventure, survival video game with realistic visuals and soundtracks perfect to give you an idea of the actual scene playing.
Resident Evil Village stands in the 8th position in the Resident Evil video game series. It's set a couple of years after the events taking place in the 7th Resident Evil video game.
However, it follows an all-new storyline with Ethan Winters along with his wife, Mia, whose peaceful life in a new location has been immensely disturbed by their past-related nightmares.
Key Highlights
It follows a meaningful storyline that will take you deep within the plot as you move forward through the levels.
It's a first-person action video game where you will be taking the role of Ethan Winters to experience a close-up battle.
The former hero, Chris Redfield, will take a new appearance in this chapter with some shady motives.
4. Mortal Shell
Mortal Shell is an action RPG video – a deep title, that's here to test your sanity and strength in a damaged universe. It's prone to give you the actual taste of a survival game where there is no such thing as mercy, while survival is yelling awareness, instincts, and precision.
Mortal Shell takes place in a world where there is no human and only lost and defeated warriors. It concludes with a realistic art style with multiple monster battle experiences and extraordinary fighting mechanics.
Key Highlights
Players will be experiencing taking over mortal shells – their dead bodies and using them to their own advantage, for exploration and battle.
You will get to make use of different types of abilities and skills like emitting fire, ice, etc.
The game uses a strategic and deliberate combat style.
5. Shin Megami Tensei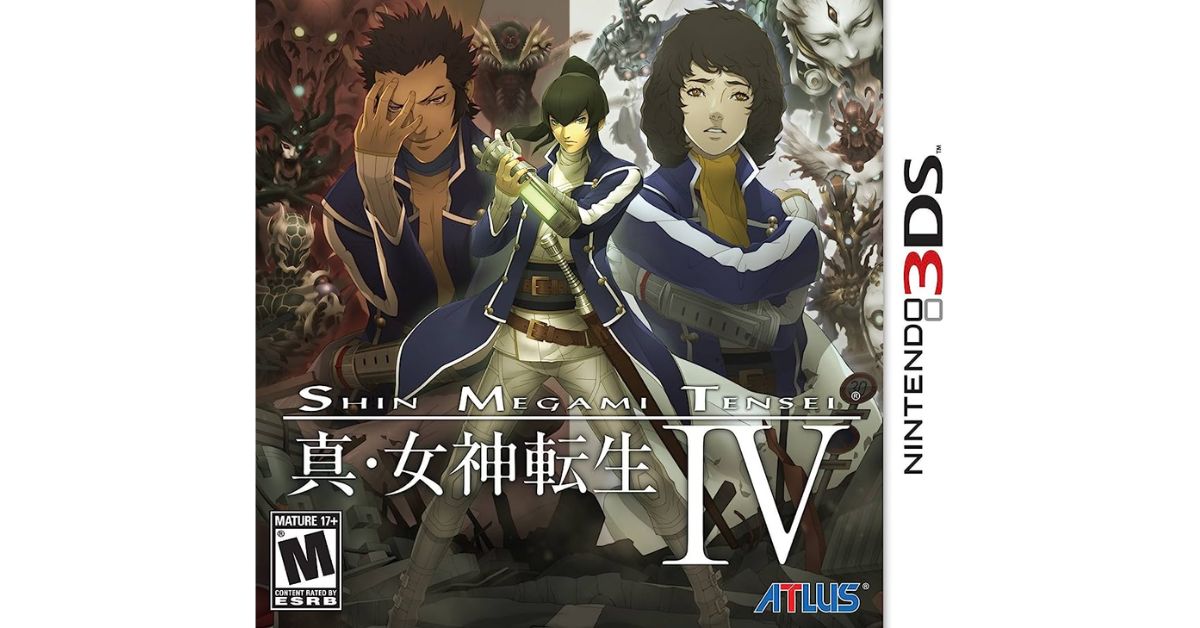 Shin Megami Tensei is a popular Japanese turn-based JRPG video game series – including top-down exploration in Tokyo. It's a first-person exploration where you will be digging in a good variety of dungeons.
Moreover, the game includes smooth mechanics with options after encountering a random creature. You can either fight with him, talk to him, check out his enemy status, or try to escape.
In case you choose to fight — then you have multiple different ways to attack – you can indulge in physical attack or use items, invoke a spell, or even guard yourself to decrease damage.
Key Highlights
You can create your party for an easy victory for harder levels, and a party can include 1 to 6 players.
You can conjure demons and magnetite them, but it requires a hefty sum.
There are a group of playable characters in the game – all nameless, and you get to name each one.
There are 5 playable characters – the protagonist, his loyal dog – Pascal, the heroine, the chaos hero, and a law hero.
6. Post Void 
Post Void is one of the most popular video games on this list – a hypnotic scramble first-person shooter. It's designed to value speed above every other ability and thing.
As already mentioned – you have to focus on speeding up and reaching the end – even if it means you have to kill each and every being coming your way.
Looking at all the other games like Fear & Hunger in this article, – Post Void has the most unsettling, and truly unique art style and graphics — which might actually become an eyesore for some.
Key Highlights
It has a rather extremely pixelated graphic style, filled with vibrant colors, including bright pink, green, and orange mostly – something which some of us might find appealing.
The only goal of the game is to reach the end of the maze – killing everyone you lay your eyes on.
7. Hollow Knight 
Hollow Knight is probably at No.1 for being the most famous game in this article — inviting you to play a game, full of unique art style and graphics, a meaningful storyline, extraordinary gameplay, and filled with adventurous action.
In Hollow Knight, you will be fighting against a good set of insects and heroes, and you have to generate your own road to the end. Throughout the game, you will get to explore multiple battles, tainted creatures, and twisting caverns — all while befriending some bizarre bugs.
Key Highlights
It uses classic hand-drawn 2D style art.
The game includes more than 130 enemies along with 30 strong bosses.
You will be facing multiple strong bosses and enemies — while befriending many throughout the journey.
You can equip charms – and offer yourself new abilities and powers.
8. Death's Door 
Death's Door is another widespread action-adventure video game, and it invites you to play a dark mystery to unravel secrets. In this game, you have a job to track and fight colossal bosses with several stories and motivations to keep you readied.
Death's Door works along with a meaningful storyline, where – you will have your soul stolen and you have no other choice but to track down the desperate thief and solve mysteries.
Key Highlights
You will be playing in a beautiful bleak world, where you get to explore lands filled with twisted inhabitants and countless secrets yet to be unfolded.
You get to customize your avatar stats and learn more abilities, while you can also upgrade the ones you already own.
You will be experiencing using melee weapons, magic, and arrows to fight against an array of beasts and demigods.
9. La-Mulana 
La-Mulana is an archaeological ruin exploration action video game that brings you a class appeal of adventure. It's presented in this list because similar to fear in hunger — you will be unfolding multiple mysteries, taking on appealing adventures, and walking across a Retro-inspired gaming style.
In addition to that, while you will experience an overload of traps lying across the roads – you will also fight against multiple monsters who are protecting the ruins — the same place you are required to explore thoroughly.
Key Highlights
Your main goal is to go deep in the innermost depths of the ruins – while solving a good set of mysteries, fighting against monsters, and disarming lures.
It comes with a rather adorable and interesting art style – where you'll get to witness multiple ancient monuments and art.
Final Words
Apart from Resident Evil Village and Exanima – we came across multiple amazing games on the internet. However, these were the only top 9 games that are most similar to Fear & Hunger – and made their way to the above-mentioned list.
With this, we have successfully presented the list of the 9 best games like Fear & Hunger to try out right away if you are currently into survival, adventure, and horror games.
Frequently Asked Questions
Are there any other dark fantasy games like Fear & Hunger?
La-Mulana, Post Void, Resident Evil Village, Hollow Knight, Mortal Shell, Silent Hill 2, Shin Megami Tensei, and Exanima are other dark fantasy games like Fear & Hunger to try out right away.