6 Games like Catch Phrase You'll Love! [2022]
We may earn small commission from the products mentioned in this post.
Games like Catch Phrase: Have you always been interested in board and word games? Are you interested in playing cards and those games which make you think deeply? 
Do you love learning new words and terms whenever you play a new board game? If it is a yes from here then you have landed on the correct article.
Catchphrase is one among those games which are famous for making players think deeply while learning new words each time they play. With an easy gameplay the game is famous for pulling out the activeness of the player.
About Catch Phrase
Catchphrase is a popular word guessing party game. It is currently commercially available from Hasbro. The minimum age to play the game is 12 and you need at least 4 players to start. The only skill required while playing this game is Team Play.
Catchphrase sounds like a good game. But, if you have already played it and you wish to know other games like catchphrase then we are glad to inform you that your article mentioned below contains a list of the best games like catchphrase.
Taboo
Taboo is a word guessing and party board game first published by Parker Brothers in 1989. The publisher was Hasbro. The main objective of the game is to make 1 player among 2 do certain actions to help his or her partner guess the word written on the card.
The catch is that while you cannot use the same word, you are also not allowed to use the additional words mentioned on the card below the keyword. The game is similar to catchphrase, and is one of the best games like catchphrase.
To play the game, you will need five pieces of equipment. A good number of cards, each having a word written to guess along with 5 taboo words that are forbidden for the clue-giver. You need a tray to keep the cards in order.
You need a timer to keep a track of time. The guesser usually has around one minute to guess. You need a speaker or buzzer to use whenever the time is completed. Normal pencil and paper for keeping the score.
Highlights
It has simple rules and gameplay.
It can be played between 4 or more players. People can join into pairs or groups accordingly.
The game is done swiftly as there is a period for each team to end.
Price: $23.99 at Amazon, $19.89 at Target, and $21.99 at Hasbro.
Scattergories
Scattergories is a creative thinking and category-based party board game. The game was first published by the Parker brothers in 1988. The first publishing company from his game was Hasbro. It is one of the best games like catchphrase.
The game requires minimum 2 and maximum 6 players to play the game. The main objective of the game is to win score points by naming different objects within a certain category. The catch is, you will be given an initial letter along with a time limit to complete the task within.
The game is like a traditional inspiration from the game 'Categories'. The game is usually completed in sets of three rounds. People above the age of 12 can play this game and you only need good vocabulary, accounting and social skills to play. The set up time is 1 to 3 minutes.
Highlights
The game can be completed within less time as it is played in only 3 rounds. Each round can be 3 minutes and a bit above.
The game is available in different versions and also in a mobile version, in case you do not want to purchase the board game but play it for free on your cell phone.
The game can help you learn new words.
Price: $10.52/$14.92 at Walmart, $14.92 at Amazon, and $14.92 at GameStop.
Bananagrams
Bananagrams is a word game founded by Abraham Nathanson along with Rena Nathanson. The game was published publicly in 2006 first at the London toy fair. The game has similarities like the older version of scrabble variant take two.
The gameplay is simple. It involves the player to arrange his or her tiles into a sequence of greed of connected words. The catch is that he or she has to do it faster than the opponent. The one to complete the sequence first wins the game.
The equipment is only the tiles of words that come in a banana shaped package. The game is available online to play on cell phones and tablets. It has received 5 awards for creative activity, innovation, and popularity among customers.
The list of awards included – Game of the Year 2009 by TOTY Awards, Gold Award, Good Toy Guide (UK 2006), Best Toy Bronze Award, Right Start Magazine (UK 2006), Top Toy of the Year Award, Creative Child Magazine 2007 and NAPPA Honors Award.
Highlights
You need a minimum of 2 players or a maximum of 8 players to play the game. The players need to be in even numbers as the game requires you to form teams.
The set up time is only 1 to 2 minutes.
You need good spelling and Anagramming skills to play this game.
Price: $14.05 at Amazon, $15.99 at Target, and $14.99 at eBay.
Codenames
Codenames is a party card game designed by Vlaada Chvatil in 2015. Czech Games Edition took the initiative to publish it. Has received positive reviews from customers from across the world and won the Spiel des Jahres Award for the best board game of the year.
The gameplay involves two teams who have to compete with each other while the spymaster in the game will give one-word clues that can point to any word among the several words that are mentioned on the board.
Both the teams will start off together. Each team is required to guess their team's words on the board while making sure they are avoiding the words of the opponent team. The game will automatically come to an end if the assassin, the black card is found.
Because of its challenging and exciting vibe, it is one of the best card and word games like catchphrase.
Highlights
You need a minimum of 4 and a maximum of 8 or more players to play the game. It is recommended that you at least have 6 players. The number of players must be in even as you have to form equal teams or groups.
You need about 1 to 5 minutes to set up the game.
If you have concept identifying and language skills then you can ace this game.
The playing time can be between 15 to 13 minutes
Price: $18.99 at Boardlandia, $19.25 at eBay, $19.97 at Amazon, $15.97/$22.61 at Walmart, $15.99 at target, and $12.99 to $42.04 at Boardgamatlas.com.
Balderdash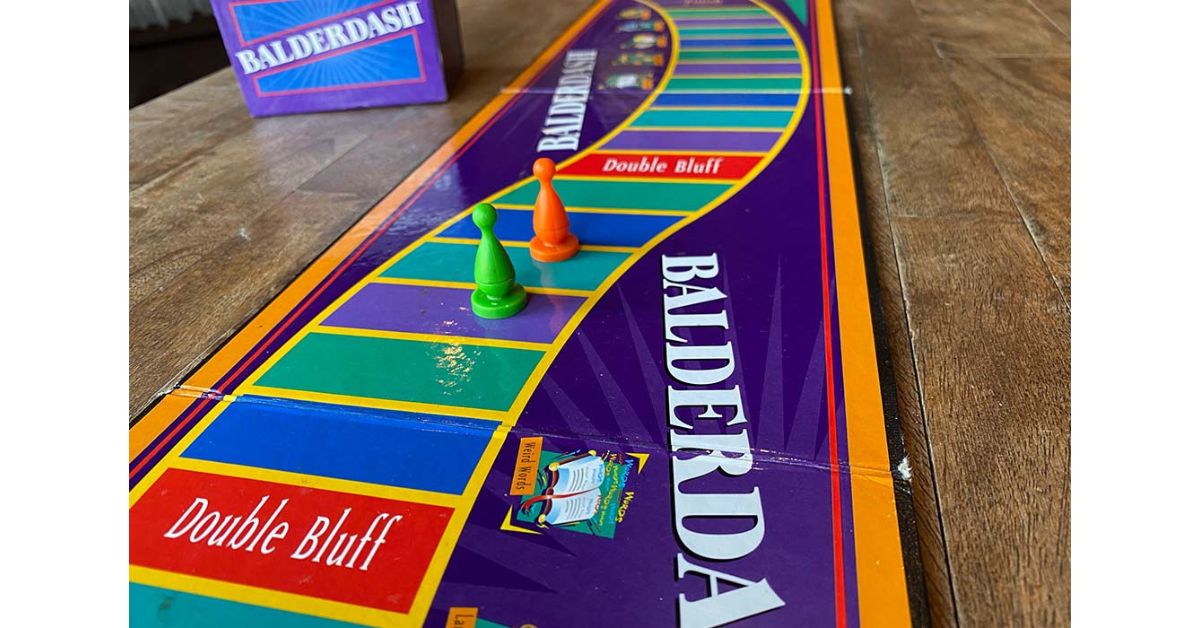 Balderdash is a variant or classic parlor board game. It is popularly known as Fictionary or 'The Dictionary Game'. It was invented by Laura Robinson along with Paul Toyne from Canada. The game was first released in 1984 under the name of Canada Games.
The game has sold more than 50 million copies across the world till this date. If you are a fan of word games like Scrabble then this game should be on the next stop. This is why it is one of the best games like catchphrase.
The gameplay is simple. The game involves high-level words in unusual words. All the players have to secretly submit definitions for different words hoping that other players in the game will believe the definition is real.
If you have an excellent vocabulary along with an ability to "Pile it high and deep" then the victory is yours. The game also had a television version.
Highlights
You need a minimum of 2 players and maximum 6 players to play this game. It is best if the number of players is in even numbers.
The playing time is one hour. The game can be completed early if one of the players has all the required abilities.
People above the age of 12 can play this game.
Price: $22.54 at Amazon, $14.59 at Walmart, $16.99/$24.99 at Mattel shop, and $51.56 at eBay.
Scrabble
Scrabble is a famous word game published in 1938. It is sold in approximately 121 countries and is available in over 30 languages. Approximately 150 million pieces are sold across the world till this date.
The game involves 2 to 4 players to score points by placing tiles. Every tile has a single alphabet and they are required to use it to form different letters on the game board. The game board is divided into a 15×15 grid of squares.
You have to form words with the help of tiles in different sequences like crossword fashion, left to right in Rows and columns. The words must make sense.
The game is available in web versions, computer games and video games too. You can find different scrabble apps on the App Store as well as the Google play store.
Word games and board games, both are the main genres of this game and it is one of the best catchphrase alternatives.
Highlights
You need a minimum of 2 and maximum of 4 players to play this game.
The setup time on the board game is 4 to 8 minutes.
The playing time depends on both the players and other factors. However, to the records of NASPA tournament games, One game requires around 50 minutes.
You need vocabulary, spelling, anagramming, strategy, bluffing, probability, and counting skills to win this game like an ace.
Price: $11.40 at Amazon and $14.96/$19.84 at Walmart.
9 Best Games like Tic Tac Toe You'll Love! [2022]s
Final Thoughts
Catchphrase is a good word game receiving millions of positive feedbacks from the customers across the world. However, if you wish to try new games, the list of games like the catchphrase mentioned above can help you just write.
The word games are interesting to those people who are willing to learn new words and terms every time they play games and work their brain into something creative. All the games have different gameplay. You can always switch to different word games for different kinds of fun.
We hope by reading our list of best games catchphrase article, you now have all the doubts cleared and answers to your questions. If you have not tried catchphrase yet, you can as well go for its alternative mentioned above.
Frequently asked Questions
Which are the best games similar to catchphrase?
There are plenty of cards, board, and word games in the market and also on the internet similar to catchphrases. However, our list of best games similar to catchphrase includes Scrabble, Scattergories, Balderdash, Codenames and Taboo. All these games have at least a bit of similar gameplay like catchphrase and are as much interesting.
Which are the best board games like catchphrase?
Taboo, Scattergories, Balderdash, Codenames and Scrabble are few of the best board games like catchphrase. All of them have different game plays, yet they have certain similarities.