13 Games like Bread and Fred for Couples! [2023]
We may earn small commission from the products mentioned in this post.
Games like Bread and Fred: Bread and Fred is a unique challenging co-op platformer video game. It includes two players who have to cooperate while jumping and climbing to the top of a mountain, filled with snow.
Indeed, the main gameplay of the game only includes jumping and climbing – but it's filled with multiple challenges as you level up. You will have to manage the proper timing for clinging to walls and jumping – along with swinging across all the gaps to prevent yourself from falling into the holes.
Bread and Fred is a good game, especially for couples who wish to spend some quality time playing cooperative games. However, along with Bread and Fred, the Internet has many more engaging games where you can experience distinct types of gameplay and have a blast with your partner.
So, are you interested in these games like Bread and Fred? If yes, then continue reading this article because it contains a list of the 13 top games like Bread and Fred for couples in 2023.
List of Games like Bread and Fred:
1. Core Keeper 
Core Keeper is a popular survival sandbox video game and is currently in early access. It features mechanics familiar to many other games from the sandbox genre, and the list includes exploration, farming, crafting, and mining in a procedurally generated secretive universe.
In Core Keeper, you'll get to discover an endless cavern filled with creatures, resources, and relics. As already mentioned above, you will be mining, building, fighting, crafting, and farming to dig deep into all the mysteries of the ancient core.
Key Highlights
You'll get to explore a vast underground cave filled with endless resources, including crystals, trinkets, fossils, etc.
You get to customize avatars along with crafting new items, equipment, and armor to dig deep into the caves.
Since it's a co-op online video game, you can play with 1 to 8 players.
2. KeyWe
KeyWe is a puzzle platformer — a knowingly cute corporative postal game with Jeff and Debra – two small Kiwi birds, as main characters. These adorable characters work in a whimsical post office, and you have to lend them some help with their jobs.
In KeyWe, you will be jumping, pecking, slapping, and butt-slamming your way through an interactive landscape. You will be meeting with the postal environment and helping the Kiwis complete their tasks in spite of dangerous weather conditions.
Key Highlights
You'll be working as a postal office worker and you have to partner with your friend to type telegrams, ship packages, and send urgent messages.
You can change the colors of your Kiwis and also customize them after unlocking new accessories.
3. It Takes Two 
It Takes Two is one of the most popular games like Bread and Fred in this list, an action-adventure platform where you will be going on one of the craziest journeys of your life.
It Takes Two is a gender-bending platform game and it is created with the sole purpose of co-op. With a friend's pass, you'll get to invite a friend to work together in a huge variety of disruptive gameplay challenges in the game.
It Takes Two comes with an interesting plot, where both of you are trapped in a fantastical world. Every corner of this world is filled with surprising things – and you have to survive the challenge of your already cracked relationship.
Key Highlights
You'll get to master connected and unique character skills and abilities in every new stage.
It has a disruptive gameplay where you'll be experiencing everything — metaphorical merging of narrative and gameplay which is here to push you to the edge with interactive storytelling.
4. Unravelled Two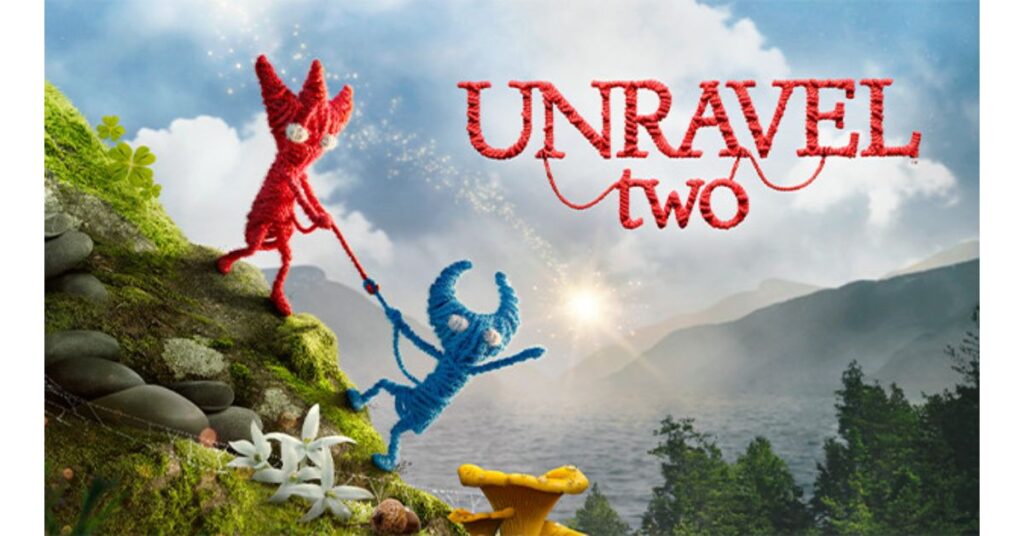 Unravelled Two comes in as another famous puzzle platform including a duo of small anthropomorphic creators made of yarn — named 'Yarnys', where you get to create a Yarny of your own choice.
Unravel Two has an interesting plot line where you have to cut ties from your history and develop new bonds with the ones currently around you. You have to focus on building relationships with other Yarnys in this local co-op game.
Key Highlights
Form bonds and together, solve tricky trials and traverse fascinating worlds together.
You can unlock different types of ways to play, including sliding, jumping, running faster, or swinging.
The surrounding in the game is inspired by real Scandinavian locations, and you'll get to discover beautiful landscapes along with complex urban environments.
5. Cuphead 
Cuphead is again, one of the leading and most popular games on this list – a game following Cuphead, a small anthropomorphic, who is in charge of dealing with the devil after losing a game at his casino.
Cuphead is a classical run-and-gun action video game majorly prioritizing boss battles. It is inspired by cartoons from the 1930s along with videos and audio also created with the same era in mind.
Key Highlights
It includes traditional hand-drawn, cel animation, original jazz recordings, and watercolor backgrounds.
You get to equip different types of new weapons, discover hidden mysteries, and learn powerful super moves, while you pay your depth.
6. Human Fall Flat 
Human: Fall Flat is said to be one of the most hilarious and nonchalant platformer video games in this article. It is set in floating dreamscapes, which can be played in solo mode as well as multiplayer mode.
Human: Fall Flat tells a story about the Copper world where you will be welcomed to an industrialized zone, with electric circuits, gigantic wheels, and massive coal engines.
Key Highlights
Human: Fall Flat has been recently updated, as of June 2023, with new levels.
The game comes with 23 extraordinary levels with over 45 million players playing across different formats.
The game has more than 5000 stages in the workshop.
7. Portal 2
Portal 2 is another leading puzzle video game — a first-person perspective, puzzle platformer, where you will be taking the role of Chell in the single-player campaign.
Portal 2 introduces you to an award-winning formula of creative gameplay, music, and story. In the two-player mode, you will be experiencing an entirely different story, two new players and test chambers.
Key Highlights
The game allows the production of a whole different range of unique challenges that have created much bigger, yet not the hardest levels.
This game will force you to reconsider everything you know about original portals, and you'll only find success if you know what only at but also think corporately.
8. A Way Out 
A Way Out is one of the intense action-adventure co-op video games with a solid plot — that follows characters breaking out of prison and continuing their journey further on.
In A Way Out, there are two main characters, and in the multiplayer mode – you and your partner will be playing different characters accordingly. The story starts with a thrilling scene breaking out, and it doesn't take time to turn into an emotional and unexpected adventure.
Key Highlights
You get to choose your own character, whether it is Leo, who is a stiff inmate, or Vincent, who certainly doesn't like to be underestimated.
You will need extreme teamwork to solve numerous puzzles and overcome all the obstacles.
You'll get to experience different types of gameplay, including running, driving, sneaking, fighting, and even going fishing once in a while.
9. Chariot 
Chariot is another action-adventure video game filled with physics-based gameplay. It's here to offer you hours of gameplay, where you will be covering many beautiful landscapes and mountains along the way.
With Chariot, you will be setting on a journey to give his majesty his last ride to the afterlife. You'll be guiding the king's Chariot across underground caves with mechanics such as pulling, riding, pushing, and swinging.
Key Highlights
You get to play across 25 great levels in 5 variant underground environments.
You either get to take the role of the brave princess of the kingdom or her trustworthy fiancé.
10. Stardew Valley
Stardew Valley is one of the most popular RPG video games on this list. Here, you will be taking the position of someone who has inherited their dead grandfather's ruined farm, located somewhere called Stardew Valley.
Stardew Valley is an open-minded country-life RPG where you will be taking responsibility for turning the old farm into a healthy and resourceful farm.
Key Highlights
It concludes with four-player farming, where you get to ask 1-3 players to join in farming online.
You get to improve your skills and abilities as you advance in 5 various areas, including fishing, foraging, farming, mining, and combat.
11. Overcooked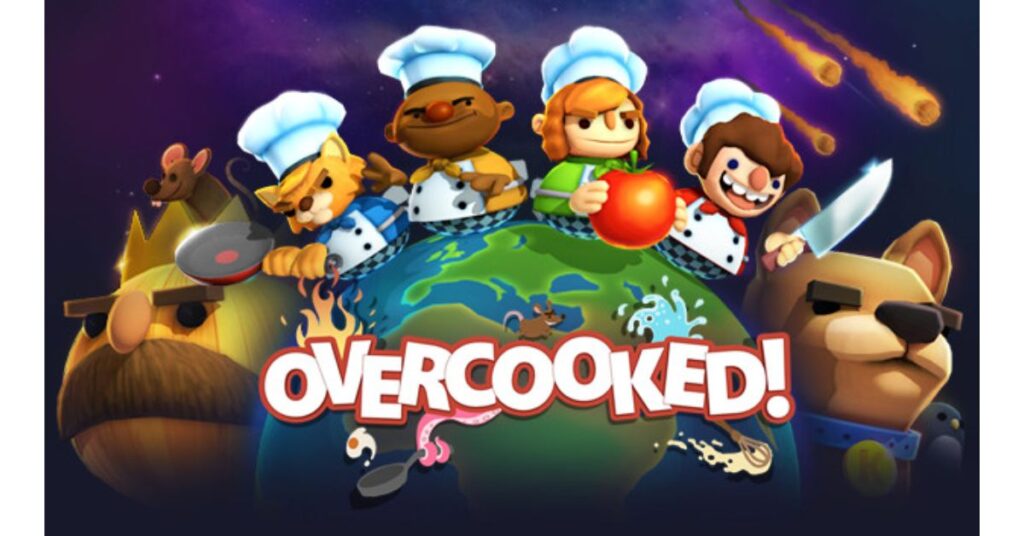 Overcooked is a chaotic couch video game series with a cooking theme for 1-4 players. In this game, you have to work with your team – with chefs and prepare, cook, and serve a mixture of tasty dishes before the customers storm out of impatience.
Overcooked will help you experience being the manager of all chefs. You will not only be managing the kitchen but also the restaurant with your managing skills.
Key Highlights
Overcooked includes an overworld map online, where you can learn and participate in cooking with varieties, including magic schools, sushi restaurants, alien planets, and even mines.
You get to try a range of new recipes, including cakes, burgers, pizzas, and sushi with different tastes and menus.
12. Borderlands
Borderlands is another interesting action RPG first-person shooter game set in science fiction mode. In this game, you will be taking the role of one of the 4 trigger-happy mercenaries — equipped with guns to deal with all the creatures from the deserted planet named Pandora.
Each character in the game series possesses unique and specific skills and abilities. The plot includes you wandering around the lawless desolate island in hopes to equip the enormous alien technology — The Vault.
Key Highlights
You will be equipped with zillions of guns, including SMGs, revolvers, shotguns, and many more.
The game uses a radical art style, including traditional techniques that are mixed with hand-drawn textures.
13. Moon Hunters 
Moon Hunters may be last on the list, but is one of the most intriguing action RPG video games. It's a co-op personality test in which you will be discovering an ancient world in just five days.
After you have created your legend – you will set on a journey to explore a mystical Mesopotamian-inspired universe, which will change every time you play.
Key Highlights
You will have only 5 days to investigate and kill all the monsters before King Mardokh and the Sun Cultists declare war.
If you bought Moon Hunters on Steam, then you'll get a free expansion, a new snowy tribe, eternal echoes, new constellation meta-game system, and a 7th character class.
Final Words
Apart from the games mentioned above, you can search for many more games like Bread and Fred to play with your partner, including both split screen and different screen games.
However, if you don't have the time to do so, then a ready-made list of the top games like Bread and Fred mentioned in the above article is exactly what you need right now.
Frequently Asked Questions
Are there any games like Bread and Fred for Android?
Human: Fall Flat, A Way Out, and Stardew Valley are some of the top, and our personal favorite games like Bread and Fred for Android.
Are there any good alternatives to Bread and Fred?
Moon Hunters, Human: Fall Flat, Borderlands, A Way Out, Overcooked, Stardew Valley, KeyWe, Unravelled Two, Core Keeper, Portal 2, It Takes Two, and Cuphead are some of the most interesting and good alternatives to Bread and Fred. 
Try Alternative Games-