6 Best FurAffinity Alternatives to Share Your Furry Art! [2023]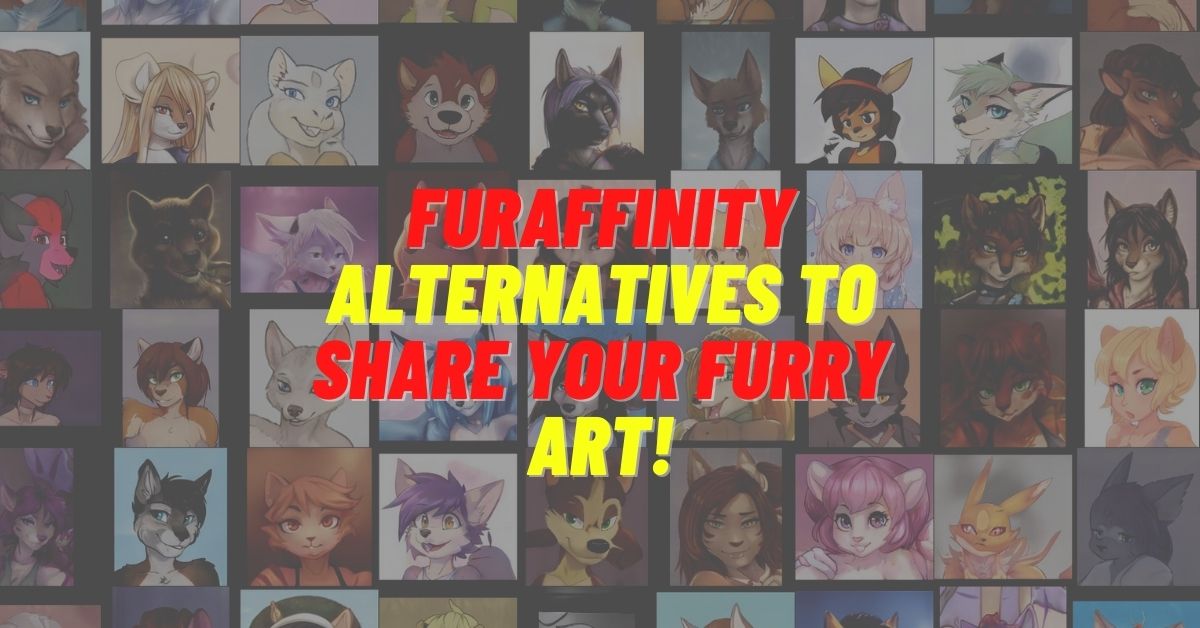 We may earn small commission from the products mentioned in this post.
FurAffinity Alternatives: A furry art site is any significant online collection of furry-related graphic art, writing, and/or audio files. Are you looking for a place where you can share your furry art?
Furaffinity is the largest furry social media site and is a terrific place to publish artwork and interact in the forums. It is also known by the name FA and focuses on promoting tales, music, and art.
They even provide a service where you can design your own internet adverts to draw in new people who haven't seen your artwork before!
You can highlight favorites, track new updates from specific artists, and upload a variety of artwork using Furaffinity's features (images, music and stories). The website makes an effort to foster community through its commenting system and user journals.
However, if you want to find other Furaffinity alternatives instead of Furaffinity which have more functionality and are easy to use, continue reading.
In this article, we are going to talk about the 6 Best Furaffinity alternatives which help you to easily share your furry art. By the end of the article, you'll learn all about the best sites like Furaffinity.
List of FurAffinity Alternatives
DeviantArt
The largest online social network, DeviantArt, allows you to showcase, advertise, and share your works with a dedicated, art-focused community.
Tens of thousands of original works of art, including everything from paintings and sculpture to digital art, pixel art, movies, anime, drawings, photos, and poetry, are available for upload every day.
It aids in your self-identification through self-expression. And you can develop into better, more successful artists with the help of its resources, exposure, and tools.
It attracts over 45 million unique visitors each month and has over 61 million registered users. Millions of pieces of art from hundreds of various genres are available for you to view.
Additionally, you can connect with and learn from over 55 million outstanding artists from a variety of backgrounds and mediums by following your favourite creators.
SoFurry
Based on Yiffstar, SoFurry is a furry website that emphasizes user communities while extending to non-adult content.
The website has a full user community structure that serves as a kind of collaborative filter. When you find and join interactive groups, you frequently discuss relevant subjects and concepts. These groups might even have web chat rooms and completely integrated forums.
The website features global forums and chatrooms in addition to the forums and conversations within groups. It provides an API in addition to a one-time-pad authentication solution for secure authentication over insecure networks.
Complete commission management and buying system, which enables you to sell and buy commission services as well as maintain your list of ongoing commissions, is another key feature.
Furry Network
One of the Furaffinity alternatives, Furry Network, is dedicated to promoting artistic and creative activities within the furry fandom. It is possible to "promote" and/or "like" submissions on the website.
The website aims to promote artistic creations, and works of fandom related to furry creatures. When you 'promote' a submission, the chosen submission is displayed publicly on your profile, whereas 'favoriting' adds the submission to a gallery that is exclusive to your account.
You may import watches, avatars, and submissions from your Furaffinity account into the website as well. Additionally, the website enables you to register many character profiles under a single account.
Weasyl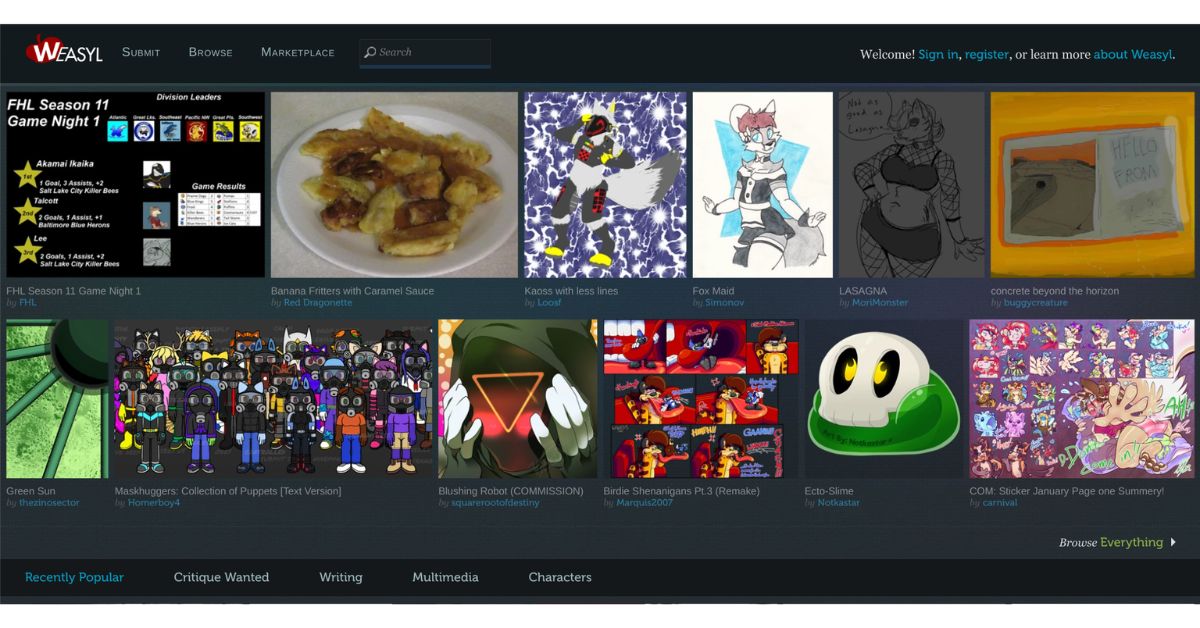 Weasyl was created as a website for an art gallery where you can share your work with other artists and enthusiasts.
A feature called collections enables you to include a link to the original submission in your own gallery if you want to display artwork made by another person on your own profile page. This feature's goal is to cut down on duplicate submissions.
Journal entries, character profiles, and media submissions are its main features. Additionally, the upload mechanism has been redesigned to handle larger photographs.
It has a commission market, and an updated thumbnail system to accept huge photos, and made its source code available as open-source software.
Character submissions, which are distinct from other submission kinds, can provide your reference sheets for the original characters. This is a character's physical description and biographical information, specifically.
InkBunny
Inkbunny was developed as an alternative to Furaffinity to assist you in sharing and commercializing your furry creations. It accepts furry from all philias, fetishes, and fields. The websites solely encourage you to have constructive and good dialogues.
You may find artwork, comics, stories, music, and animations. High-resolution digital downloads and prints could formerly be purchased and sold on the website for a price.
There are no costs to sign up, exhibit art, conduct commerce, or take donations on the site; donations and sales are now only sources of income.
Reddit
Reddit is a user-created community (sometimes referred to as a subreddit) on the news aggregation, content rating, and discussion website that is dedicated to the discussion of pertinent data and media pertaining to the furry fandom.
As a subreddit devoted to the furry fandom, you can exchange artwork, tales, movies, and photographs that are all relevant to the furry fandom and can be voted on. You can also start conversations regarding the fandom or contact other users with inquiries.
Final Words: FurAffinity Alternatives
Here, we come to the end of the article showing the best Furaffinity alternatives to share your furry art among others.
In conclusion, we hope the above article has helped you to find the best app like FurAffinity for satisfying your needs.
FAQs: FurAffinity Alternatives
What is considered furry art?
Furry art is a term used to describe artwork depicting anthropomorphic (humanoid or feral) animal, characters, fursonas, avatars or personas. Usually created with furry fandom as the main audience, some works are intended for a larger, more mainstream audience. A person who creates furry art is called a furry artist.
What is Furaffinity used for?
Fur Affinity, also known as FA, is the furry fandom's largest online community, focusing on the promotion of art, music, and stories.