Funimation Free vs Paid: Is It Worth it? [2023]
We may earn small commission from the products mentioned in this post.
Funimation Free vs Paid – There's been a lot of confusion about Funimation's free and paid service. In this article, we'll mention everything that you want to know about its free and paid services.
Basically, Funimation free service is a place where you can access anime series without paying anything, but you'll need to face those annoying ads.
Moreover, users can access dubbed versions of any shows on most of the devices including gaming consoles as well! All you need to keep in mind is that its ad-supported service will offer the same quality as its paid plans.
So, keep on reading to know more about Funimation Free vs Paid:
Funimation Free vs Paid: Overview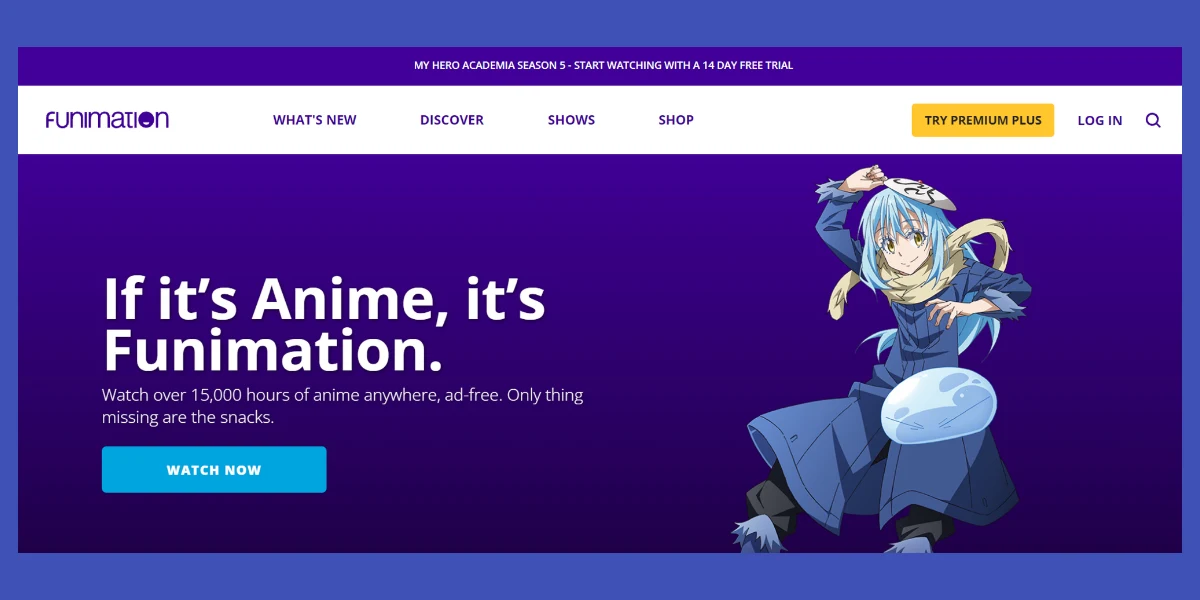 Funimation is an American entertainment company that mainly focuses on the dubbing and distribution of Japanese anime. It is one of the leading distributors of anime and other entertainment properties
It has licensed some popular anime series like One Piece, My Hero Academia, Fairy Tail, Fruits Basket, Cowboy Bepop, Code Geass, Yu Yu Hakusho, Attack on Titan, Tokyo Ghoul, Assassination Classroom, Dragon Ball, and more!
You can access its catalog of movies and series for streaming on its website and dedicated Funimation apps. By the time of writing this article, it streams over 800 titles from VIZ Media, NIS America, Aniplex of America, Nozomi Entertainment, and TMS Entertainment among other distributors.
And currently, they are streaming titles in the United Kingdom, Australia, Mexico, Chile, Brazil, Peru, the United States, Ireland, New Zealand, Canada, and in some parts of Africa, Europe, and Asia.
Compatible Devices: It is compatible with iOS, Android, Amazon Kindle, Android TV, Chromecast, Apple TV, Roku, Amazon Fire TV, Samsung Smart TV, LG Smart TV and gaming consoles like PlayStation 4, PlayStation 3, PlayStation Vita, Wii U, Xbox One, and Xbox 360.
Only for the paid subscribers, Funimation offers fast and friendly browsing features along with a tailored anime queue and a list of upcoming shows.
Funimation Free vs Paid: Comparison
Funimation Free
With Funimation free account, you can access anime entirely free. Although it let you watch some content without signing up, to access more content, create a watchlist, and bookmark episodes, you'll need to register for a Funimation free account with your email address.
Moreover, you can download the Funimation app on your device and sign in to your free account to access anime anywhere and anytime!
You can watch the first two episodes of some new anime series like Tamayomi: The Basketball Girls, and Skate-Leading Stars. But to watch the rest of the episodes, you'll have to pay for the paid plan.
However, there are some anime that you can actually watch with a free account. These include the first season of Attack on Titan, Black Clover, and both seasons of the sci-fi comedy – Assassination Classroom.
Funimation Paid
Funimation offers three types of paid subscriptions to choose from – Premium, Premium Plus, and Premium Plus Ultra. Check out below for more information on the Funimation Paid plans.
Funimation Premium
Costs $5.99 a month or $59.99 a year
Ad-Free access to complete Funimation catalog anywhere and anytime
Both Subs and Dubs
Two simultaneous streams
Funimation Premium Plus
Costs $7.99 a month or $79.99 a year
Includes everything that Funimation Premium has to offer
Five simultaneous streams
Download for offline viewing on supported mobile devices
Exclusive members-only events
Early access to special Funimation shop sales
Free shipping on Funimation Shop orders over $20
Members-only offers
Funimation Premium Plus Ultra
Costs $99.99 a year
Offers everything that Premium and Premium Plus includes
Additionally, you'll get two free rentals per year
Shipping is entirely free on all orders without any minimum purchase value
Annual anniversary gift
Funimation Premium vs Premium Plus [2022]
Funimation Free Trial
Every Funimation paid plan has a 14-day free trial. All you need to do is to sign up with your email and enter your credit card information. If you choose to continue to use its service after the free trial is over, Funimation will charge your card.
Is Funimation Free?
You can watch content on Funimation for free, but you'll have to face the annoying ads, and you won't get access to the complete catalog.
To sign up for the free account, you only have to enter your email address, and it doesn't ask for your credit card information.
Funimation Free vs Paid: Is Funimation Worth It?
With the paid plan, you can access a lot of content, get more offers, and mainly the number of screens you can watch on changes when compared to the free account.
Moreover, the Premium plan not only lets you access all of its content but also entirely removes advertisements. Whereas, you can access only limited shows and there are a lot of pre- and post-advertisements in every episode with the free account.
Not only that, but being a Premium user will let you access offline downloads and new episode releases, including both subbed and dubbed.
So, if you are an anime fan and want to binge watch your favorite series or any other series, there are over 15,000 hours of content when you subscribe to Funimation Premium or Funimation Premium Plus.
However, if you are still not able to choose if the Funimation subscription is worth it or not, you can simply try its 14-day free trial to help you decide.
Final Words: So, that is everything about Funimation Free vs Paid. Hopefully, it has helped you to know everything about Funimation and helped you to make a perfect choice.
10 Best Anime on Funimation That You Shouldn't Miss!
16 Best Isekai Anime on Funimation to Binge! [2022]
19 Best Romance Anime on Funimation to Binge!
FAQs
Can you watch Funimation without paying?
Yes, with Funimation free account, you can access anime entirely free, but it is limited. Moreover, there is also a 14-day free trial for all paid plans.
What can you watch with a free Funimation account?
Since the free account's content is limited, you can only be ablet o watch the first one or two episodes of a few shows. Fortunately for some shows, you can watch the first season for free.
Well, if you don't want to face any annoying ads, then Funimation Premium can be the perfect option for you. Moreover, you can access over 15,000 hours of content, which is limited with the free account.
How long is the Funimation free trial?
All of Funimation's paid plans offer a 14-day free trial.
Can you watch dubbed anime on Funimation for free?
With the free service, you can only access a limited quantity of its catalog. Although some dubbed shows are available for free, it is nearly impossible to say that you can watch the dubbed anime on Funimation for free.
Funimation Alternatives:
Hidive vs Crunchyroll vs Funimation: Comparison
13 Best Anime Apps for Android & iOS [Free, Paid]
Funimation vs Hulu: Complete Comparison [2022]