Franz Not Working ? Try These Best Franz Alternatives! [2023]
We may earn small commission from the products mentioned in this post. visit here for more details.
Franz Alternatives: Are you looking for Franz Alternatives? Are you trying to determine which alternative offers the best features at no cost? In this article, we're going to give you a list of the top Franz alternatives, which are messaging applications that enable you to add multiple apps in one location.
Franz is a well-known all-in-one messaging app that combines all of your messaging services, including Facebook, WhatsApp, Slack, Gmail, Skype, and others, into a single program. It does have its share of issues, despite the fact that it delivers on what it promises.
For instance, Franz will prompt you to upgrade to the premium edition by making you wait for 10 seconds every couple of hours. When you receive a message and have to wait a few seconds before responding, this is very annoying.
So, here are mentioned some fantastic Franz alternatives that provide more features without any subscription or with less subscription.
Ferdi
Ferdi is a free and open-source application that enables you to add multiple apps, such as different messaging services, in one location.
Additionally, it enables you to customize the application's behavior and a number of other features. It is based on Franz, a program that is already being used by hundreds of people, but Ferdi gives you many more capabilities and doesn't impose any usage restrictions.
Additionally, it is connected with your current Franz account, allowing you to pick up where you left off. It is one of the best Franz alternatives.
Key Features
Various messaging services are included.
Support across all platforms (Linux, Windows, and macOS).
Accepts using a Franz account to sign in.
Having the ability to password-protect messages.
Use your own custom server as an option.
To hide your messages, use a private notification.
Ability to configure a proxy and connect over it.
There are no restrictions on how many accounts you can have.
Cost: Free Version available
Hamsket
Hamsket is one of the Franz free alternatives that combine popular web applications into one. It is a cross-platform, open-source, and free chat and emailing app.
It is a Rambox fork that was created when Rambox switched from a completely free model to a "freemium" one.
Nightly build artifacts come in Linux (AppImage64 / RPM64 / DEB64 / Tarball64), Mac (DMG / App), and Windows (Win64) packaging varieties.
Key Features
It supports numerous protocols without needing logging in and out.
It is a wrapper for a Web application.
It's an app for instant messaging.
If you plan to stay gone for a while, you can lock Hamsket.
Your setup can be synchronized between different computers.
There is a don't disturb mode.
It allows rearrange the tabs in the tab bar.
You can mute audio for a certain service.
Cost: Free
Shift
Shift is a desktop application for simplifying and collaborating across accounts and workflows. Anyone who does the most of their work online should use Shift, especially those who manage numerous emails and web applications. With the help of the desktop program Shift, you may combine many emails and web applications into one simple platform.
With Shift, you may avoid logging in and out of different emails and web applications for which you have several accounts or identities. You can switch easily between numerous Gmail, Outlook, and Office 365 accounts.
You can connect all of your favorite applications—there are more than 1,500 to pick from—and design the ideal workflow for you and your team.
Key Features
All of your Gmail, Outlook, and Office 365 accounts may be linked, allowing you to control everything from a single computer.
Every one of your favorite apps can be connected.
Work more quickly with Chrome Extension.
For a better browsing experience, arrange your tabs by accounts and manage your open tabs.
Across all of your Mail, Calendar, and Drive accounts, you can save time and quickly discover what you're looking for.
Cost:
Shift Basic: Free for up to two email accounts and one app
Shift Advanced: $99.99/year for unlimited accounts and more features like a Chrome extension, unified search, and Google Services add-on.
Rambox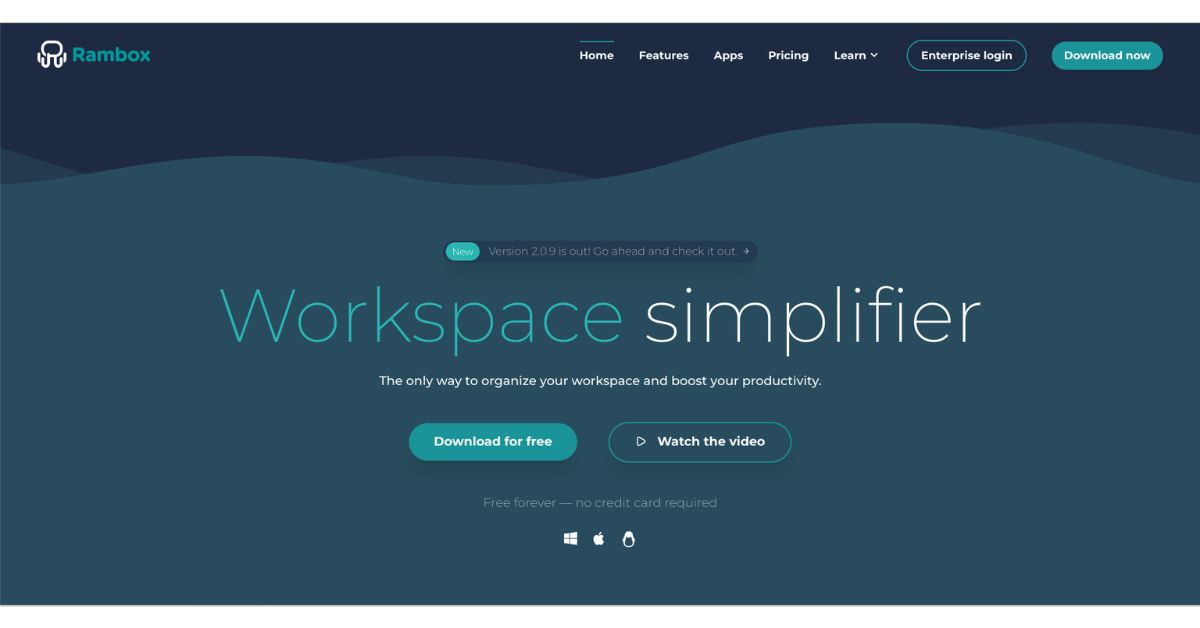 Rambox is a multiplatform, open-source tool created by Ramiro Saenz that enables you to use more than 70 email and messaging services simultaneously.
To put it another way, Rambox gives you the option to manage your WhatsApp chat, check your email, engage in Twitter talks, and have conversations on Skype, Facebook, and Linkedin. You can keep all of your regularly used applications in one location.
Key Features
Always have open-source software installed for added security. simply because the source code is available for everyone to examine and observe what the aforementioned software performs.
·It is compatible with a variety of clients and protocols, such as Telegram, Skype, Whatsapp, Facebook Messenger, Slack, Google, Hipchat, and Steam.
If it is not one of the default ones, you may also manually configure your email accounts on the most popular services.
Clients are readily available and simple to install for OSX, Windows, and Linux.
Your information is not stored anywhere else outside the specific servers used by each service.
Around 16 languages are supported by Rambox, including English, German, Spanish, and Russian.
Cost:
Basic Plan: Free
Pro Plan: $7.00 per month
Pidgin
Pidgin is a well-known multi-platform, cross-platform instant messaging client that had to alter its name at the time owing to legal concerns with AOL. You can talk with users of Skype, Yahoo, ICQ, AIM, and even those in an IRC chat room via its user interface.
It is a chat tool that enables you to sign into many chat networks at once. This means that you can participate in an IRC channel while also conversing with pals over XMPP.
Key Features
You are able to register for many accounts on various messaging networks at once.
Designed for USB keys and other detachable media, it enables you to carry a communication tool at all times.
AIM, ICQ, Windows Live Messenger, Yahoo, IRC, Jabber, Gadu-Gadu, Bonjour, MySpaceIM, Google Talk, and Zephyr are a few examples of popular messengers that you can use to chat.
It is freely downloadable and compatible with all systems (Windows, macOS, and Linux).
Correction of issues with WLM 9 while transferring files, emoticons, or icons.
Cost: Free
IM+
IM+ app enables users to communicate with friends and acquaintances using a variety of protocols and instant messaging services. Whether you want to communicate with individuals nearby or keep in touch with your IM connections, it can meet all of your communications needs.
In the Mac app store, IM+ is one of the better options for all-in-one messaging. But the fact that IM+ is also available for iOS and Android sets it apart from the competition.
A simple user interface is used in IM+. By clicking the icons in the sidebar, you can access all of the services. You can select things like notifications, sound, etc. by going to the Preferences.
Key Features
You can be informed when your message has been successfully delivered and that it was sent.
Popular IM services including Facebook, Skype, MSN/Live Messenger, Google Talk, Yahoo!, AIM/iChat, and others are all compatible.
Its brand-new Neighbors feature introduces an entirely new level of conversation in the IM + app.
Push alerts for new emails in your Gmail, Hotmail, Yahoo!, and AOL email accounts.
Cost:
Basic Plan: Free
Advanced Plan: The monthly plan is $2.99, and the annual plan is $19.99.
Final words
In conclusion, the Franz Alternatives mentioned in this article are all the top alternatives now offered online. We sincerely hope you find your preferred messaging software that meets your needs.
8 Messanging Apps like LINE to Try Out [2022]
FAQs
Can I use Franz for free?
Free. Everything you need to get started with Franz. Franz currently supports Slack, WhatsApp, Facebook Messenger, Telegram, Google Hangouts, Skype and many more… Set up your account on one device and enjoy Franz wherever you want!
Is Franz a good app?
Some voice or video call functions might now work on other services, so yes, Franz is a great app, but it's not a seamless replacement for all the apps you're using.
Why do I need a Franz account?
Franz allows you to add each service many times. This makes Franz the perfect tool to manage multiple business and private accounts all at the same time. You could even use five different Facebook Messenger accounts at once, if some inexplicable reason urges you to do so.