9 Best Voice Changers for Microsoft Teams [2023]
We may earn small commission from the products mentioned in this post.
Wondering how to change voice in Microsoft Teams? or looking for voice changers for Microsoft Teams.
You are in the right place! We have mentioned the 9 real-time voice changers that will perfectly integrate with Microsoft Teams.
Voice changers are incredibly entertaining. Every person has reason to morph their voice; some might want to play pranks on their family, friends, or complete strangers. Whereas others be certain of protecting their identity and online privacy by being anonymous.
Many audio changing services are ready to alter your voice and use it during online conferences on platforms like Microsoft Teams.
However, as impressive as it might sound, it can also cause harm if it is used for unlawful or illegal reasons. Check out the 9 best voice changer tools for Microsoft Teams that will help you modify your speech.
Voicemod
Voicemod is among the top voice changers that work with Microsoft Teams that adds real-time voice-changing and custom sounds to games and programs, such as CSGO, Skype, Discord, PUBG, Fortnite, Among US, League of Legends, WhatsApp Desktop, Minecraft, Valorant, TeamSpeak and many more.
You can add a voice changer to sound like a demon, woman, man, robot, chipmunk, or anything else you can imagine.
It can make your simple game moments or online conferences into hilarious memories. You can also import your own WAV and MP3 files.
Changes your voice in real-time.
You can easily set up in less than five minutes.
Make your own voice and add any voice clips to the soundboard.
There are more than 90 different voices and sound effects.
Does not affect the performance of your applications and games.
Voicelab feature comprises more than 15 effects to play with.
Remove all possible noises from your background by boosting your microphone's sound quality.
Pricing Details: Although Voicemod states on its website that it is entirely free, Voicemod pro costs $52($36 with the limited time 25% sale) for lifetime purchase.
Clownfish Voice changer
Clownfish Voice Changer is one of the best voice changers for Microsoft Teams.
Apart from Microsoft Teams, it seamlessly integrates with other platforms like Skype, Discord, TeamSpeak, Zoom, Google Meet, Hangouts, Mumble, Steam, Viber, or any other application or software that uses a microphone or other audio capture device.
It offers several voice effects like Alien, mutation, fast and sloe mutation, male and female pitch, baby pitch, robot, silence, helium pitch, and more. Basically, it has everything which you need for a voice changer.
Easy to use and simple user interface.
It is compatible with Windows Vista, 7, 8, 8.1, 10
Has a VST (Virtual Studio Technology) plugin support.
Sound player is provided with in-built sounds and management.
Enhanced audio control and playlist with build-in sounds.
Voice assistant helper tool to convert text into speech.
It is available for both 32 bit and 64 bits devices.
Pricing Details: The cost of Clownfish Voice Changer is entirely free. That means you can really enjoy the premium like features for completely free.
MorphVox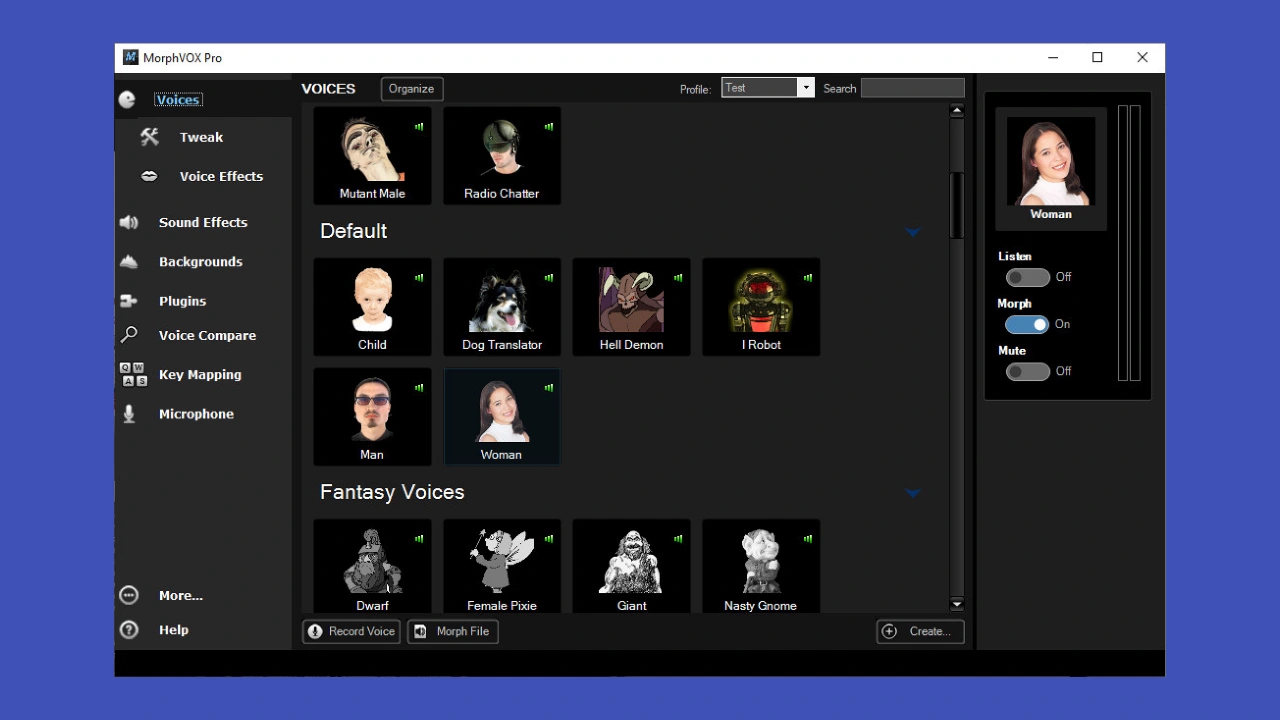 MorphVox is essentially one of the best voice changers that allow you to change and alter your voice to match your personality.
You can easily disguise your voice and use it during any conference in Microsoft Teams. You can modify your voice to sound like a man, woman, or like a bit of folk.
MorphVox is available in two versions: MorphVox Jr, which is entirely free, and MorphVox Pro, a paid version. MorphVox Pro offers several advanced features than MorphVox Jr.
Customized mouse and joystick shortcuts to usual functions.
Low bandwidth and CPU usage.
Seamlessly integrated with any chat programs and online games.
Several in-built voice effects and special sound effects.
High-quality voice changing ability.
Alter recorded audios that are in WAV format.
Pricing Details: MorphVox Jr is completely free, MorphVox Pro costs $39.99 for lifetime access. However, you can try its 7-day free trial before purchasing MorphVox Pro.
10 Best Voice Changers for Zoom & Google Meet
Voxal Voice Changer
Voxal Voice Changer is one of the best voice changers for Microsoft Teams. You can alter, change, modify and disguise your voice in any platform or application, or online games which use a microphone.
It is easy to integrate and use, as you don't have to change any configuration or settings in other programs.
All you need to do is to install and start making voice modifications simply. Voxal Voice Changer is entirely free for non-commercial use or for home use.
It perfectly integrates with software like CSGO, Steam Games, TeamSpeak, Microsoft Teams, Rainbow Six Siege, Skype, Discord, Zoom, Google Meet, and much more.
Instinctive and straightforward interface.
You can add effects to already existing files.
Create unlimited custom voice effects.
Low CPU usage
Do not interfere with other running applications.
Effects include robot, female, male, girl, alien, boy, echo, atmospheric, and many more.
Change the output audio to speakers to hear the effects live.
Compatible with XP, Vista, 7, 8, 8.1, 10, Mac OS X 10.5 and above.
Pricing Details: It has different pricing plans:
Commercial License – $19.99 for lifetime access
Home use – $16.97 for lifetime access
Commercial License Quarterly $1.66 per month
AV Voice Changer Diamond
With AV Voice Changer Diamond, you can easily access and alter every characteristic and pitch of your voice.
Connect your AV Voice changer Diamond software to most VoIP programs, games, or web chat applications. You can change your voice in any way you like; you can sound higher, older, deeper, more feminine, younger or more masculine.
Due to its various voice effects and voice preferences, you can create each setting combination that genuinely describes a unique voice. You can also save and access at any time, anywhere, or change/modify or update as you like.
Add and edit effects to design your modified voice.
Contain various voice effects and voice filters.
17 non-human voices, 0 background effects, 40 plugin audio effects, and much more.
Voice Morpher offers voice attributes, voice beautifying and many other advanced settings.
Record your voice through the microphone.
More than a hundred ready-to-use "nickvoices."
Analyze the harmony, pitch, brightness, a score of your voice.
Pricing Details: The premium version of AV Voice Changer–AV Voice Changer Diamond is a paid service which costs $95.95.
Voicemeeter
Voicemeeter is one of the voice changers for Microsoft Teams. It comprises Virtual Audio Device used as Virtual I/O to mix and manage any audio sources to or from any audio devices, applications, or software.
You can connect audio pro-DAW or musical instruments by using various audio interfaces, such as MME, KS, Direct-X, WASAPI, and much more.
It allows you to control the sound as you like, without worrying about any limitations.
Supports various audio interfaces, such as Direct-X, ASIO, KS, MME, and WaveRT.
Mixes 3 inputs (2 physical/1 virtual) to 3 outputs (2 physical /1 Virtual) through 2 buses.
It is available for both 64 bit and 32 bits.
Includes distinct DSP algorithms from VB-Audio.
It is compatible with Windows XP, Vista, 7, 8, 8.1, 10.
Pricing Details: It has different pricing plans:
Standard–Free
Banana – $25
Potato – $29.17
Adobe Audition
Adobe Audition is one of the best audio restoration, clean-up and precision editing tools software.
It has a fantastic toolset that consists of waveform and spectral display for mixing, restoring, creating and editing audio content.
For instance, Audition has dedicated tools for non-destructive editing for commercial and work video, cleaning up or restoring audio and offers precision, as well as podcasting and sound effect designs.
Compatible with Windows 7, 8.1, 10, OS X Yosemite, OS X EI Capitan or macOS Sierra.
Supports third-party 64-bit audio plug-ins in VST 3.0, VST 2.4, formats for Windows and macOS.
Give your audio an animated tone with over 250 cartoon and comic sound effects.
Use the Doppler Shifter effect to make someone sound like they're approaching and then receding from the listener or viewer.
Customise your settings by moving the Semi-tone sliders.
Add up to 16 audio effects to the same track.
Automatically and easily rearrange any song to fit any time with Remix in Audition.
Pricing Details: Purchase Adobe Audition by subscribing to one of the company's Creative Cloud (CC) plans.
Adobe Audition CC: Singe App – $20.99 a month
Adobe Audition CC: Get All Apps – $52.99 a month
It offers up to 60% discount to students and teachers, thus costing $19.99 per month.
SuperVoiceChanger
With SuperVoiceChanger, you will sound like a wholly different person when you talk to someone on your computer.
It is a video editing recorder with effects like autoboots, superheroes, anime heroes, and females and males.
Once you install the SuperVoiceChanger on your device, complete the registration process and instantly integrate with Microsoft Teams.
It offers all voice recording and editing tools, which let you edit your voice, add effects, preview and share with others.
Compatible with Windows 7, 8, 10.
Supports both 32bit and 64bit.
Compatible with any voice-over-Ip applications.
Effortlessly integrates with Microsoft Teams, Google Meet, Zoom and many other platforms.
Create, save and share your edited audio files with your friends.
Alter your voice in real-time to sound like a female or male.
Comes with a list of pre-existing voice effects in its sound templates.
Pricing Details: The cost of SuperVoiceChanger is entirely free.
RoboVox Voice Changer [For Mobile]
RoboVox Voice Changer is another best voice changer for Microsoft Teams. You can be able to record your voice and change your voice to sound funny, scary, evil, robot, musical, and many other sound effects. It seamlessly integrates with several other applications such as Skype, Discord, Google Meet, Zoom, TeamSpeak, Chromebook, and many others.
It has over 32 different voice effects with pitch modulating settings.
Offers real-time voice effects and voice recording.
Share your results on SoundCloud.
You can also save and mail your creations as WAV files.
Vocoder with real-time FFT spectral analysis.
Set your transformed voice as ringtone.
Price: $1.49 for one time purchase
The Bottom Line x Voice Changers for Microsoft Teams
Before picking up any voice changer, you have to remember that you require a professional microphone to record your voice at the best quality.
You can share your experience of these voice changer for TeamSpeak in the comment section below!, also, if you have any other queries regarding voice changers for TeamSpeak, feel free to ask in the comment section below.