10 Amazing LinkTree Alternatives to Short Your Links [2023]
We may earn small commission from the products mentioned in this post. visit here for more details.
LinkTree Alternatives – Are you currently handling your social media to promote your blog, website or any other content account? Engaging your audience with your content can be pretty tough thing to do on platforms like Instagram because, links are inaccessible on Instagram posts and also it only allows you to put one link in your bio.
So, what do you do? Simple, if you are one of those people who wish to have complete control over their brand and want to put several link sin one link, then you can move all your links to Linktree or any of the apps mentioned below. LinkTree one of the most prominent tool that solves the "One Link in Instagram Bio Problem."
Since, no tool is perfect and has its disadvantages, there might be many reasons why you don't want to use LinkTree, one of them might be the price that you to have to pay to unlock its full potential or might be their email spamming.
10 Best LinkTree Alternatives
Link-in-profile is a significant Instagram marketing tools for any influencer or any brands as they offer some remarkable benefits such as increases CTR, more affiliate sales, cross-platform promotions and better branding. Check out the guide below for more information on 10 best Linktree alternatives.
ContactInBio
ContactInBio is one of the best LinkTree alternatives as it allows you to put multiple links with a single link that might contain group of other links and content as text, contact form, images, video, and much more. If offers four URLs to choose: yourusername.contactin.bio, yourusername.ctcin.bio, yourusernmae.contactinbio.com and allmy.link/yourusername.
Since Instagram has only one clickable link, with ConatctInBio you can add several links such as payment links, music service links, and even link other social media profiles on your Instagram bio. You can also create smart links for messenger applications such as Telegram, WhatsApp, Viber and Skype which permits contacting on those platforms with a single click.
Lnk.Bio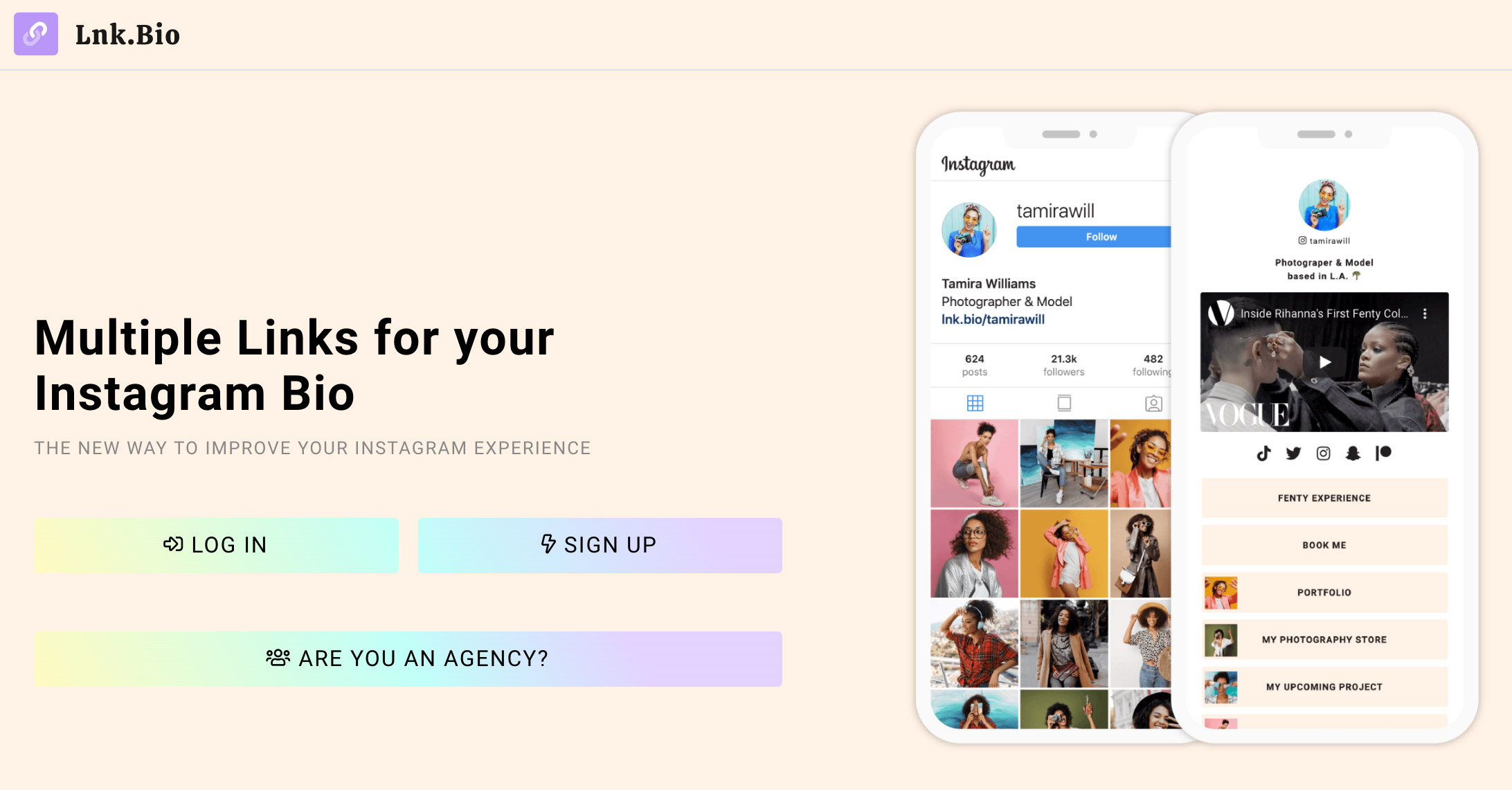 Lnk.Bio offers you a new way to enhance your Instagram experience. You can share all your Social Media profiles and other important links with just one URL. All you need to do is to log in through your Instagram account, create a unique URL within a minute and add it on your Instagram bio.
If you ever intend to change your link, you simply edit in Lnk.bio without the need to change your URL on your IG account. You can easily access it through your browser. It offers three paid versions, Mini-Monthly, Mini-One Time and Unique-One Time which costs $0.99, $9.99 and $24.99 respectively.
Shorby
Shroby is one of the best LinkTree alternatives. With Shorby, you can turn any bio link into a remarkable micro landing pages which will drive traffic and conversions. It offers several button formats and some amazing customization options such as images, text blocks, colors, GIFs. Style generator. Headers and much more.
Furthermore, it also helps you create short links that can automatically open a live chat with various apps like Facebook Messenger, Skype, WhatsApp, Telegram, Viber, Email, etc., you can even add tracking pixels from the mentioned services. This can be a great option for any type of business where you depend on one-to-one sales.
Tap.Bio
Tap.Bio is another LinkTree alternative which gives you the ability to create personalized branded cards consisting pictures, links or messages which you want to share on your Instagram bio with a single link. Your Tap.Bio link in your Instagram Bio will give your users a direct path to all your website and social media profiles.
It can be a powerful tool for digital entrepreneurs, social media stars, or anyone who are trying to market themselves through Instagram. You can also create CTA buttons for particular sections of your link in bio. This means, you can turn links to your other social platforms, or any live chat services.
Link in Profile
Link in Profile is one of the best LinkTree alternatives which allows you to add links to your Instagram images and direct your followers wherever you want them to go. It works with various website and shopping platforms including Amazon, Etsy, Instagram, Shopify, WordPress, Squarespace and much more.
You can easily create a Link in Profile in less than a minute. After creating, simply paste a URL into your Instagram bio or post's caption and it will automatically appear and make It accessible. So, when your followers click the image, it'll direct them to the link. You can also check your traffic sources and find out how effective it is.
Bio.fm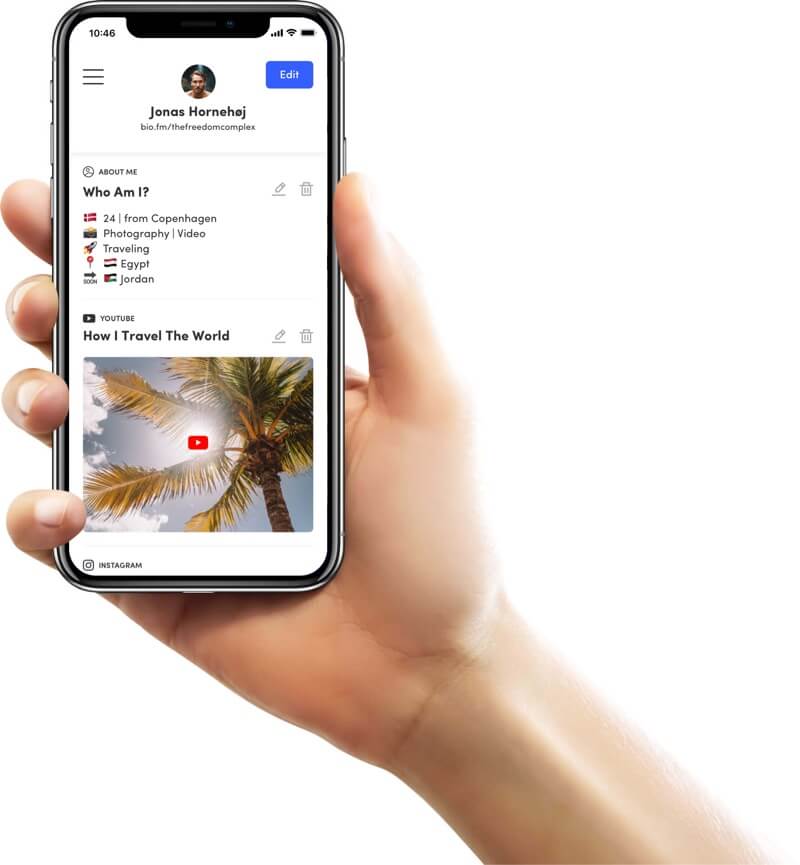 Bio.fm offers an amazing way to share your Instagram, YouTube, Twitter, Skype and several other platforms with just one link in the bio. You have unlimited opportunities to share your business or your ideas without any effort or technical skills. All you need to do is simply copy your unique URL and paste it in your bio so that your audience can access it.
Along with multiple links, you can also add email collection forms, GIFs, social profiles and even share articles, question pools, tweets, favorite songs from Spotify. If offers various tools to regularly involve with your audience and turn them into your fans.
Campsite
Since you only get one link on your social profiles, with Campsite, you can turn several links to make it one link and share it with your followers. So, your Campsite page is just a collection of links with images that gets your users to where you want them instantly.
It offers numerous tools like unlimited links, custom branding and links to your social accounts and much more. With Campsite Pro, you can upload your own link images, remove the campsite branding, use your own domain, control your metadata, access a thousand of photos from Unsplash, and several other advanced features.
Swipop
Swipop is one of the best LinkTree alternatives that assists users to share their social media content and provides the user to allow their followers to access their premium content via one link. Users can simply add their social media links and their premium paid content on Swipop and can set a price to access their premium content.
You can also share your latest Instagram posts and give access to the videos that are yet to be uploaded. It is worth to mention that Swipop is completely free and easy to use application.
ManyLink
With ManyLink, you can create a customizable link and share your unique link on your social media platform or website. This means, it puts all the links together and generate on a single link. It is completely free and their interface is quite basic. It is considered as one of the best LinkTree alternatives.
You can also track your link clicks. So, don't worry to select which links to share, with ManyLink, you can easily have one link to share all. Furthermore, it allows their uses to design and customize their page with their thumbnails and can even customize the page design with various fonts and colors.
LitURLs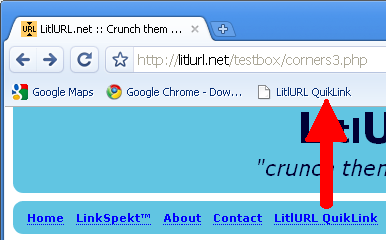 LitURLs is a platform that allows you to post several customizable links to your profile which produces a unique sharable URL. It is especially designed to boost user's engagement and make a better way to generate more followers. It offers both free and paid versions.
The free plan offers you to create three customizable links whereas with Pro version, you can create unlimited links and it also offers analytic systems and all the upcoming updates.
The Bottom Line
What did you choose? What do you think what is the best alternative to LinkTree? Wee, it really depends on your preferences and requirements. Many of the apps or platforms mentioned above have several advanced features that LinkTree lacks.
So, I hope the above article on 10 best LinkTree alternatives has helped you choose an option that suits your needs and meets your requirements.