6 Best Apps Like Notability & Notability Alternatives [2023]
We may earn small commission from the products mentioned in this post.
Are you looking for the best apps like Notability? Wondering which will be the best option for you? Don't worry, we'll help you with that. In this article, we'll show you 6 best Notability alternatives that are worth using. Notability is an all-in-one note-taking application which combines images, handwriting and typing in a single note to bring your projects alive.
It is one of the best apps for all kinds of tablets, smartphones and PCs. You can be able to create an unlimited number of notes, writing letters, drag and drop images, and add several things to make a complete note. Read on further to know more about the best apps like Notability.
Best Apps like Notability
Even though Notability is the best note-taking platform as it offers several templates, styles and sketches, it never hurts to look out for its alternatives. Here is the list of 6 best apps like Notability.
Evernote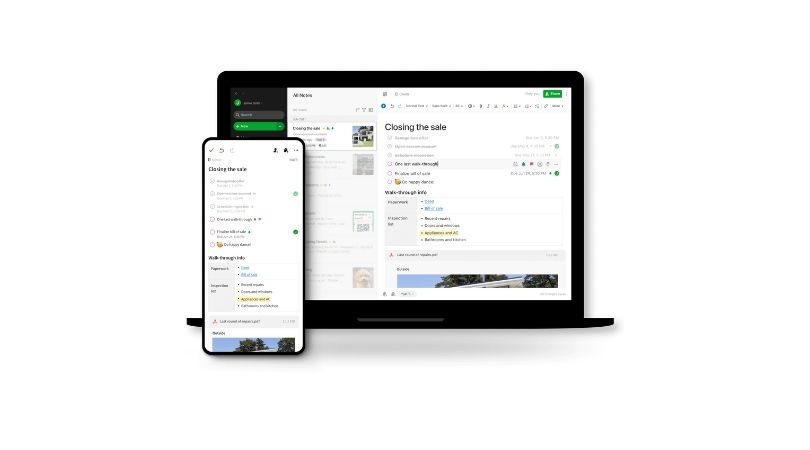 Evernote is an app developed for note taking, task management, organizing and archiving. It lets users to make notes, which can be drawings, audio, text, photographs or saved web content. These notes are stored in notebooks and can be annotated, searched, exported, tagged, edited and given attachments. It is available for iOS, Android, macOS and Windows,
It is free to use with monthly usage limits, and also offers paid plans for enhanced or lifted limits. All free, Plus, and Premium Evernote accounts have a maximum limit of 250 notebooks and 100,000 notes. You can connect Evernote and Google Calendar to bring your schedule and your notes together. It seamlessly syncs your notebooks and notes automatically across any phone, PCs or tablets.
Microsoft OneNote
Microsoft OneNote is one of the best apps like Notability, specially developed to lets users to make, sync and store notes and ideas through various devices. it is the best solution to simplify the note-taking process, you no longer need a manual note-taking or scribbling ideas.
Furthermore, it also has a lot of interactive features which allow users to engage with their content. User can also be able to take audio notes, drag files, videos and images, and draw sketches without any restrictions. Microsoft OneNote is a feature-rich note-taking application and provides all the essential features with various exclusive tools and features.
Google Keep
Google Keep is a note taking platform, which includes Google Sheets, Google Drawings, Google Sites, Google Docs, Google Slides and Google Forms. It provides a wide range of tools for taking notes, including lists, audio, text, and images. Notes can be color-coded, and labels can be useful for organizations. It is available as a web application, as well as mobile app for Android and iOS devices.
Users can be able to set reminders, which is integrated with Google Now, along with the options for location or time. You can extract the text from images by using the optical character recognition technology. Users have the ability to choose between a single column view and a multi-column view. Voice recordings which are created through Keep are automatically transcribed.
Notion
Notion is another useful app like Notability which offers components like databases, reminders, Kanban boards, calendars, notes, and wikis. Users can be able to connect these components to make their own system for note taking, project management, knowledge management, data management among others. These can be used individually or in collaboration with others.
Likewise, it lets writing & pasting equations in the form of inline or blocks. Users can also embed online content in their Notion pages by using Embed.ly. In this way, notes can be effectively typed down alongside an embedded video playing in PiP mode. It is compatible with macOS, Windows, Android and iOS, as well as web.
Apple Notes
Apple Notes is a free note taking app which is available for macOS, iPadOS and iOS operating systems. It operates as a service for making short text notes, that can be easily synchronized between devices though the Apple's iCloud service. You can easily capture a quick though, sketch ideas, create checklist and much more.
Unlike any other note taking apps, it also has an option which lets you to add documents, images and links to perfect journals or notes. It offers several features, including auto-sync, iCloud access, powerful editor, upload images and much more. One of the most amazing features of Apple Notes is that it lets you to sketch with your finger on your touch device.
Zoho Notebook
Zoho Notebook is one of the best apps like Notability, which specializes in low-cost cloud-based software. Its sharing and collaboration feature lets you to give people read-only access or the capability to co-edit notes. It comes with a web clipper, document scanning in the mobile app, the ability to record audio notes, document sharing in the mobile app, password protection options and much more.
Furthermore, it offers a different way to take notes and capture your thoughts. You can access your work anywhere or everywhere with its ability to sync your notes to the cloud. It offers various ways to customize your notes, including changing the color of your notes, choosing a notebook cover, viewing notes in either landscape or grid and more.
Final Words: Which one did you choose? It might be quite difficult to select the note taking tool as they all offer best features. Nevertheless, we hope the above article on 6 best apps like Notability has helped you to select the best option according to your needs and preferences.