6 Best Apps like Whitagram To Edit Instagram Photos [2023]
We may earn small commission from the products mentioned in this post.
When it comes to aesthetics and systematic posting on social media platforms, you surely need some Whitagram or apps like Whitagram to add borders or backgrounds to your photos to help you make your account look pleasing to followers and visitors.
So what is Whitagram?
Whitagram is the simplest way to add white backgrounds to both portrait and landscape photos which you can upload on Instagram or any other similar social media platform through Whitagram.
It does the satisfactory work of giving you the aesthetic you want and also allowing you to customize the colour of your background.
However, since the app only specializes in adding backgrounds to photos, if you need an app with more editing options for better results then you must have a look at our well-classified list of apps like Whitagram presented in the article below.
InShot
InShot is one of the most famous video editor and maker and does the best work in editing and enhancing the outlook of your photos.
Along with offering options to add white or different colour borders to your pictures, InShot has many more pro features to edit photos like adding text, adding stickers, blurring the background, cropping the photo, and more. This is why it can be known as one of the amazing apps like Whitagram.
Key Features
Add text to your photos with several fonts available for text editing.
Ability to add stickers and funny memes from over 1000 in variety.
Offers hundreds of stylish collage layouts.
Has many unique filters and you can add colourful backgrounds along with blurring them on the photo.
Picsart
PicsArt is another amazing app like Whitagram for photos and videos. It is an editor's choice on Google Play Store and has a community with over 150 million creators globally.
Through PicsArt, you can edit the photo and video within seconds as per your liking. And it offers a huge range of options to edit pictures. You can simply add borders to your picture without changing the original quality of it.
Moreover, you will get to create professional-level colleges, add thousands of stickers, remove the background or swap the background with another one, and try the popular and unique edits that are currently trending on the internet.
Key Features
Add colourful backgrounds or borders to your pictures or even blur the background if required.
It comes with an automatic background eraser and background replacer.
You can clean unwanted objects with the help of the Remove object tool.
It offers over 200 designer fonts for adding text to your photos.
Create your own stickers.
Offers many filters and unique effects like sketches, cartoons, etc.
VSCO
VSCO is a place where your expression and efforts matter the most! It is a platform for photo and video editing, which offers a good set of editing tools along with inspiration to create new edits.
It takes your normal photography to the next level with 10 three presets available for free. You can import your raw pictures, change the lighting, filter and other things like Saturation, Contrast, and more to get the outcome you want to show the world.
Key Features
Offers mimic analogue film effects along with fade to add texture.
You can adjust and play with your photo's perspectives with VSCO's professional crop and Skew tools.
Offers to help you recreate vintage film looks from Agfa, Kodak, Fuji and many more.
Snapseed
Snapseed is a professional photo editor that is developed by Google. It offers a good variety of tools to enhance the quality of pictures and can be best used if you merely want to add white or different colour aesthetic backgrounds to your pictures.
It comes with some basic photo editing tools like crop, filters, rotate, perspective, filter brushes and some enhanced tools like healing, curves, expand, lens blur, tonal contrast, grunge, vintage, Noir, frames, face pose, double exposure and many more.
Key Features
Add both plain and stylish text to your photo.
You can increase the size of your canvas by filling the new space with different parts of your image, plain background or designed backgrounds.
It offers over 29 filters and other tools to change the entire outlook of your picture.
You can adjust the colour combination of an image with tools like white balance, vignette, curves, healing, and more..
Pixlr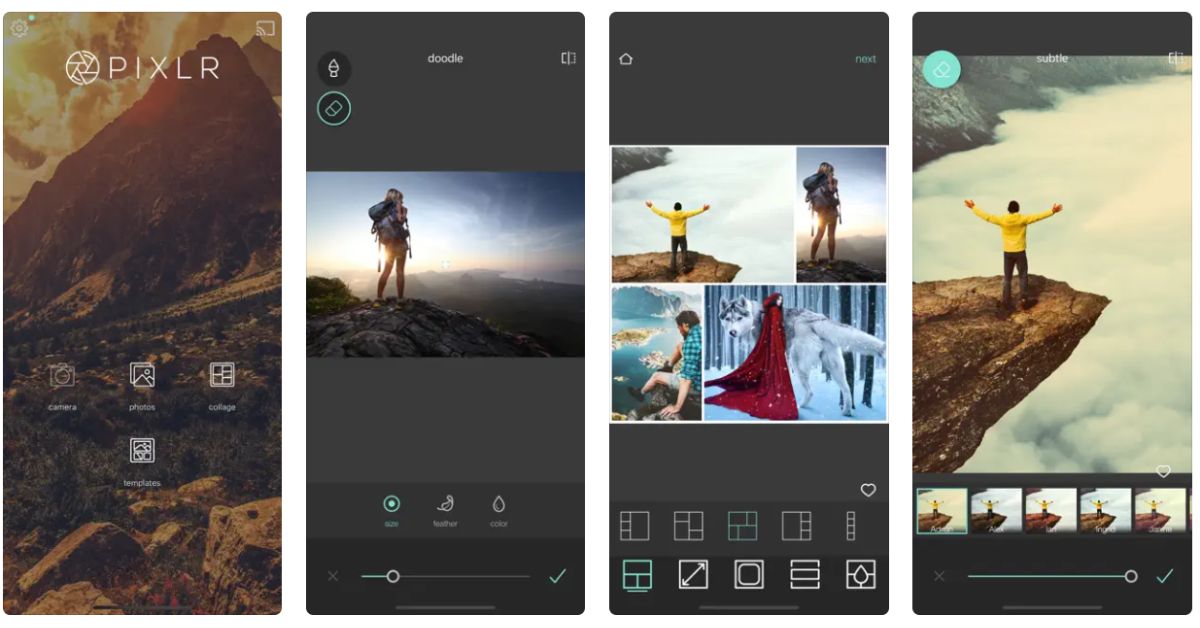 Pixlr is a place where you can unfold your creativity. With Pixlr, you can capture any moment and edit the picture with your preferences with over 2 million combinations of filters, effects, and overlays available.
It is an easy photo editor which offers a good bunch of services, such as creating photo collages, adjusting the colour of your pictures with one click and auto fix tool, using double exposure to invite an array of effects while layering and adjusting the transparency and many more amazing combinations.
Key Features
Bring out different colours with the colour flash tool or add impacts through the focal blur tool.
It offers to add tones to your pictures through amazing overlays to add surreal shades, cool it down or amplify the tone.
Put different colour borders to your pictures to bring them to the right size or can change and add designed borders available in options.
Squaready
Squaready is not among the famous apps like Whitagram in this article yet it is still a good app to change the background of your picture and make it to the correct size you want along with changing the smallest detailed colour tone of your image.
It is highly recommended for Instagram users because it offers tools to change and set a colourful background to an image, has a colour blur-background tool, high-resolution export, an 'Instasize' option to make your photo rectangle, insta-friendly and many more..
Key Features
Offers 100s of stickers and frames.
You can draw on your pictures with various available brushes.
Has a wide variety of stylish filters.
Has tilt-shift blur tool available.
Ability to add text and memes on your pictures.
Final Words
There are plenty of options and apps like Whitagram on the internet but if you want to use the best out of the best tools then trying the Whitagram alternatives presented in this article can be a good move.
With this, we have successfully given you a well-curated list of the finest apps like Whitagram which may help you choose an app that suits your preferences.
10 Editing Apps Like VSCO to Try Out [Free & Paid]
Frequently asked Questions
Can you use Whitagram for videos?
No, You can't use Whitagram for editing videos because it is only a photo editing app for Apple device users. 
How to add a white background to photo for Instagram?
If you want to add white background to photo for Instagram, then you can use some photo editing apps like PicsArt, snapseed, VSCO, Squaready and InShot.
How to add white sides to a photo?
If you want to add white sides to a photo, in simple words white background or borders to your photo to make it social media posting-friendly then you can use some photo editing apps like Squaready, Pixlr, PicsArt, Snapseed and InShot.