10 Editing Apps Like VSCO to Try Out [Free & Paid]
We may earn small commission from the products mentioned in this post.
Apps Like VSCO: VSCO is the most prudential editing app but there are various apps like VSCO to create an amazing picture.
Further, this article will highlight the 10 alternative apps of VSCO that you can use for enhancing your photos as well as creating great videos.
VSCO: It is a well-known editing app in today's world for influencers. It also has a community like Instagram to share your artwork. It offers you both paid as well as a free membership. It is available in both the app store as well as play store.
VSCO also provides borders and frames to enhance overall photos. Upgrading it to premium will allow you to experience video editing.
Although, one is never enough. So, here are some more apps like VSCO listed below:
Adobe Lightroom
Adobe Lightroom is easily accessible on both Android as well as iOS including tvOS and macOS. It was released in 2017. It carries an enormous number of users.
This app grants you a various number of filters to use in your photographs and makes them more amazing. It also creates trendy filters such as vouge, warm & organic, and it also serves festival filters.
It provides a 7-day free trial to users to try the premium adobe lightroom with so many filters as well as functions that can be able in premium.
What's inside?
Adobe Lightroom is an image creation and manipulation software developed by Adobe inc. Its functions include white balance, presence, tone, tone curve, HSL, colour grading, detail, lens collection, and calibration manipulation, as well as transformation, graduated filters, and adjustment brushes.
Its primary uses include importing, saving, viewing, organizing, tagging, editing, and sharing a large number of digital images.
It has its video editing functions which can help make an amazing videography vlog to post.
Lightroom also provides you with a various collection of stickers, audio mixing, and trimming of other videos.
It has the most useful function of spot removal in which dark circles and pimples can be removed easily. In addition to it, red-eye correction is also an important function needed in photo editing apps which is provided by lightroom.
It provides a text editing function with various colours in it to add your quotes to the photograph.
Pixel Lab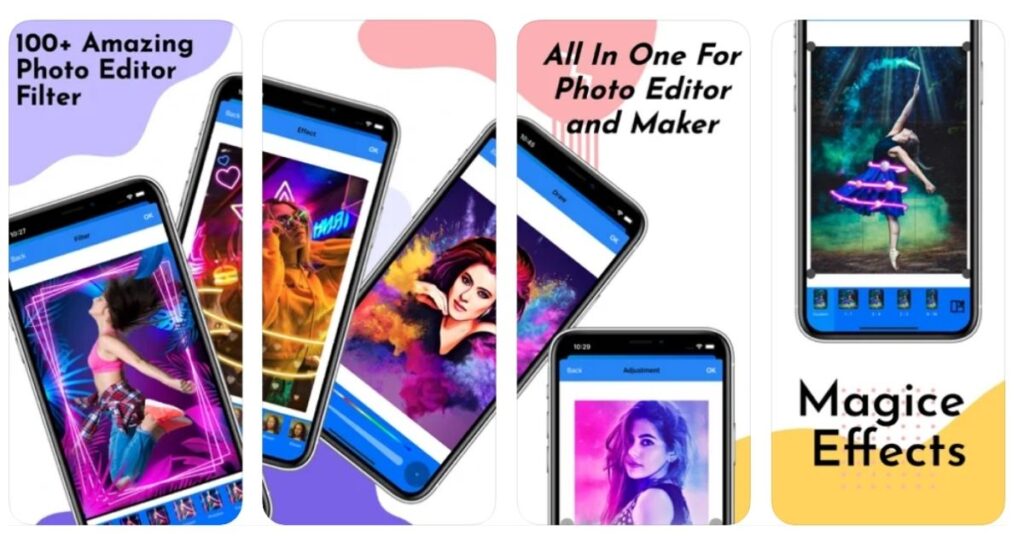 Pixel Lab is a great photo editor app that is mainly developed for windows and android. It provides for adding 3D text in a photo of different colours. It also has stunning effects such as glitch, vignette, stripes, hue, and even more.
Pixel lab has a great variety of text fonts and gradient colours effects. You can paint on pictures with a doodle brush and change their size.
What's inside?
It is mainly popular for its text effects. You can use beautiful and awesome text in your pictures. It has 3D text effects to make your picture look 3D and different from others. From this, we can also create cool posters with 3D text and effects.
The demanding feature of this app is changing of background as everyone is interested in changing the background of their pictures and it provides you with various background sceneries. Its advanced AI feature allows you to detect the background and draw a line automatically to remove a selected area or a person.
Effects changing is the way of upgrading pictures to good quality and there are various image effects provided by pixel lab by using it you can make pictures look more awesome and cooler.
It is free to download and use on android mobile and windows and has some in-app purchases which are easily accessible in a crack version of it.
Snapseed
Snapseed is a completely professional editor app developed by Google. It is a free app for editing photos as well as videos. Amazingly, you don't have to cost a single penny to create a miserable picture free of cost.
It is available on both android and iOS and has 5M+ downloads. The app is currently available in more than 40 languages which made it easy for users of different languages speaking to use this app.
It is also well suited while used in mobile as it had been exactly designed for the mobile interface itself. Thus, gives a smooth workflow while using the app.
What's inside?
It provides you with a high-quality picture of your edited image in the same resolution as that of your original image.
Snapseed carries an auto function in which it automatically edits your photo by itself according to contrast, brightness, colour, etc.
Its special effects and filters are drama, grunge, vintage, Centre-focus, Frames, and Tilt-shift.
There are so many gestures to select effects and enhancements through which user can edit their pictures.
The advantage of using Snapseed is that it is easily accessible without any cost, ad-free and there are tutorials available for beginners.
The recent update introduced the perspectives tool which allows to shift the focus of the photo and 11 new looks were added.
PicsArt
Pics Art has been used by more than 12M peoples which 3M iOS users as well as 9M android users. It is a professional editing app targeted by 150M content creators worldwide.
it gained its fame from the collage maker, golden hour selfies and due to its community, it made him an alternative to VSCO.
What's inside?
It allows you to use a huge collection of filters and fonts numerically to add text to photos and can also remove unwanted objects from the background and gives a clear and clean photo.
Feature of changing hair colour in selfies and adding makeup to it can be given a title of a golden and unique feature of Pics Art.
It offers to create a video and edit it with the music of your own choice or your voice.
It also helps to trim the videos and the stickers in it from its huge collection.
Pics Art can help to create a video from your photos and add a sound to it and to collage it on one page with different borders of different colours.
It also provides a 7-day free trial to try a premium with better filters and so many other features such as a smart selection tool to clone, cut, and select particular objects out of a photo.
7 Editing Apps like Prequel to Edit Aesthetic Pics [2022]
Darkroom
Darkroom is an android as well as an iOS supportable application used for photo and video editing or filmmaking. It provides pro-grade tools to edit your pictures and several filters.
As there are several filters it provides you to favourite the filter you like the most and it will be added to your favourite lists and you can use it whenever you want to.
What's inside?
Darkroom provides exporting HDR quality video after editing the video.
Its pro and most useful tools are curves and colour tools.
It allows you to manage the brightness, contrast, highlight, shadows, and many more in your picture.
Pictures can also be transformed to full zoom, flip, rotate and even borders can be added using the features of Darkroom.
It can be used to create stunning, full-resolution photos, from your camera roll or directly using your camera. Shoot and edit your images with film-inspired presets and advanced camera controls as well as awesome effects and filters.
It provides you with a 3-day free trial to try premium which grants to some more amazing filters and effects to edit your photo with.
Darkroom provides the feature to create your Filter to suit your needs like a professional editor from scratch.
Affinity Photo
Affinity Photo is a professional photo Editing app-only optimized for iPad and iPad pro. It provides you to enjoy live, real-time editing. It is a purchasable app at $21.99.
You can also create shortcuts by attaching keyboards and can save a document as template files to re-use it again and again.
What's inside?
It has a massive collection of effects including tilt-shift, blurs, shadows, glows, lighting, and many more.
A swipeable split or mirrored screen is always available to compare the photo before editing and after editing.
It also provides tools such as dodge, burn, clone, patch, blemish, and red-eye.
It contains a huge library of paintings, drawings, textures, fonts of different styles as well as colours, and professional brushes with advanced options to create your brushes.
It allows us to adjust exposure, black point, clarity, white balance, shadows, and advanced lens correction which include chromatic aberration, etc.
It has also one special brush through which we can remove unwanted objects or even people from the picture just by edging around it and has a great collection of background images to set behind your photos.
Pixlr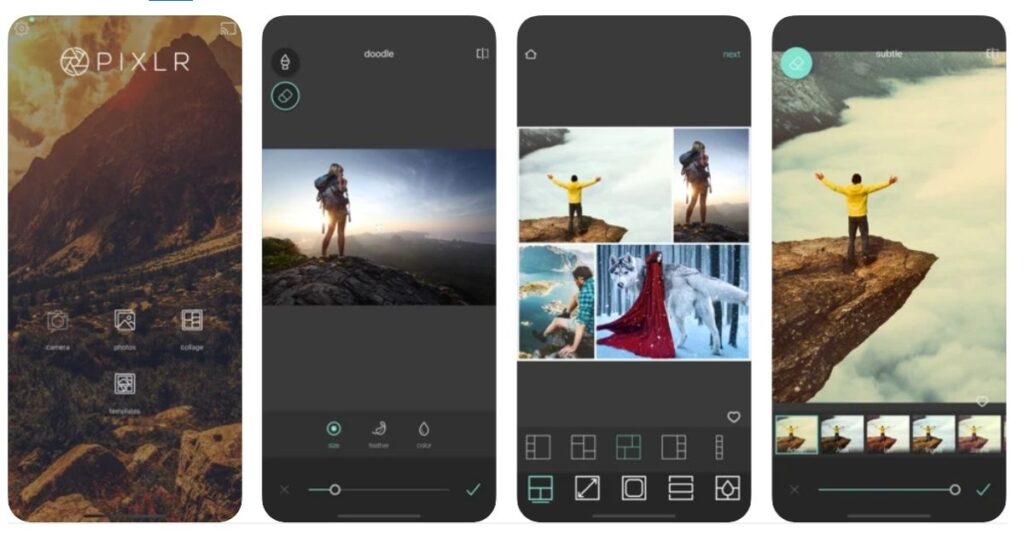 It is available for both android as well as iOS users and it is a free editing software and doesn't require you to create an account before using simply download and start editing your pictures.
It has a vast collection of effects and filters around 2 million. So, capture a moment and start editing.
What's inside?
With layers and adjustable transparency, use double exposure to create an array of effects and filters.
You can crop, resize and edit easily before downloading the picture to your phone gallery.
Pixlr also provides the feature of adding text to your photo of different styles and several colours.
You can pick any border from the collection which suits you and of your choice and try to pick a style that suits your picture more and can take a suggestion from the app by auto feature.
Quickly, adjust the colours of your photo by auto fix and adding tones with overlays-amplify the tone and making the photo cooler.
You can also remove blemishes, red-eye, or smoothen your skin and can whiten your teeth using simple tools.
From the range of effects packs, try the effects that give you the great look and feel you want by selecting the right effects and filter.
Prisma
Prisma is a photo editor app that creates awesome photos with amazing photo effects and can transform your picture into paintings. It has a unique taste in editing compared to other editing apps. It can be used by both android and iOS users including iPhones and iPads.
It was recognized as app of the year in 2016 and has a constantly growing community of more than 120 million users around the globe. It provides a feature for editing both selfies and general photos. You can download Prisma and let AI technology convert your pictures into an artistic piece of your interest in a good manner.
What's inside?
It has more than 500 styles that are waiting for you to try out of Prisma's library and every single day new styles are going live.
Prisma has the largest collection of various aesthetic styles including blur, ornament, embroidery, and many more.
You can separately add styles to the person and background and create more amazing picture after adding filters and effects which is favourable to the background and person.
If you are not that good at editing, just try the vivid frames and you will be pleased to use this app for editing.
For your little ones, you can use this app as a cartoon picture app as it includes so many funny effects which can create more fun for them and you as well.
It has a wide range of tools such as exposure, sharpness, contrast, brightness, and many more.
It also provides you 3-day free trial for the subscription pack and to enjoy some more features.
Polarr
Polar is usable to android as well as iOS users. It has millions of polarr filters made by polarr creators and even you can make your filters and can share them with your friends.
You can include your overlays, face adjustments or change particular objects with AI in polarr filters while editing your colours. It's pricing for subscription is $3.99/month and $19.99/year which unlocks polarr 24FPS through your polarr account and many more other features.
What's inside?
It also uploads a new collection of filters and effects weekly including the creator's spotlight.
You can also scan and produce new filters as QR codes.
Its overlay feature includes gradient, duotone, weather, texture, backdrops, custom overlay, etc.
Brush, radial, gradient colour, and luminance are his selective masks.
Its adjustments tools provide light, colour, HSL, toning, fringing, details, curves, vignette, effects, grain, LUT, etc.
Photoscape X
Photoscape X is a free editing software available on Windows and iOS Mac. It is all in one: photo editor, batch editor, photo viewer, cut out, collage maker, animated GIF Creator, Combine, print, screen Capture, colour Picket and the RAW image, etc.
It enables you to fix and enhance your photography effortlessly.
What's inside?
Its cut-out includes many features while removing background it gives you a magic eraser, lasso tool, and brush tool.
You can merge multiple photos in collage frames to fit them in one frame of different designs with various colours.
Photoscape X can slice your picture into pieces to use in a different photo.
It is available in 12 languages to make the people of the different communities use the app for editing their pictures and edit their videos.
You can even make the gif in your suitable way and it also allows you to print your edited pictures.
Final Verdict
In short, there are many apps like VSCO to edit your photos and videos. But every app is unique in its own way and has its own feature to feed its users.
If you want, you can use the 2 to 3 apps listed above which can give you the same vibes as VSCO.
FAQs
Is VSCO the best editing app?
With the availability of its feature, we can say VSCO is one of the best editing apps and has a good variety of photo correction features and a vast number of tools.
What app is similar to VSCO?
There are many apps similar to VSCO which are mentioned above in this article such as Adobe Lightroom, Darkroom, etc.