6 Best Apps Like Upside for Saving Up on Gas [2023]
We may earn small commission from the products mentioned in this post. visit here for more details.
The gas and fuel charges can take your life. Paying everywhere for the fuel and gas is a lot when we sit and total it up for a month or year. Cars are already that expensive plus driving is now more expensive than anything.
Whether you have the best car with the best mileage or not, gas is going to be costlier day by day. Gas is something without which you can drive, payment and prices are yet to pay without any discounts. But some apps provide small rewards if you pay your fuel charge via their platforms.
Hence, In this article, we are going to talk about the 6 best apps like Upside which offers rewards and cashback on paying for fuel using their portals. The Upside is said to be a great app and the most preferred app for citizens to use for fuel charge payment to compete with the Upside App, we are here.
The best 6 apps like Upside for Saving up on Gas namely- Checkout 51, GasBuddy, Murphy Drive, Trunow, PetrolPrices, and Gas Guru. By the end of the article, you will get to know about them in detail with their key highlights.
Checkout 51
Checkout 51 is an all-in-one cashback and rewards app. It simply not just offers cashback on gas purchases but also online shopping, grocery shopping, etc. Checkout 51 is a great app like Upside because the cashback is genuine and you do save up on fuel purchases.
The app is completely free to download and is easily available on Webstore, Apple Store, and Google Play Store. The app is free to use and is user-friendly. You can simply browse through lots of offers within the app and select one to get a cashback.
Key Highlights of Checkout 51
It is a great app free to use and free to download.
The app supports both android and iOS devices.
You can simply browse through millions of offers.
The cashback offers are not stored specifically hence you get to avail it anywhere as per product.
The cashback on gas stations is store specific.
To avail of cashback on gas purchases, you simply need to browse through gas stations in nearby locations through the app and choose which suits you the best.
Once you are done selecting the location, then simply just add the offers to your account and then upload the receipt to get cashback.
This app can be easily used by Americans and Canadians.
You can also claim many offers at once.
Checkout 51 also offers the link to all your loyalty cards.
GasBuddy
GasBuddy as the name says is totally for the rewards and offers on the gas purchases done through this website and application. GasBuddy is surely a great app alternative for apps like Upside to save up on gas purchases.
It gives you discounted prices on gas purchases and also helps you locate gas stations and see where you can pay the lowest. Even if you are going on a trip to new state and country, then this will be a great help for you.
Key Highlights of GasBuddy
GasBuddy also offers a free prepaid card for its users.
The app and website both are power-packed with plenty of tools and features to look for.
GasBuddy offers savings options, cashback options, and gas back- which is curated for returns on gas purchases for the users.
GasBuddy has a user-friendly interface and is very easy to navigate.
GasBuddy has several ways to save on fuels and is easily accessible by signing up and creating an account.
GasBuddy is said to give your cash back in gas save up. Once you have paid through gas you will get access to the next fulfillment.
You can easily get 10% cashback when shopping or dining with them.
You can easily save up to $0.40 with a premium membership of GasBuddy.
You can also save up to $0.25 per gallon using a prepaid card which is free to avail.
Murphy Drive
Murphy Drive is a great app like Upside to save up on your gas purchases. It is said to be the best app for savings on gas, snacks, drinks, and much more. You can easily earn points by playing games and murphy purchases.
It also offers free snacks or up to $1 per gallon at the pump. You can also earn cash through the points. With the app, you can do a lot of things like comparing prices, earning points and rewards, etc.
Key Highlights of Murphy Drive
Murphy Drive is free to use and free to download.
The user interface of Murphy Drive is very catchy and hence very useful and easy to navigate.
You can easily play games and earn more points to turn them for cash backs.
You can also avail free services like free snacks and free $1 gallon of fuel and gas if you pay using Murphy Drive.
Murphy Drive is available on both apps and websites.
You can win up to 20 points when you play the game and then gain more points by using the app daily.
The app works great but if you find any queries then you can call them up or email your queries to get them solved.
Murphy Drive app is available in Webstore, Google Play Store, and Apple App Store.
Trunow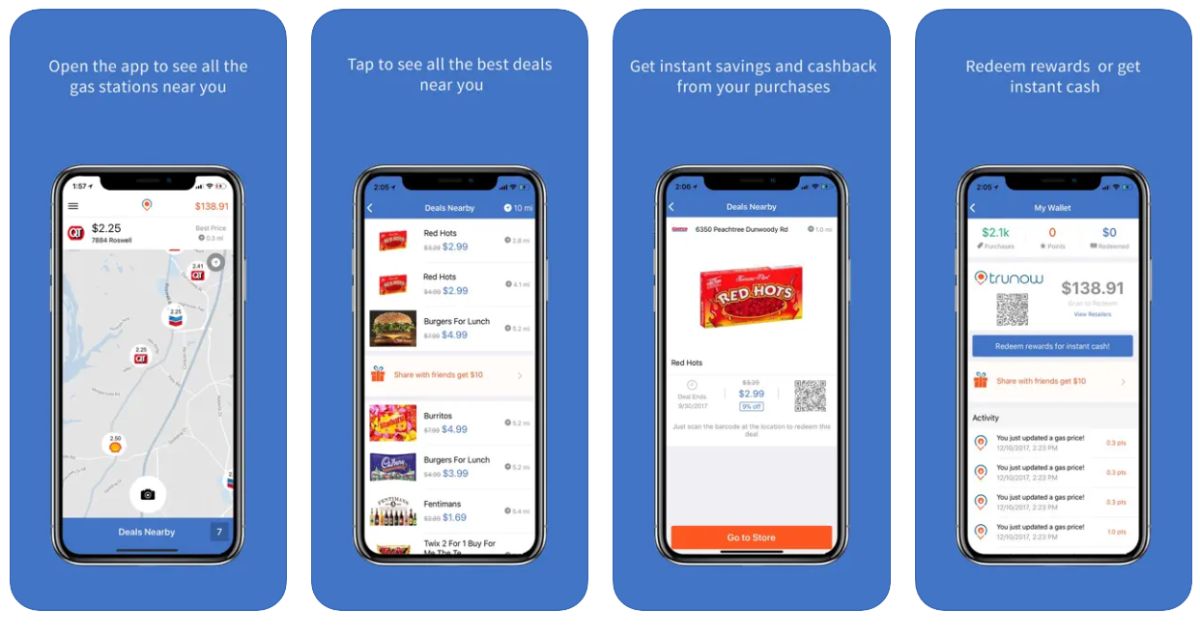 Trunow is a specially curated app for USA citizens which is a great app like Upside to save up on gas purchases. It is free to download and a user-friendly application. You can easily locate gas stations near you with their app.
Trunow was launched back in 2017 in the United States, Georgia and since then it is available throughout the country to avail rewards and cashback on gas and fuel purchases with their portal.
Key Highlights of Trunow
You can easily check current fuel prices per gallon and locate the gas status near your current location while using the app.
The app will show you which gas station offers the cheapest rate per gallon to help you save money with your next gas up.
You can easily upload a photo of your receipt and get cashback and rewards to avail of the next gas fill-up.
You can also choose coupon codes while paying for the current fill-ups.
If you fill gas from Trunow's partner station then you will receive 2% of your cashback.
If you have to fill up the gas from a non-partner station then 1% cashback on your receipt is compulsorily available.
You can easily choose to use earnings for the next gas fill-up or get rewards from the app.
Trunow also allows payments and cash-out earnings with a PayPal account easily to your linked account or card.
PetrolPrices
PetrolPrices is an app to find the cheapest and nearest petrol stations within the locations of any UK postcode, town, or city. You can easily save up on petrol and diesel by looking for the cheapest stations available.
Currently, the app and websites offer correction of the prices by customers but it is not that smooth to correct it within minutes, it may take up to days for getting to the correct and recent prices on the app which can be seen as the downfall.
Key Highlights of PetrolPrices
The app is free to download and free to use.
The user interface of the app is quite simple and easy to understand and use.
You can easily report fuel prices and get a full review of local gas stations.
You can easily get the premium diesel and petrol prices from the best retailers in Uk namely- Shell, Asda, BP, Sainsbury's, Esso, Morrisons, Tesco, and many more like them.
You can easily get access to the reviews and you can also write a review for any gas station you visit within the UK.
You can save money by filling up gases from the best and cheapest place.
PetrolPrices is available in the form of the website as well as the app.
It is available to be downloaded from Google Play Store, Apple's App Store, Chrome extension, Web Stores, etc.
Gas Guru
Gas Guru as the name says is the guru for gas purchases like Upside. Gas Guru is a mobile application where you can easily search and locate the gas stations nearby and compare their prices with others.
The app was launched by Yellow Pages LLC in the year 2012 which are now both under the company called Thryv. It is easily available on android and ios devices and free to use.
Key Highlights of Gas Guru
The Gas Guru is said to be a very flexible and straightforward app.
It is free to use and free to download.
You can choose the locations for your gas station by their grades.
There are 4 grades to choose from on the app for gas stations namely Regular, Midgrade, Premium, and Diesel.
You can easily tap on the gas station list to know in detail about the gas stations.
You can also check for more amenities such as ATM services, stores, etc.
Gas Guru doesn't need any registration to use the app.
The directions feature guides you on the road where the gas stations are located like GPS.
You can easily add your favorite gas stations in the favorites category.
Conclusion
Here, we come to an end to the article of 6 Best Apps like Upside for saving up on gas namely Gas Guru, GasBuddy, Murphy Drive, Checkout 51, Trunow and PetrolPrices.com
You saw her their details with key highlights from their website and store to offer its users and hence now if you need a substitute to the Upside App, you know which apps can be useful.
FAQs
Who owns the Upside App?
Upside App is owned and managed by Alex Kinnier, Wayne Lin, Thomas Vaughan, Rick Mcphee, Jan Rubio, and Joanna Kochaniak. 
Who owns the Gas Guru App?
Gas guru is owned by Yellow Pages LLC. 
Who owns the GasBuddy App?
GasBuddy is in the hands of PDI Software. 
Who owns the Checkout 51 App?
Checkout 51 is looked out by Checkout 51 Mobile Apps ULC.
Who owns the PetrolPrices?
PetrolPrices is owned and managed by Automate Limited. 
Who owns the Trunow App?
The Trunow app is handled by Trunow Company.
Who owns Murphy Drive?
Murphy Drive is said to be in the shelter of Murphy USA namely Andrew Clyde.