6 Best Apps like Paired – Make Your Relationship Better [2023]
We may earn small commission from the products mentioned in this post. visit here for more details.
Apps Like Paired: You and your partner could occasionally forget that spending quality time together is important due to daily responsibilities. You cannot remain with them constantly or talk to them on the phone or in person all the time.
What might have been a great and beautiful partnership could eventually fall apart if the partners frequently neglected one another.
Creating relationship goals can help you avoid this and possibly enhance your connection. Relationship-focused apps are made to support you in achieving these objectives. Here, we're sharing our recommendation of the best apps like Paired for couples for better relationships.
The paired app is perfect for people who want to talk about difficult subjects and develop and improve their relationships. While this app sometimes seems like it's just for fun and games for some couples, some of the answers can be unpleasant to hear and even cause disagreements.
So, here we will explain some of the best apps like paired for couples for better relationships.
Sumone
The Sumone app is the best app like Paired for improving relationships between partners. You have the opportunity to deepen your connection with your partner and reveal more of who you really are.
It asks you and your partner a question every day at a moment of your choosing, ranging from profound and reflective to cute and surprising! Currently, it has 4.5 stars in the App Store and 10L+ downloads on the Google Play Store.
Key Features
You can exchange sweet messages by mail.
You have the option to choose and share your current mood each time you respond to a question.
Its little assistant Hakoo will collect everything at the end of the month and give you a copy of the record of your love.
It observes your anniversary.
You can preserve a sweet reminder of your love right on your screen by using its Memo or Anniversary widgets.
It presents a question to you and your partner each day at a moment of your choosing.
There are over 4 million users of this app.
Between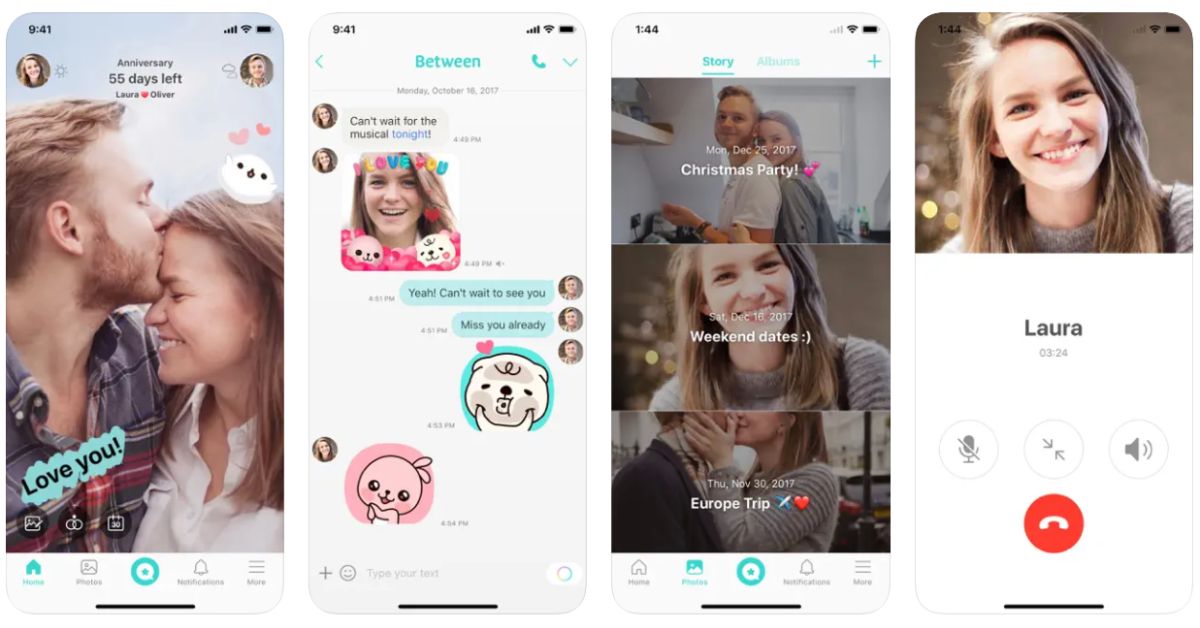 Between, an app that was first released in 2011, has over 10 million downloads on the Google Play Store and a 4.8-star rating on the App Store. This is the best app for couples since it offers a particular permission that enables users to connect with their partners more secretively and romantically. This application offers the chance to keep precious memories just between them.
Couples may stay connected even when using different types of cell phones because it can be downloaded on both Apple and Android phones. The ability to save talks for later reading is available in Between. As a result, you can view it anytime you want to talk to the individual but they are not available.
You are free to alter the background and take on additional tasks. It provides a timeline option so you may share the memorable times you two had together on this internet platform.
Key Features
Easily store your notes, movies, and images.
Use the built-in calendar to save schedules and special days, and check your partner's schedule.
Provides free GIF selfies and emoticons for more passionate messaging with your sweetheart.
You and your companion can converse.
The app is available for free, and a $2.99/month premium edition without adverts is also offered.
Merge
Merge makes it simple to understand what your partner needs and when they need it with reminders, urgency indicators, and the option to set up recurring activities.
Merge helps couples in managing the daily obligations of living in the same house. It's a personal space for just the two of you. It is bound to improve household communication right away, whether you've been married for years or recently moved in together.
You can create shared to-do lists for tasks like shopping, paying bills, and household duties. It also has a voting and commenting option that allows you, your partner, and anybody else living in your home to influence decisions.
Key Features
Assign tasks to your partner after creating them.
To make tasks more clear, add comments or edit them.
To avoid forgetting important tasks or chores, set reminders.
To easily check in and update your partner on your day, use Merge status updates.
The app is available for free download, and in-app purchases are available for $3.99.
It aids you in managing your daily obligations.
Supports keeping the lines of communication open.
Kindu
The Kindu app, which has been mentioned in Mashable, Parenting.com, Yahoo News, and NBC News, attempts to improve human connections through technology. A group of doctors who were interested in learning more about human interactions and how intimacy is essential to all partnerships produced the Kindu app.
It allows exploring intimate desires through various romantic date ideas, and diverse activities, and includes couple messaging tools. And you can also look for entertaining things to attempt in bed and have private conversations.
Furthermore, they have a matching system that allows for safe and confidential communication. Using this app, one thing is clear, it'll strengthen your intimacy with your loved one.
Key Features
It allows you to submit your partner's ideas privately.
A bookmarking option for your favorite concepts.
Use on two different devices.
The Wildcard option enables you to suggest your own ideas to your partner.
Accounts that are anonymous and do not save any personally identifiable information
In-app purchases that let you both buy more adventurous stuff and gain fast access to free content that has been postponed.
Coupleness
Couplness is one of the best free apps like Paired for couples. If you spend 3 minutes a day using this application, you'll learn what your partner likes and dislikes and gain insight into how to improve communication with them. The app's tracker asks you about your emotions and romantic interests.
Using the standard emojis provided by the app, you can quickly respond to the questions. Relationship Boosters, a professionally built component of this software, helps users spend less time staring at screens and more time cuddling.
Additionally, this app's suggestions and articles will assist you and your partner grow closer. Also, you'll have the chance to respond to a number of questions to learn more about your partner's emotions.
Key Features
Tips, articles, and questions and answers to help you build your relationship
Understand likes and dislikes about your partner in 3 minutes
Connection booster to cut down on screen time
GIFs can be used as responses as well.
The daily tracker inquires about your feelings and the things that have affected you.
You can see insights into yourself, insights about your spouse, and insights into your relationship as a whole.
You will receive daily relationship ratings from it.
Noteit
Noteit by Vitor Bukovitz enables daily communication between couples or friends through virtual notes. The app was first made available in June 2021, but it has recently gained popularity to the point that it is now among the top 10 entertainment apps.
It is marketed as a platform that enables users to privately send essential notes. It is straightforward to use, specifically made for couples, and compatible with tablets and iPads running more recent iOS and Android operating systems.
Key Features
You can see real-time notes from your loved one.
It is not difficult to use Noteit.
Any kind of note that you wish can be written.
The drawing tools include a marker, highlighter, pencil, eraser, ruler, and lasso tool, among others.
It's simple to make notes show up directly on your home screen in addition to seeing them in the Noteit app.
It is entertaining, creative, and cost-free.
Final Words
If you want to improve your bond with your favorite individuals, above all are apps like Paired that you should try. By using these apps, you can maintain contact with another person or people and make your work life a little less hectic.
So, we hope that this post on apps like Paired helped you in strengthening your relationship with your significant other.
5 Apps like Noteit Widget for Couples [Android & iOS]
FAQs
What is the paired app for couples?
Paired is your guide to improve communication, stay connected, and deepen intimacy as a couple. With our daily questions feature you get a fun question to answer every day with your partner.
Is the paired app worth it?
Paired is ideal for those who want to discuss problematic issues and improve and grow their relationship. 
Is paired app private?
While your App is paired, all your conversations will be available for your partner to view until you choose to end the pairing or by deleting your account. We never disclose your personal data to advertisers or other third parties for any compensation.