8 Best Apps like Acorns & Acorns Alternatives [2023]
We may earn small commission from the products mentioned in this post.
Are you finding similar apps like Acorns or Acorns alternatives? Want to know which app offers the best features? Don't worry, we'll help you with that! This article will show you the 8 best Acorns alternatives that make investing easier.
Automatic saving apps are easy, reliable, and the best way to save your money. All the apps listed in this article offer a personalized portfolio, let you trade your own stocks, check your portfolio and invest money.
Apps like Acorns: Best Alternatives!
Before getting into further details, first, let's know what the Acorns app is and how you can invest money with Acorns.
What is Acorns?
With Acorns, you can get started in minutes and invest spare change with automatic roundups. This means your money will automatically invested into one of its diversified ETF portfolios that are built by its experts. Acorns offer five diverse products – Spend, Invest, Early, Later, and Found money.
As soon as you've created an Acorns account, you are advised to choose one of several pre-built portfolios to invest in and link a credit or debit card to your account.
You'll have the ability to link as many cards or account as you want, but keep in mind that all the roundups are deducted from the same linked checking account. So, now read on further to know more about 8 best apps like Acorns.
Betterment
Betterment is an American financial advisory business that offers Robo-advising and cash management services. Its main service is automated goal-based investing, that regulated portfolio of fixed income exchange-traded funds and passive index-tracking equity.
It provides tax-advanced and taxable investment accounts consisting of IRAs (Roth Individual Retirement Accounts) and traditional accounts.
Currently, its business model consists of three businesses: a platform for advisors, retail investments, and a 401 (k) for mid-market business. Recently, it has added human financial advisors, checking & saving accounts as additional services.
Licensed financial advisors offer over-the-phone advice to users who choose additional support.
Key Features
Its licensed personalized financial advisors offer over-the-phone advice to users who choose for additional support.
Its primary retail platform offers individual retirement accounts, taxable investment accounts, trusts, and tax-coordinated asset location services.
It offers individual and joint nonretirement accounts.
Core portfolio uses ETFs from over 13 asset classes.
Automatic deposits can be weekly, biweekly and monthly.
SRI income and smart beta portfolios are available
Low fee exchange-traded funds from diverse asset classes.
Fees: It has two different plans with a different management fee
Betterment Digital: It charges a 0.25% annual fee. Betterment's basic offering with digital advice and tools.
Betterment Premium: It charges 0.40% annual fees. You can get access to a team of certified financial advisors for your account monitoring, along with unlimited emails and phone calls.
Public.com
With Public.com, follow other experienced investors, follow friends, famous entrepreneurs, and discover companies to believe in and invest with as little as $1. It is one of the best ETF trading and commission-free stock apps for Android and iOS.
It uses a third-party – Apex Clearing, to manage the background administrative stuff of running Public user accounts.
Although it makes buying and selling stocks and ETFs free and easy, some of its features are limited when compared to other businesses that also allow you to trade ETFs and stocks without paying any commissions.
Key Features
It lets users buy stocks, and fractional shares and see what other users are investing in.
It offers access to over 5,0000 stock options to select from.
You can easily buy and sell stocks without the high commissions or fees charged.
You can use the Public app to find data and basic information about every supported stock.
It doesn't need any minimum requirements on investments.
You can keep track of investment news and search for investors who share similar interests.
Fees: Public.com doesn't charge any trading fees or commissions for investors who buy and sell stocks.
Robinhood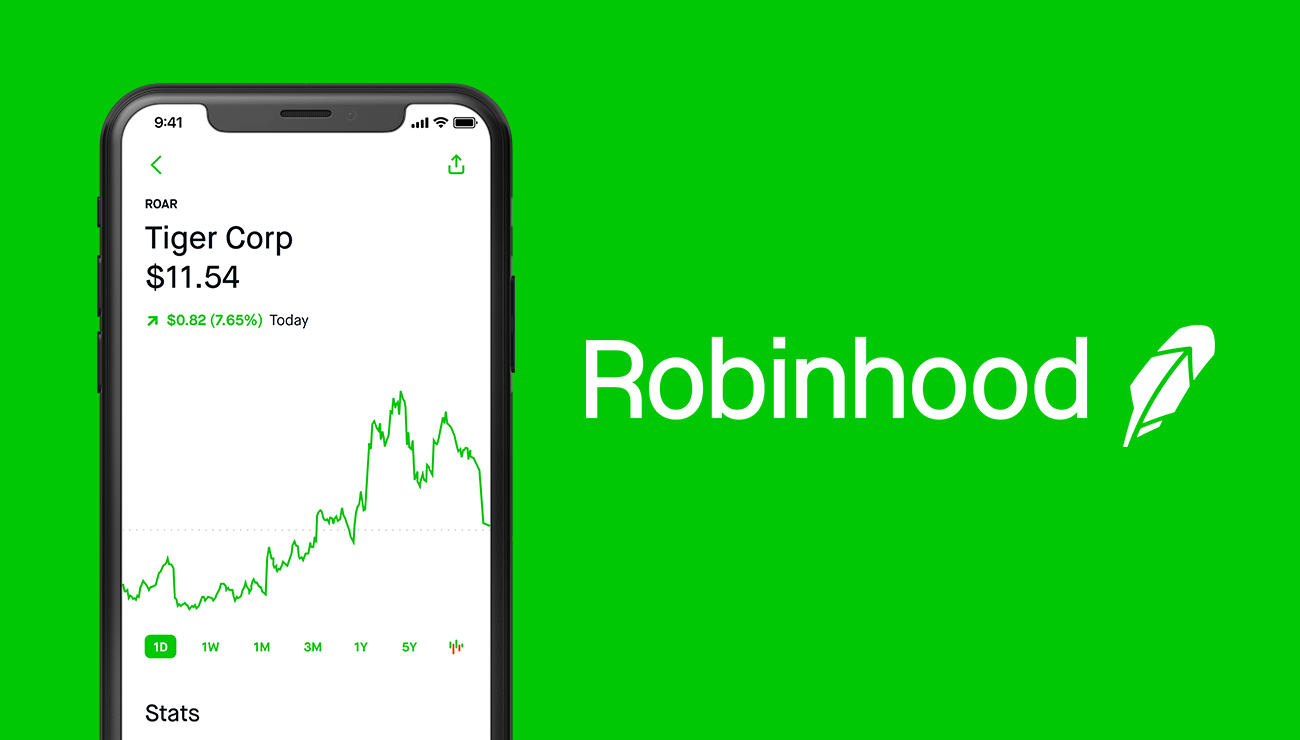 Robinhood is one of the best apps like Acorns that is widely known for initiating commission-free trades of stocks and exchange-traded funds through a mobile app.
It typically supports trading stocks and ETFs listed in the New York Stock Exchange and Nasdaq and usually doesn't support over-the-counter securities.
Furthermore, it'll also help you understand the financial market so that you can be able to invest in stocks, funds, and options, all commission-free. Robinhood claimed the savings and checking accounts would have a 3% annual interest rate.
Key Features
Buy and sell crypto like Dogecoin, Ethereum, Litecoin, and Bitcoin.
It will help you understand financial market, so you can invest in funds, stocks and options for completely free.
You'll have the ability to access real-time market data, read relevant news articles, see analyst ratings before buying a stock.
It offers a wide range of products to help you make your money work harder for you.
It offers both mobile and web platforms.
It doesn't need any minimum requirements on investments.
Fees: Investing with Robinhood is commission-free, it doesn't charge any fees to open and maintain your account or transfer funds to your account.
M1 Finance
Just like Betterment, M1 Finance also provides a robo-advisory investment platform. It has different accounts, including digital checking accounts, brokerage accounts, and lines of credit. M1 Finance provides an electronic trading service for the trade of financial assets, this included preferred stocks, exchange-traded funds, common stocks, and fractional-share ownership.
Not only that, it also offers margin lending, automatic dividend reinvestment services, automatic rebalancing services and cash management services, including debit cards. It can be an ideal choice for people who want to access both self-directed trading and automated investing.
Key Features
You can create a system of automated rules which allows you to organize your transactions with just a few taps.
You can optimize your spending, investing, and borrowing.
It offers both automatic investing and self-directed trading services.
M1 checking account, access your money immediately, and move money between investments easily with your
Create your portfolio with any stock and ETF for entirely free and use its intelligent automation tools to invest on a schedule.
Fees: M1 Finance doesn't charge any trading fee as well as a management fee to build a portfolio from an extensive list of ETFs and stocks with low expense ratios which average between 0.6% and 0.20%.
Its premium version – M1 Plus costs $125 per year with high checking & savings interest, lower lending rates, and cashback on debit card purchases. Also, accounts with less than $20 and inactive accounts for 90 days are charged a maintenance fee.
Stash Invest
Stash is an American financial service that operates both mobile apps and a web platform. It simplifies investing, thus making it easy to build wealth. Users can be able to invest as low as $0.01 additions into small shares of thousands of stocks and over 80 exchange-traded funds.
Also, users can invest in retirement accounts, traditional IRAs, brokerage accounts, Roth IRAs or custodial accounts. It also offers financial education and automatic investing.
Key Features
You can choose how much you invest with fractional shares.
Its automated investing tools can help you reach your financial goals.
It offers a bank account with Stock Bank Card – a debit card that rewards you with stock in popular brands.
It offers different tools, including a retirement calculator, diversification analysis, stock-back rewards, and more.
It provides banking, custodial accounts, retirement, individual investment through a subscription model.
Fees: Stash charges 0.25% per year for advisory services. It offers three paid plans for long-term investing – Stash Beginner ($1/month), Stash Growth ($3/month), and Stash Plus ($9/month).
5 Apps Like Stash for Micro-Investing [2022]
SoFi
SoFi is another best apps like Acorns that offers a suite of financial products, including refinancing, personal loans, student loans, credit cards, mortgages, home loans, wealth management, investing, and banking through their desktop and mobile app interfaces.
SoFi is partnered with numerous other third-party insurance companies like Lemonade Inc., to provide life insurance, homeowners insurance, auto insurance, and renters insurance. They also offer cash management accounts and an investment platform that consists of brokerage and Robo-advisor services.
Key Features
It offers trading of Ethereum, Bitcoin, Litecoin and over 17 other crypto assets.
Its online cash management account acts as a hybrid savings/checking account.
It lets users track their money in the bank. Investment, credit card, and loan balances.
It offers two types of investing – passive automated-advisor and active stock trading.
You can get access to certified financial planners at no extra cost.
It comes with a debit card that lets users to make cash withdrawals.
Fees: SoFi is a fee-free investment platform, which means there are no management and administrative fees. However, it charges a fee of 1.25% for cryptocurrency transactions.
Fidelity
Fidelity is an American financial service that operates a brokerage firm, handles a large group of mutual funds, offers fund distribution and investment advice, index funds, cryptocurrency, asset custody, retirement services, wealth management, securities execution & clearance and life insurance.
Furthermore, it runs a chief brokerage firm and has investors centers in over 140 locations across the United States. Fidelity investment offers services to its correspondent broker-dealers, banks & trusts, registered investment advisors, and more.
Key Features
You can quickly review news about your investments and interests with your customized feed.
Manage your orders, pending transactions, history under the activity section in accounts.
You can receive timely, customized alerts through push notifications or the message center.
It has improved its concentration on execution quality and cash management to assist clients in enhancing investing returns.
There are several pre-set screens accessible for stocks and ETFs, which help you to identify potential investments.
Fees: Fidelity provides a $0 trading commission and a selection of over 3,400 no-transaction-fee mutual funds. However, it charges $0.65 per contract on stocks & options.
Wealthfront
Wealthfront is an automated investment service. Just like, Betterment, and M1 Finance, Wealthfront is a robo-advisor, which is also known as an automated investing service or online advisor.
Users can invest up to 10% of their portfolios in cryptocurrency by the addition of the Grayscale Ethereum Trust and Grayscale Bitcoin Trust. With the launch of Autopilot, it has taken a large step to its purpose of self-Driving money that handles bank accounts and moves funds.
Key Features
You can be able to edit your investment or allocations easily at any time.
It can automatically split your paycheck with direct deposit and move money for you.
Discover hundreds of funds across categories like clean energy, tech, crypto, social responsibility, healthcare, and cannabis.
You can customize your Wealthfront portfolio by deleting or adding some ETF holding or building your complete portfolio from the start.
Fees: Wealthfront doesn't charge any account-opening fees, trading & commission fees, withdrawal or account-closing fees, or account transfer fees. However, it charges an annual advisory fee of $0.25% for investment accounts.
Which is Right for you?
Robo-adviser apps like Betterment, Sofi, M1 Finance and Wealthfront are developed to offers customized investing advice by using artificial intelligence. Whereas, online brokers like Stash Invest, Robinhood, Fidelity, Public.com let you trade and handle stocks on your own.
All the Acorns alternatives mentioned in this article are an amazing investing service. So, it really depends on you to choose the best platform according to your needs and requirements. Also, keep in mind that some of these apps' charge investment or management fees.
Final Words: we hope the above article on the 8 best apps like Acorns has helped you to pick up the best option according to your preference.
Acorns Not Working? Try These Steps to Fix! [2022]
FAQs
Who are Acorns competitors?
Betterment, Robinhood, Public.com, Stash Invest, Fidelity, Wealthfront, SoFi and many more.
Is Robinhood legit?
Yes, Robinhood is entirely safe and legit. Your funds on Robinhood are protected and secured.
Is Acorns worth using?
Acorns offer a fantastic education platform for new investors.
Can Wealthfront make you money?
Yes, it uses a research-based algorithm to offer the perfect investment portfolio.
Does Fidelity have high fees?
No, Fidelity has a $0 trading fee, including commission-free stock trading.