7 Sports Anime like Haikyuu & Where to Watch! [2023]
We may earn small commission from the products mentioned in this post.
Anime like Haikyuu: Anime has various genres giving us multiple masterpieces from adventure, romance, etc but let's not forget about the sports genre which speaks to the unique stories of various heroes from anime like Haikyuu.
About Haikyuu!!
Haikyuu!! Starts with Hinata Shouyou witnessing the astonishing talents of Little Giant on the Volleyball Court. Since then the boy has been fascinated by the nature of volleyball.
He tries to make his debut as an official volleyball player during his middle school tournament, but since he's the only one serious about this sport with no experience whatsoever – it results in his bad failure.
However, trying his luck yet again, he enrolls in the Karasuno high school, the same place where Little Giant played, and meets Kageyama Tobio – a certain someone who he resents but is going to be one of the pillars to help him reach the top.
The story further follows both Hinata and Kageyama as they meet different types of characters, face defeat, and gradually climb to the top of the ladder. 
If you have never once watched any sports anime and this is your first time then Haikyuu!! is the best option for you. However, if you have already given it a shot and want to watch more shows like Haikyuu, then we recommend you go through the below-mentioned article containing a list of the 7 best anime similar to Haikyuu!!
Blue Lock
Episodes: Ongoing
Premiered: 9 October 2022
Genre: Sports
IMDB: 8.4/10
Where to watch: Disney+, Netflix, and Crunchyroll
Blue Lock has a serious protagonist named Yoichi Isagi who was just a few moments away from scoring the last goal which would have led his team to nationals, but a mistake in that split second cost him a great loss.
Still upset and confused, Isagi returns home to see an invitation to Japan's football union. He was selected by a biased decision procedure and is one of the 300 under-18 strikers selected for a controversial task named Blue Lock. 
The main goal behind this project is to turn one of the chosen players into a star striker for the Japanese national soccer team. To find the best among all the participants, each one has to go through fierce competition and participate in a series of solo as well as team competitions to rise to the top.
Although Isagi has complaints regarding the project, he still feels motivated to crush all the 299 desiring strikers to rise to the top.
Blue Lock is one of the best anime like Haikyuu!! because although the sports are entirely different, the deep meaning, serious scenes, and freedom of striking and victory – everything is similar to Haikyuu!!
Initial D 
Episodes: 26
Premiered: 26 June 1995
Genre: Action and Drama
IMDB: 8.4/10
Where to watch: Hulu, Netflix, Funimation, and Crunchyroll
Initial D is about Takumi Fujiwara, someone who is the least bit interested in cars and has almost no knowledge about the world of car fanatics and street racing.
He is the son of a tofu shop owner and is currently running an errand to deliver tofu every morning without fail. He is subjected to a tiring daily routine and visits the mountain of Akina regularly.
One night, the popular Akagi Red Suns – a team of street racers – decide to visit the town of Akina to challenge the local mountain boss.
The group is led by two aces named Ryousuke and Keisuke Takahashi and the team is ready to conquer every racing course in Kanto. They wish to establish themselves as the quickest group in the region.
But to their surprise, one of their aces lost to an old Toyota AE86 while returning back home. After that moment, the Takahashi brothers are well aware of a mysterious driver with incredible abilities and knowledge on local roads – the AE86 of Mount Akina.
Run with the Wind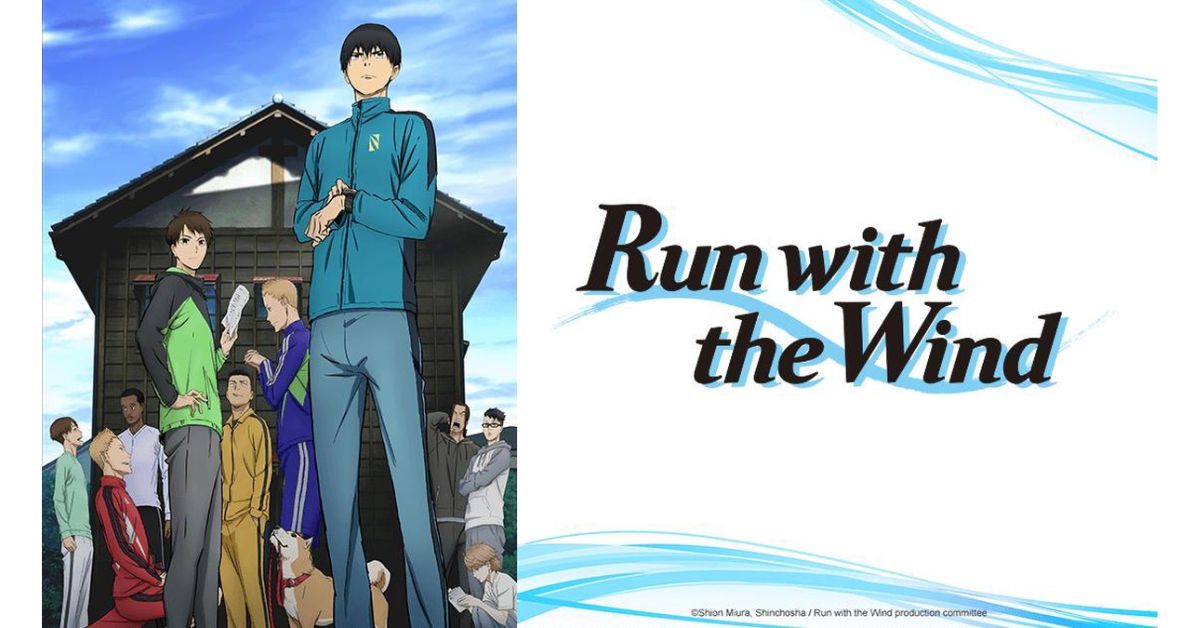 Episodes: 23
Premiered: 3 October 2018
Genre: Drama and Sports
IMDB: 8.4/10
Where to watch: Crunchyroll and Apple TV
Run with the Wind starts when an ex-ace runner from Sendai Josei High School called Kakeru Kurahara is chased out of a convenience store for shoplifting. Shaking off the event, he further bumps into another student from the same university named Haiji Kiyose.
Haiji didn't take a while before getting impressed by his agility and somehow ends up convincing him to live in a rundown apartment in Chikusei-sou along with eight other students.
Since Kakero is broke due to spending his complete apartment deposit at Mahjong parlor, he accepts the offer reluctantly. But, Haiji further reveals a secret during the welcoming party: the apartment is a dorm for Kansei University Track Club.
He then reveals his main goal of participating in Hakone Ekiden, one of the most famous university marathon relay races held in Japan.
To complete the plan, he needs help from other people but apart from their residents, all the others are running beginners. To make it even worse, none of the tenants are interested in being involved in their ridiculous plan.
Only one month is remaining before the deadline and the story further shows if Haiji alongside Kakeru can convince the students to participate in his plan or not.
Kuroko no Basket 
Episodes: 75 + 3 OVA
Premiered: 7 April 2012
Genre: Sports
IMDB: 8.3/10
Where to watch: Netflix and Crunchyroll
Kuroko no Basket starts with Teikou Middle School winning the national basketball match with a legendary lineup of a generation of miracles from the last three years.
It consisted of five prodigy players along with the sixth player named the phantom sixth man who was responsible for helping members from the shadows. However, after they graduated, each one parted ways on somewhat bad terms. 
Meanwhile, the Seirin High School Basketball team is searching for new members and successfully recruited Taiga Kagami and Tetsuya Kuroko – two freshmen who are clearly different in abilities and body structure.
Kagami is from America and is passionate about basketball. Kuroko lacks presence yet has outstanding athletic talent. The two, when combined, are the strongest pillar in helping Seirin reach the top.
In their journey, they have to face every player from the five prodigy players included in the generation of miracles one by one and overcome every obstacle. 
By far, Kuroko no Basket can be called one of the most similar anime to Haikyuu because of the similarities in the main character's ambition, the deep meaning behind their goals, their hard work, and more. 
Yowamushi Pedal 
Episodes: 25
Premiered: 8 October 2013
Genre: Sports
IMDB: 7.7/10
Where to watch: Netflix and Crunchyroll
Yowamushi Pedal has Sakamichi Onoda, a total Otaku who is thinking about joining his new school's anime club and is eager to make new friends. But, much to his dismay the club is disbanded and so he takes up the task himself to revive it by searching for students.
With almost 0 luck, he decides to go on a round trip to Akihabara on his old and bulky city bicycle – a weekly 90 km ride he has been completing since he was in fourth grade.
That is when he bumped into a first-year student named Shunsuke Imaizumi, who is a motivated cyclist who is using the school's first-grade cycle for practice. 
The lad is further surprised by Onoda's ability to climb the hill with his bulky cycle and so, he challenges him for a race. Onoda is not interested but Imaizumi promises him that he will join the anime club if he wins.
This is how Onoda enters his first race into the world of high school bicycle racing. 
Free! 
Episodes: 3 Seasons
Premiered: 4 July 2013
Genre: Sports
IMDB: 7.4/10
Where to watch: Funimation
Free! Includes Haruka Nanase, a boy who is a fan of swimming and loves water. In his elementary school life, he once competed in and won a relay race along with his three friends named Rin Matsuoka, Nagisa Hazuki, and Makoto Tachibana.
After that victory, all the boys went to separate paths, and years later, they are united as high school students – but Rin is not interested in going back to his old self. He has now entered a prestigious school but only to attend its prodigious swimming club to become a better swimmer than Haruka.
After their bitter reunion, Haruka along with Nagisa and Makoto is set on forming a swimming club in their new high school, but they need one more member to take part in the upcoming competition.
Now enters Rei Ryugazaki, a former member of the track team whom Nagisa recruited. 
As time goes by, he tries his best to cope with the other three and the four develop a close bond while practicing intensely. The competition soon arrives where Haruka and Rin once again compete to decide which one is the better swimmer.
All Out! 
Episodes: 25
Premiered: 7 October 2016
Genre: Sports
IMDB: 6.7/10
Where to watch: Netflix, Funimation, Amazon Prime Video, and Crunchyroll
All Out! talks about Rugby – a sport that will make you a star as long as you have the ball in your hands. The rules are pretty simple – the player has to carry the ball past any goalpost across the field and has to avoid the other team, who will try to force you back down on the ground.
Now we have our male protagonist, a feisty high school freshman named Kenji Gion studying at Kanagawa High School.
After the school's opening ceremony, he immediately bums into a tall and timid boy named Sumiaki Iwashimizu, and the two, while together, receive an invitation to only observe the rugby club of the school.
After the match is over, Gion notices that although the huge and tall guys have certain advantages, the game is still open and beneficial for all types of shapes and sizes. Thereon, he is immediately convinced that he has finally found a sport he can be good at despite his small boy structure.