9 Top Stores Like Uncommon Goods for Unique Gifts [2023]
We may earn small commission from the products mentioned in this post.
Stores like Uncommon Goods: Uncommon Goods is a private, USA-based online and catalog company. It's a platform where you get to explore unique gifts created by independent creators.
Whether you are searching for a one-of-a-kind gift – or daily life necessities with an expensive touch – Uncommon Goods have many pieces to show, plentiful in variety with durable quality.
However, if you have already tried Uncommon Goods and didn't find the collections that impressive – then the list of top stores like Uncommon Goods mentioned in the article below is sure to catch your attention.
List of Stores like Uncommon Goods:
1. Zazzle 
Zazzle is a popular title in the unique gifts section because its site lets customers and designers collaborate and manufacture exclusive and customized products. It's a favored on-demand marketplace where you are directly connected with the artist to create your extraordinary piece.
At Zazzle, while the prices start from only $1.55 for durable quality, the category section doesn't have less to offer. You can shop for different occasions and events such as graduation, baby showers, birthdays, weddings, etc – and while it delivers physical goods, it also deals in instant downloads and digital items.
Key Highlights
Student discount: student discount is always present on its website – something you rarely find in e-commerce and marketplace platforms.
Create your own: create your own is the special section that lets you create your own personalized, unique products from a huge variety of categories, including electronics, apparel, stationery, art, accessories, weddings, and whatnot.
2. Paper Source
Paper Source is one of the top shops like Uncommon Goods – a USA-based gift and stationery retailer. It offers a variety of custom invitations, announcements, greeting cards, paper craft kits, party supplies, gift wraps, papers, personalized stationery, stamps, and more.
Paper Source has multiple categories serving regular needs like travel gifts, summer gifts, gift cards along with kids' activities. In addition to that, its personalized gifts section is updated according to events and seasons where you can find custom notepads, journals, embossers, and labels.
Key Highlights
Collections: Paper Source is here to offer you exclusive collections for special events and upcoming days including Father's Day, Teacher's Day, Graduation Ceremonies, etc.
All-time discounts and offers: Paper Source has discounts and promotional offers available all the time of the year – where you can compulsorily get 10% to 20% off on selective purchases.
3. ThisIsWhyImBroke.com 
ThisIsWhyImBroke — unlike all the other websites mentioned in this article, is not a platform to buy gifts. However, since the majority of us struggle to find gift ideas – with ThisIsWhyImBroke, it's time to drop the worries and explore its wide range of ideas.
ThisIsWhyImBroke is a website, offering a good set of gift guides like – 39 delightful Kirby gifts, or 44 juicy strawberry gifts. After you choose a guide, it will take you to the specific article containing all the ideas and detailed information – just everything you need to know.
Key Highlights
Links: ThisIsWhyImBroke offers the link to stores where you can find the gift you are viewing, and you can quickly check it out with just one tap.
Saves: the heart-shaped icon under every product listed tells you how many people have saved the item to check it out – giving a clear idea of how famous and trending the gift is currently.
4. Etsy 
Etsy is one of the most popular and trustworthy e-commerce companies on this list – best for handmade and vintage items along with craft supplies. It's also a popular destination whenever you wish to shop for him, her kids, teachers, friends, and family.
With Etsy, you can explore a good range of categories including home decor, furniture, jewelry, bags, toys, art, tools, and more – while it also offers digital products. Apart from that, there are many stores and sellers receiving customisation requests.
Key Highlights
Unique gifts: Etsy has hundreds of artists and craftsmen from all over the world, offering unique and one-of-a-kind pieces.
Digital products: whether we are talking about digital prints, or digital products which can be used for digital purposes – Etsy has a good range of categories to offer.
Customization: there are plenty of stores on Etsy that offer customization services for apparel, accessories, etc.
5. Harry & David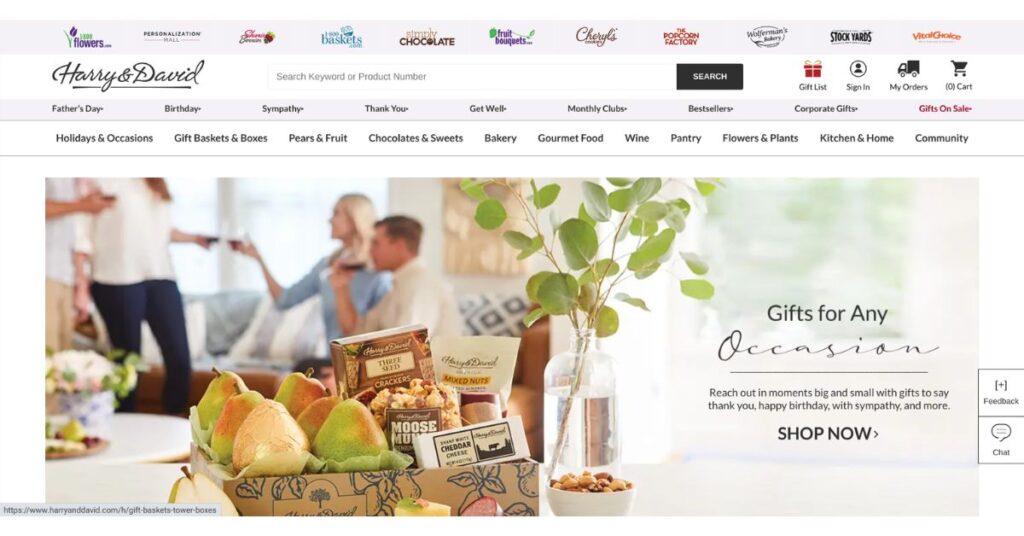 Harry & David is a popular gift basket delivery brand – a USA-based premium food and gift retailer. It offers services through direct mail, retail stores across the US, and online — letting you choose from a good selection of gourmet food gifts.
Harry & David is popular for its robust gift baskets – gifts with wine and fruits with the combo also including their favored pears.
Apart from that, you'll also be amazed exploring its unexpected selections like wine, pairing collections, chicken pot, pie meal, and kit – along with premium gift boxes from labels such as Cinnabon.
Key Highlights
Shop by occasions and holidays: to make things easier, Harry & David has special categories for occasions and holidays, such as Mother's Day, Father's Day, memorial day, birthday gifts, sympathy gifts, and more.
Monthly clubs: monthly clubs at Harry & David is another way to save time. You can opt for subscriptions and save money on a good variety of baskets, such as fruits, deserts, gourmet, plants, and more.
Kitchen and Home: Harry & David is indeed popular for its collection of food, but it also provides good quality, kitchen and home products to go well with your vibe.
6. Personalization Mall
Personalization Mall, just like the title dictates, is the sole platform on this list that only focuses on personalized gifts and unique gift ideas. With this brand, you can explore exclusive designs and plenty of personalization options.
With Personalization Mall, it not only offers you the usual gift options for personalization like cups frames, glasses, jewelry, etc, but offers an array of items, including wind chimes, ammo boxes, blankets, and much more.
Key Highlights
Durable items + low prices: durability and low prices are two of the main highlights of this brand because most of us know personalization costs more – but when it comes to Personalization Mall, that's not the case.
Reviews: there are many fraudsters offering bad customization services, but, with the reviews section, right below every listing – you will know just how good and meaningful the gift turns out.
7. Minted
Minted is highlighted for its wall art and stationery category with plenty of variations. It's another one of our trusted online-based marketplaces which can be visited for premium design goods brought to you by independent designers and over 16,000 artists from across the world.
With Minted, you can shop for something decent while adding a special customized touch to it. You can maybe get a cute greeting card with a customized message or customize a puzzle. The categories include many already-made home decor items with most of them available for personalisation.
Key Highlights
All direct from Artist: All direct from Artist section on the website gives you direct access to items, shipped to you directly from the artist and designers – with the section filled with all the unique and exclusive gifts.
Handmade crafts and pieces: Minted is one of the best places to shop for handmade crafts and pieces from well-known artisans.
8. Mark and Graham 
Mark and Graham stand out for its impressive collection of colorful and timeless gifts with a variety including linen, jewelry, totes, glassware, and more personalized items with about 100 choices of monograms.
With Mark and Graham, one can cut short his or her research and get an expensive-looking custom leather handbag, or a genuinely useful cheeseboard — to add a personalized touch to everyday living.
Key Highlights
Variety in patterns and colors: Mark and Graham offers a big collection in patterns and colors, where almost all the products come with variant colors and patterns.
Buy now and pay later: with buy now and pay later, you can also consider getting a bit expensive gift out of your budget and pay for it in interest-free installments through Affirm.
9. Sugarwish 
Sugarwish is another popular destination for personalized gifts. It works a bit differently, where the receiver will choose what they want to receive. Also, if you have a big sweet tooth – then you must have a look at the store!
At Sugarwish, you will pick the box, like the size you want and the recipe and will pick the sweets they want to receive. Classic candy, cotton candy, gourmet cookies – and it also offers dog treats! Also, the variety of categories is more while the prices are low.
Key Highlights
Goodies galore: Sugarwish indeed, has a wide selection of sweets, but along with that, it also offers a moderate collection of goodies to go well with your sweets mixed box.
WishLinks: WishLinks at Sugarwish is another unique way to add a personalized touch to your gift – the feature that allows you to buy links embedded gift codes on a good variety of items.
Final Words
In our research, we find more than just 9 platforms for customization and unique gifts – and many promising stores like Uncommon Goods. Yet, we have brought you only the top and best website to help you give someone something truly meaningful.
With this, we have presented the top stories like Uncommon Goods in the article above – just the right platforms to help you add a personalized touch to your loved one's gifts.
Frequently Asked Questions
Are there more online stores like Uncommon Goods?
Yes, there are plenty of online stores like Uncommon Goods and some of the top ones are Zazzle, Etsy, Harry & David, Mark & Graham, Sugarwish, Paper Source, Personalization Mall, and Minted.
Which other websites like Uncommon Goods?
Etsy, Sugarwish, Harry & David, Personalization Mall, Minted, Mark & Graham, and Paper Source are some of the top and promising websites like Uncommon Goods for a variety of unique gifts with customization offers. 
Try Alternatives-