15 Best Stores like Killstar to Shop Right Now! [2023]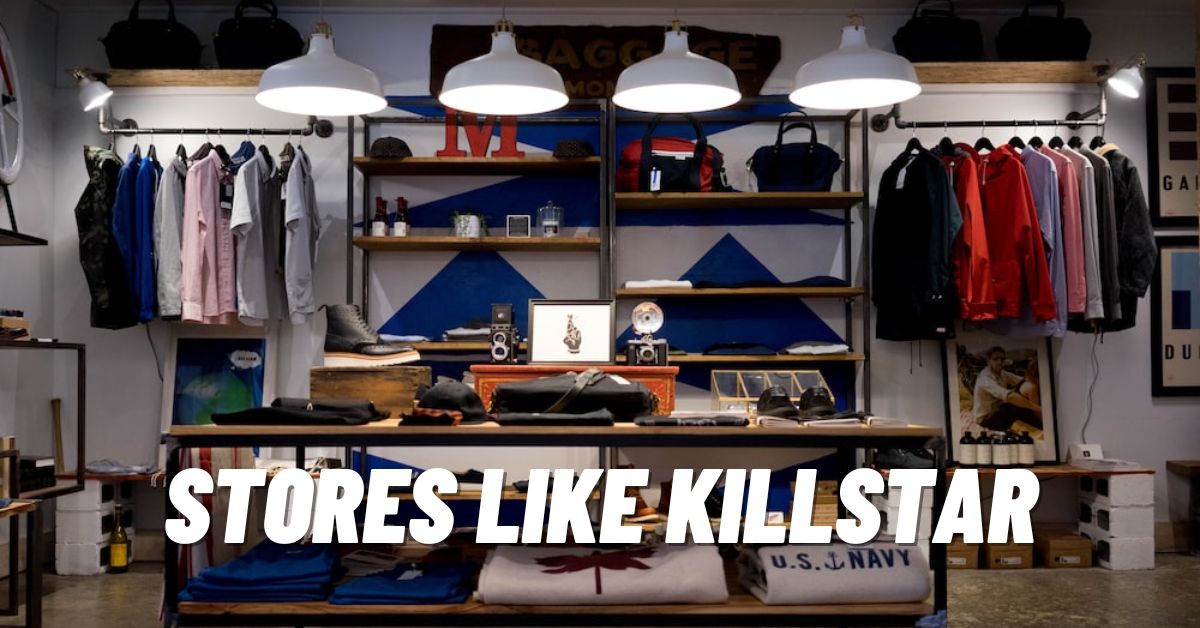 We may earn small commission from the products mentioned in this post.
Stores like Killstar: Killstar presents you with a clothing and lifestyle label with the main focus on the darkness. It depicts the gothic community, offering you gothic and alternative apparel collections – giving the best emotional vibes.
It's promising if you are interested in casual Gothic wear with an interest to discover more from the same. On the contrary, do you think it is the only good gothic and related brand in the market that also offers good quality at moderate prices? A big no to that from our side.
To justify our above-mentioned answer, we have presented the list of the top 15 best stores like Killstar in the article mentioned below – some unique Gothic gems you must visit to explore and shop with your specific preferences.
List of Stores like Killstarstar:
1. Dolls Kill 
Dolls Kill is an internationally famous online fashion label – an online boutique that represents a rebellious spirit and full of attitude generation. Along with the same, it also has an assortment of glam, rock, goth, punk, and festival fashion included in its variety of collections.
At Dolls Kill, you can not only shop for trendy outfits – but the label also specializes in plus-size clothing, footwear, and lifestyle products, including a good range of sections like bedding, decor, desk supplies, outdoor games, etc, and more.
Key Highlights
It offers a good range of beauty products with sections such as makeup, lips, hair, eyes, nails, accessories, tools, and more.
You get free overnight shipping on all orders above $100, with many such offers available all the time on its website.
It has the buy now and pay later feature with 4 interest-free installments.
2. Demonia 
Demonia is based in Southern California – widespread for offering specialty footwear for a good range of subcultures. The main highlight of this label is that it innovates new styles and redefines old trends and outfits to give you something new with every new update.
With Demonia, you can discover and explore from a good list of categories, such as flats, creepers, over-the-knee boots, knee-high boots, ankle boots, and sandals, while they also have a section for vegan-friendly footwear.
Key Highlights
Every listing comes with a 5-star feedback and review section.
The majority of the products come in a variety of patterns and colors.
It offers free priority shipping on all orders about $150 in the US.
They have recently launched the accessories section where you can find a good list of things like enamel pins.
3. Black Milk Cult
Black Milk Cult is for those who love to stand out, and a go-to clothing website for all those who wish to become a leader instead of a follower. Here, you will find a wide variety of Gothic collections – not too strict, but giving the best of designs and vines.
Additionally, deals in apparel and essentials, and the list of departments include dresses, bottoms, body, accessories, and more.
Key Highlights
It often partners with a good variety of movies, games, and TV shows to collaborate and create exclusive catalogs for you.
Over half of the collections have only exclusives and limited edition products.
There's always an ongoing sale on its website.
You get to the shop by a good variety of collections like: 'My Vibe', 'All the Gear', 'Most Wanted' and more.
4. Straight to Hell Apparel 
Straight to Hell Apparel is another favorite clothing inspired by culture and music – from Chicago since 2009. It serves both men and women and deals in a good variety of departments, such as leather jackets, vegan leather jackets, T-shirts, denim, jeans, Blazers, and more under the apparel section.
In addition to that, you can find a good range of accessories, shoes, and boots, and the quality is pretty good with prices moderate for a middle-class.
Key Highlights
The keychain, belts, bandanas, and sunglasses collections contain some really unique pieces — indeed some must-haves.
Every new festival brings new promotional offers and offers.
It offers free shipping and returns for US users.
It has an interest-free flexible payment option through Afterpay.
5. Foxblood
FOXBLOOD is from the US – a clothing brand for all dark hearts. It is a female-owned and operated store, featuring minimalistic designs, cruelty-free, and vegan products with inclusive sizes. 
Unlike many similar stores — FOXBLOOD also has fragrances included in its list of departments, alongside clothing, accessories, and footwear – of beautiful designs and more variety.
Key Highlights
It offers extremely unusual and extraordinary pieces in the fragrances section – with every air freshener, perfume, and candle coming in a unique shape, scent, and body.
Among its list of accessories – the pieces from jewelry, sunglasses, and belts were our personal favorites.
6. BlackCraft Cult 
BlackCraft Cult, just like the name sounds – is all about letting your rebellious spirit out and standing powerful against social norms, while letting you carve your own future. 
BlackCraft Cult is mostly about casual attire, including tracksuit T-shirts, and hoodies — giving out the coolest looks from the outside while giving you utmost comfort with soft and good quality fabrics.
Key Highlights
You can always find promotional offers, discounts, or sales ongoing on its online store.
You can pay in interest-free installments through Afterpay.
7. Disturbia 
Disturbia is another worthy label for being your go-to brand since it focuses more on alternative wear and grungy wear, instead of getting the full-on goth mode. 
Apart from the usual gothic shops, Disturbia here offers more variety in colors, although most of them come in vibrant shades. Along with that, while it usually has more collections for apparel, it also has some bits of lifestyle departments, including candles, blankets, cups, etc.
On top of everything, by the recent news, it seems that Disturbia is focusing more on offering services through sustainable means – one of the main highlights of the label and one more reason to stop by their online store.
Key Highlights
It has a flexible payment option – buy now and pay later service, through Klarna.
It has the best collection for casual wear.
You get to shop from different sections under dresses, including maxi, midi, mini, and all-over print.
8. Attitude Clothing 
Attitude Clothing is another one-stop store for alternate closing – and alternate apparel and accessories fashion brands from the UK. Although it majorly deals in men's and women's fashion – it also has a good range of home, lifestyle, and footwear collections.
Furthermore, while it encourages casual wear – it has plenty of items for the full-on gothic mode, inclusive of apparel as well as accessories.
Key Highlights
Apart from gothic clothing, the brand also focuses on punk, grunt, streetwear, and kawaii clothing.
It has plus-size clothing.
It has a flexible payment option of 3 interest-free installments through PayPal.
9. Dr. Martens 
Dr. Martens is an extraordinary footwear brand – a German-based footwear and clothing label that mainly focuses on categories such as boots, sandals, shoes, and kids' shoes. 
Personally, when we had a look over its website – we found multiple outstanding designs and styles, and the prices were well-suited for the quality the label offers.
Moreover, if you are into super versatile or casual looks – then you can find multiple designs here. From Japanese Streetwear to croc-style leather – you will find many options including double, triple, and even quadruple soles along with collabs.
Key Highlights
It has a buy now and pay later services by Afterpay and Klarna.
You can find a variety of colors for selective items.
It offers free standard shipping on all orders above $50.
10. Regal Rose 
Regal Rose is an iconic jewelry and accessories label for all those who are invested in dark jewelry. It deals in a good mixture of items like gemstone encrusted earrings, layering necklaces, sterling silver rings, etc – often ornate and delicate pieces – but always giving the best presentation of beauty.
With Regal Rose, you will see many beautiful shades in a variety of shapes of diamonds – while it will also present gold jewelry with refreshing designs.
Key Highlights
It has many discounts and promotional offers throughout the year and the student discount of up to 15% is always valid.
There's always a sale going on on its website.
It offers a flexible payment option – buy now and pay later, through Clearpay.
11. Underground 
Underground is another popular gothic brand from the UK – an iconic footwear company serving since the 80s. They previously started with music and subcultures, like punk and goth as inspirations. Now, they have invented thousands of pieces under a good bunch of aesthetics.
According to us, the quality of the products plays a major role in Underground's fame — while the designs and styles are no less in comparison to stands as highlights of the brand.
In addition to all that, unlike many similar brands, it also offers customization services for steel caps, creepers, winklepickers, and Lex.
Key Highlights
You will mostly find exclusive collections from collaborations – the limited edition items.
There is a special section on his website for vegan-friendly footwear.
Its accessories collection including chokers, beanies, hats, etc, and its jewelry collection including padlocks, enamel pins, footwear, accessories, etc contains several must-haves.
12. Ask & Embla 
Ask & Embla is here to empower you every day with a unique goth idea for alternative jewelry and adornments. It deals in an impressive collection, which is made for anyone and everyone – whether you are one with a stretched ear or pierced nose.
Ask & Embla is famous for providing you with a beautiful collection, and has many to choose from, whether you are interested in rings or plugs, hangers or cuffs, clickers or any other type of body jewelry.
Key Highlights
The majority of the items come in a variety of colors – silver or gold.
The majority of the designs give off sturdy and powerful looks, while you can also find something decent and pretty.
It has a flexible payment method of interest-free payments from Sezzle.
13. Dreadful Pigeon
At Dreadful Pigeon, you will find hundreds of jewelry and homeware items inspired by botanicals – 100% handmade by the founder. 
The main highlight of this brand can be that although all the items are beautifully crafted and handmade – they don't come with a single floor, and look surprisingly unique.
No lies, Dreadful Pigeon is one of our favorite brands similar to Killstar because of the variety in styles and patterns. Also, you can find items for stretched ears, earrings, rings, and necklaces at Dreadful Pigeon.
Key Highlights
You must visit this store if you are into light colors like white, light green, etc.
It has a flexible payment option from Clearpay.
14. Punk Rave 
Punk Rave is here with its old-school styles, including a good set of themes like gothic Lolita, trad goth, steampunk, post-apocalyptic, and more. 
Punk Rave is a platform where you can find casual wear for daily use and even the type of formal wear that can be beautifully worn at weddings and such functions.
Key Highlights
It offers the best quality apparel at reasonable prices.
It offers apparel and accessories for both men and women.
You can always find sales and promotional offers in its store.
15. Mysticum Luna 
Mysticum Luna is here to bring out the darkest side in you — through some gothic and alternative stainless steel jewelry. This label works in celebration of all the boho, witchy, gothic, and alternative themes — a must-visit store if you are into any of the aforementioned.
At Mysticum Luna, you can explore a wide variety of jewelry – chunky stainless rings, necklaces, and earrings with unique designs of insects, different fonts, etc in both silver and gold.
Key Highlights
You can check star ratings and reviews for every product before buying.
The website gives pairing ideas below every listing – whether it'll go well with a necklace, earrings, pins, etc.
Final Words
We agree that not all the stores like Killstar mentioned in the above article are 100% gothic. However, every brand mentioned has its unique highlight of collections and senses along with a good variety, and we have only included the stores offering good quality products at fair prices.
Therefore, we suggest you try at least a few of the stores mentioned above, and hope you now have a good bunch of stores like Killstar to try out.
Frequently Asked Questions
What brands are similar to Killstar?
Mysticum Luna, Underground, Dolls Killstar, Punk Rave, Demonia, Foxblood, Black Milk Clothing, Blackcraft Cult, Attitude Clothing, Straight to Hell Apparel, Dreadful Pigeon, Ask & Embla, and Dr Martens are some of the trusted brands similar to Killstar.
Are there more websites like Killstar?
Straight to Hell Apparel, Dr Martens, Dreadful Pigeon, Ask & Embla, Mysticum Luna, Dolls Killstar, Punk Rave, Demonia, Foxblood, Black Milk Clothing, Attitude Clothing, Blackcraft Cult, and Underground are some more websites like Killstar.