9 Best Restaurants Like Golden Corral & Alternatives [2023]
We may earn small commission from the products mentioned in this post.
Restaurants Like Golden Corral: In the world of dining, the allure of an endless feast and the thrill of diverse culinary choices have captivated food enthusiasts for years. 
For those who seek the combination of bountiful fare and a relaxed dining experience akin to the beloved Golden Corral, we embark on a journey to discover restaurants that offer their own distinctive spin on the art of dining out.
While these establishments may not mirror the classic buffet-style setup, they are poised to delight your taste buds with their unique offerings.
From sizzling Brazilian churrascarias that bring the grill to your table to cozy American comfort food havens, each restaurant on our list promises a memorable culinary adventure.
So, get ready to explore a world of flavors, communal dining, and diverse menus as we present you with alternatives to Golden Corral that are sure to satisfy your craving for a hearty meal and an unforgettable dining experience.
List Restaurants Like Golden Corral
1. Texas de Brazil
Texas de Brazil is a carnivore's paradise where the concept of "endless feast" takes center stage. 
This Brazilian churrascaria offers a unique dining experience where gauchos roam the dining room, serving succulent cuts of meat right at your table.
The aroma of expertly seasoned meats fills the air as you indulge in a wide selection of beef, lamb, pork, and poultry. The salad bar, featuring fresh salads, cheeses, and charcuterie, adds a delightful contrast to the meaty offerings.
Key Highlights
Rodizio-Style Dining: Texas de Brazil embraces the traditional rodizio-style service, where meats are carved tableside until you're satisfied.
Variety of Meats: Savor a diverse array of meats, from tender filet mignon to spicy Brazilian sausage.
Elegant Atmosphere: The restaurant boasts a sophisticated ambiance with upscale décor.
Wine Selection: Complement your meal with a selection from an extensive wine list.
Signature Cocktails: Explore Brazilian-inspired cocktails to elevate your dining experience.
Locations
5259 International Dr f1, Orlando, FL 32819, USA.
1000 Woodward Ave Ste 1B07A, Detroit, MI 48226.
2. Fogo de Chao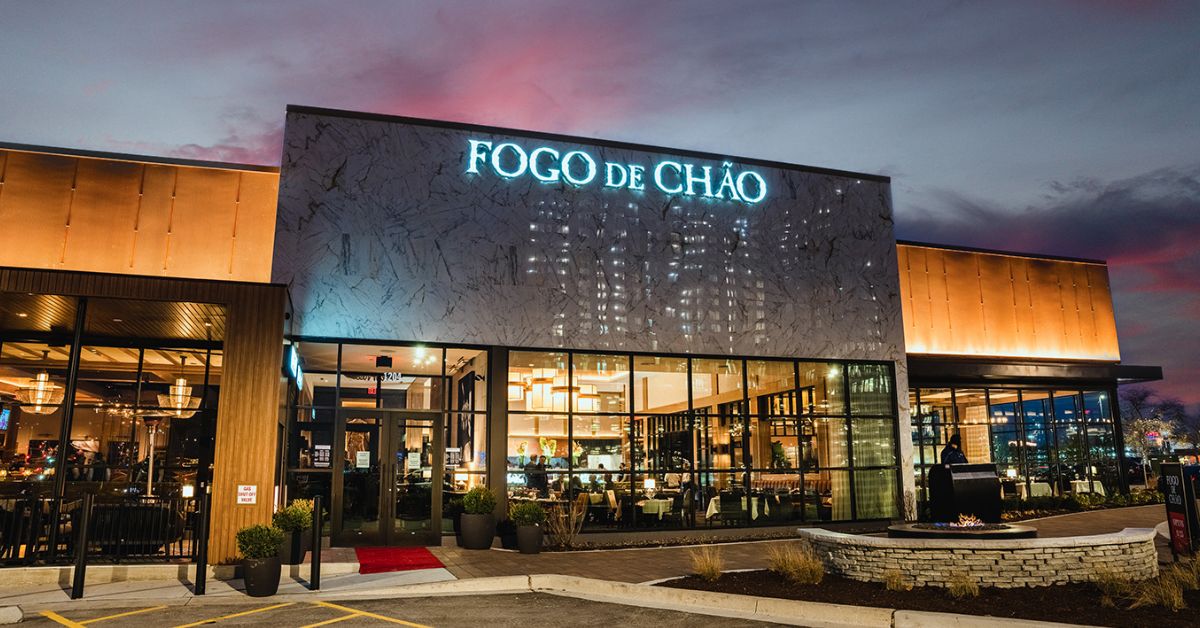 Fogo de Chao is another Brazilian steakhouse that elevates meat-centric dining to an art form. 
This churrascaria offers an all-you-can-eat experience featuring a parade of sizzling, fire-roasted meats served by attentive gauchos.
The Picanha, a prime cut of top sirloin, is a star on the menu, but you'll also discover lamb, pork, and chicken offerings. The expansive gourmet salad bar is a refreshing contrast to the meaty indulgence.
Key Highlights
Continuous Service: Enjoy non-stop service of premium meats until you're satisfied.
Elegant Setting: Fogo de Chao exudes an elegant and upscale atmosphere.
Market Table: The salad bar, known as the Market Table, features fresh vegetables, charcuterie, and cheeses.
Brazilian Cocktails: Sample traditional Brazilian cocktails like the Caipirinha.
Private Dining: The restaurant offers private dining rooms for special occasions.
Locations
800 S Figueroa St, Los Angeles, CA 90017, USA.
201 3rd St Suite 100, San Francisco, CA 94103, USA.
3. Ponderosa and Bonanza Steakhouse
Ponderosa and Bonanza Steakhouse are beloved for their family-friendly buffets featuring a range of American comfort foods. 
Guests can build their plates with favorites like fried chicken, steaks, and a variety of sides. The buffet format allows for customization and endless choices.
Key Highlights
Buffet Variety: Ponderosa and Bonanza offer extensive buffets with diverse options.
All-You-Can-Eat: Enjoy all-you-can-eat dining at budget-friendly prices.
Family-Friendly: These restaurants cater to families with kid-friendly selections.
Salad Bar: Fresh salad bars are available for those seeking lighter options.
Dessert Buffet: Don't miss the dessert bar for sweet treats after your meal.
Locations
800 S Figueroa St, Los Angeles, CA 90017, USA.
201 3rd St Suite 100, San Francisco, CA 94103, USA.
4. Applebee's
Applebee's is a casual dining gem known for its American classics and diverse menu offerings. 
While it doesn't offer a traditional buffet, it boasts an expansive menu that satisfies a wide range of cravings. From sizzling steaks to hearty burgers and pasta,
Applebee's has something for everyone. Additionally, the "2 for $20" deal, which includes an appetizer and two entrees, is a budget-friendly option for sharing.
Key Highlights
Varied Menu: Applebee's offers an extensive menu with options for every palate, including vegetarian choices.
Bar Selection: The restaurant features a full bar with cocktails, beers, and non-alcoholic beverages.
Late-Night Dining: Applebee's often stays open late, making it a go-to spot for evening cravings.
Appetizer Specials: The "2 for $20" deal includes an appetizer and two entrees, ideal for sharing.
To-Go and Delivery: Applebee's offers convenient to-go and delivery options for busy diners.
Locations
4331 Credit Union Dr, Anchorage, AK 99503, USA.
1893 MN-36, Roseville, MN 55113, USA.
5. Zemeta Ethiopian Restaurant
Zemeta Ethiopian Restaurant is a cultural treasure offering a unique dining experience. 
While not a traditional buffet, Ethiopian cuisine is often enjoyed family-style, with dishes served on communal platters over injera, a spongy flatbread. The menu features flavorful stews, lentil dishes, and a variety of meat and vegetarian options.
Dining at Zemeta is an exploration of East African flavors, where communal dining and rich spices take center stage.
Key Highlights
Authentic Ethiopian Cuisine: Zemeta offers an authentic taste of Ethiopia with an array of traditional dishes.
Communal Dining: Experience the tradition of sharing food with family and friends over injera.
Vibrant Flavors: Ethiopian cuisine is known for its aromatic spices and rich, bold flavors.
Vegetarian-Friendly: The menu includes a selection of vegetarian and vegan options.
Cultural Ambiance: The restaurant's décor and atmosphere reflect Ethiopian culture.
Locations
1015-1009 S Clinton Ave, Rochester, NY 14620, USA.
6. Cracker Barrel
Cracker Barrel Old Country Store is a unique blend of a restaurant and a country store. It's renowned for Southern comfort food, homestyle dishes, and a welcoming ambiance that transports diners to a bygone era. 
While it doesn't offer a traditional buffet, the menu includes a range of comforting classics, and the "All-Day Breakfast" option allows you to enjoy breakfast items at any time of the day.
Key Highlights
Country Store: Browse the charming store for nostalgic gifts and unique finds before or after dining.
Homestyle Cooking: The menu features Southern classics like fried chicken, biscuits, and country-fried steak.
All-Day Breakfast: Cracker Barrel offers breakfast items any time of day, from pancakes to omelets.
Front Porch Rockers: Enjoy rocking chairs on the front porch while waiting for your table.
Old-Fashioned Sodas: Sip on vintage-style sodas like root beer floats or black cherry soda.
Locations
11635 US-431, Guntersville, AL 35976, USA.
4 Kingswood Dr, Palm Coast, FL 32137, USA.
118 US-11 & 80, Meridian, MS 39301, US.
708 US-319, Tifton, GA 31794, USA.
30 Research Dr, Milford, CT 06460, USA.
7. Finger Lakes Gaming & Racetrack
Finger Lakes Gaming & Racetrack offers an unconventional buffet experience as it combines dining with gaming and entertainment. 
While the buffet offerings vary, you can typically find a selection of comfort foods, international dishes, and delicious desserts. It's a place where you can enjoy a meal while trying your luck at gaming.
Key Highlights
Buffet Dining: The establishment often features buffet-style dining with a variety of dishes.
Gaming Options: Play slots and gaming machines or enjoy live horse racing at the racetrack.
Entertainment: The venue frequently hosts live entertainment and events for added enjoyment.
Diverse Menu: Buffet offerings may include a range of cuisines and seasonal specialties.
Friendly Atmosphere: Finger Lakes offers a relaxed and casual atmosphere for diners and gamers alike.
Locations
5857 NY-96, Farmington, NY 14425, USA.
8. Buffalo Wild Wings
Buffalo Wild Wings is a sports bar and restaurant known for its flavorful wings, extensive beer selection, and a lively atmosphere. 
While not a traditional buffet, it's a go-to spot for sports enthusiasts looking to enjoy a variety of wing flavors, burgers, and pub-style appetizers in a communal setting.
Buffalo Wild Wings offers an extensive menu of wing flavors, from mild to blazing hot.
Key Highlights
Sports Viewing: The restaurant is a hub for sports fans, with numerous screens for game-watching.
Beer Selection: Choose from a diverse range of beers and cocktails to accompany your meal.
Appetizer Menu: In addition to wings, the menu includes a variety of appetizers and shareable dishes.
Casual Setting: Enjoy a laid-back atmosphere perfect for friends and sports enthusiasts.
Locations
470 Harmon Meadow Blvd., Secaucus, NJ 07094, USA.
92 N 1200 E, Lehi, UT 84043, USA.
9. Olive Garden
Olive Garden is an Italian-American restaurant chain known for its warm and family-friendly atmosphere. 
With a menu featuring classic Italian dishes like pasta, breadsticks, and salads, it's a haven for those seeking a taste of Italy in a comfortable setting.
Key Highlights
Endless Breadsticks: Olive Garden is famed for its complimentary, unlimited breadsticks—a real crowd-pleaser.
Pasta Varieties: The restaurant offers an array of pasta options, from creamy Alfredo to hearty lasagna.
Family Dining: Olive Garden embraces a family-friendly vibe, making it ideal for gatherings.
Wine Selection: The wine list complements Italian flavors, offering a delightful pairing experience.
To-Go Options: In addition to dine-in, Olive Garden provides convenient takeout and delivery.
Locations
3111 E Colonial Dr, Orlando, FL 32803, USA.
12361 FL-535, Orlando, FL 32836, USA.
Final Words
While Golden Corral is known for its buffet-style dining, these alternative restaurants offer unique dining experiences, from Brazilian churrascarias to Southern comfort food and international cuisines.
Whether you're seeking a traditional buffet or a diverse menu with a twist, these establishments promise an array of flavors and memorable dining moments.
Explore the culinary landscapes they offer and savor the richness of each experience.