9 Top Games Like Semantle to Play Right Now! [2023]
We may earn small commission from the products mentioned in this post.
Games Like Semantle: Semantle is an underrated daily puzzle word game. It is one of the most unique word games currently available on the Internet. As for the gameplay, it will tell you how semantically similar your word is to the secret word — the word that you're supposed to guess.
You can find plenty of similar games on the Internet, but if you are interested in a good variety of words, which will also help you enhance your vocabulary, then Semantle is a good choice.
However, is Semantle the only option? A big no to that, because there are many more similar and unique games that you might like, and if you are interested to know, then our list of top games like Semantle mentioned below will surely help you.
List of Games like Semantle:
1. Wordle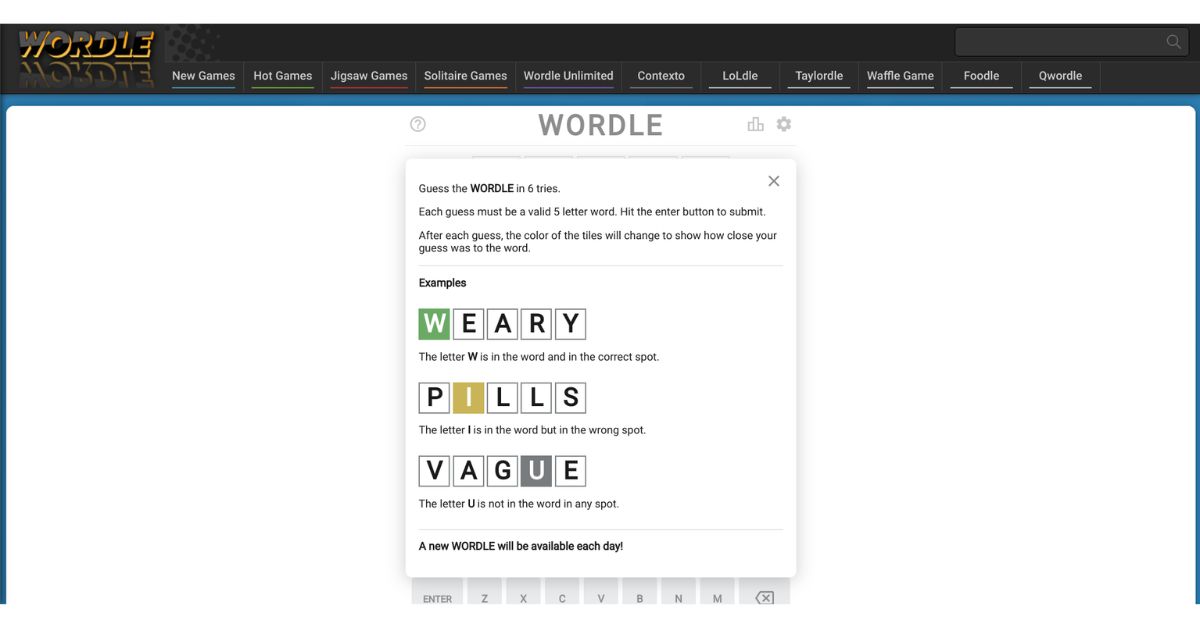 Wordle is a popular web-based puzzle word game, which can be easily played on browsers. It involves simple gameplay where you'll get 6 chances to guess a 5-letter word. 
You'll also get feedback for every guess in the form of colored tiles which would say if your guess is correct or wrong. Additionally, you can also try the same games on apps, which also have the points system.
Overall, Wordle is a good title to take regular brain teasers and to train your brain in a fun way – all available for free without any updates required.
Key Highlights
Although the web version is the most reliable one, you can also opt for the Wordle app available on the Google Play Store and App Store.
If you have logged in on the website, then you'll also get access to your stats.
2. Waffle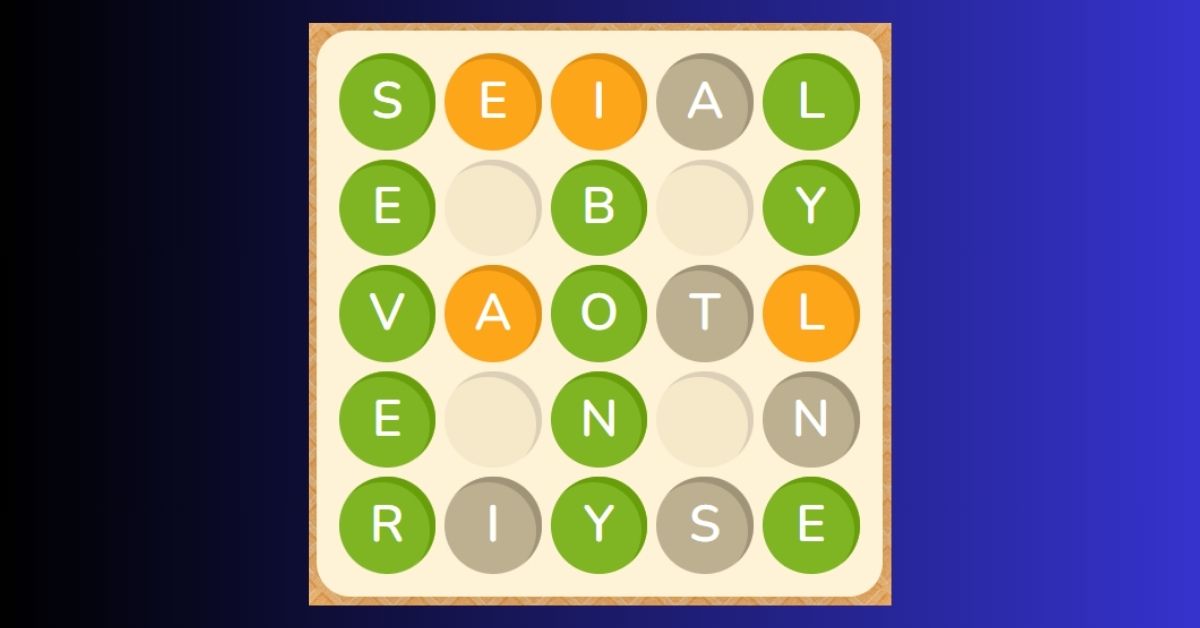 Waffle is one of the most challenging daily world games available on this list. In this game, you will be solving multiple puzzles, focusing on the spellings, and swapping letters to complete spellings horizontally and vertically. 
However, that is not all because there's a twist in the game. You will get plenty of time to think, think more than once, and then make a move, but with fewer moves before the game is over.
Yes, every puzzle will come with only 15 moves maximum and you will have to use 15 moves or fewer to solve the puzzle. However, the most shocking part is — every puzzle can be solved in a minimum of 10 moves only.
Key Highlights
You don't need an account on the website to check your stats, which clearly displays information like – how many games have you played, total stars, current streak, and more.
The game is quite colorful, inclusive of green, yellow, and white blocks — which each sees a different meaning.
3. Nerdle 
If you are interested in playing with numbers more than words, then the Nerdle daily quiz game is waiting for you. As expected, you'll be solving problems with numbers and with Nerdle, you'll get to play in 4 different modes – instant, speed, micro, and mini.
The best part about this game is that you can either play it on the website on the browser or download its app from the Google Play Store or App Store for any device.
In addition to that, the gameplay is quite unique. It is the same guessing game but you'll only have 6 chances, and after every chance, the color of the tile will change to tell you how close you are to guessing the right solution for the problem.
Key Highlights
The commutative answers option in the settings will help you get the answer right in an alternate form. Like, if it's 2+5=7, then 5+2=7 will also be accepted.
The game will help you learn calculations along with various signs you usually don't use in mathematics.
4. Word Master
Word Master is another popular game presented on the list, an innovative and distinct version of the formal board puzzle game – Crosswords.
The highlight of this game is that without switching on your Internet connection — you can use unique and rapid AI resources with additional customization options for quick offline training of the brain.
In addition to that, the game is played by multiple Scrabble fans because it helps you improve and advance in your skills — creating words with 7 letters on a rack and placing them on a 15 x 15 board.
Key Highlights
It supports over 10 global languages, including French, Portuguese, German, Spanish, Swedish, Greek, Catalan, and more – along with English.
You can either play against the computer by choosing the level and duration of the game or choose to play offline with your friends.
5. Hello Wordl 
Hello Wordl is a remake – more like an enhanced version of Wordle, with a twist that it is based on the TV show lingo. Here, you will have to guess the hidden words, but only 6 chances — or the game is over and you lose.
You have options to customize the number of letters you would like to challenge, and the level starts with 5 x 6 grid till 11 x 6 grid.
Similar to many titles mentioned on this list, you can either play it on the web browser on its website or choose to download its app from the App Store.
Key Highlights
If you are finding the current game too hard to solve, then you always have the option of giving up.
You can start from the normal difficulty level, then level up to hard, and then ultra hard.
6. Custom Wordle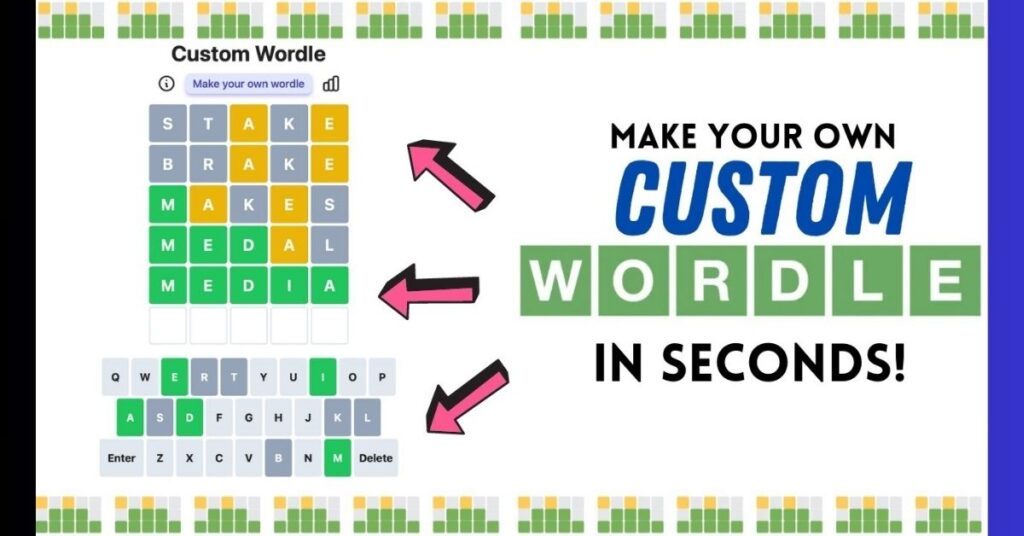 Custom Wordle is another fun and interesting title on the list, where you can play Word puzzles, guess the hidden word with only 6 chances in hand, or share your own word with the platform. 
Playing a random game will help you understand what kind of words you can pass on and how the game works.
Then, after you know the ropes, you can enter your custom word without any limits for the length, generate the link, and start playing right away.
Key Highlights
You can check the stats whenever you want, even if you are in the middle of a game, and it will show you your guess distribution, success rate, total tries, best streak, and current streak.
The web version also has an option to turn on the colorblind mode for those who have that issue.
7. Dordle 
Dordle is another variant of the official Wordle game, and the main twist of this game is that it is harder than Wordle. Here, you will be guessing not one, but two words at a time to level up in the game — with only 6 chances in hand.
Yes, Dordle may be one of the most challenging games presented in this article, because the harder the challenge, the more satisfaction you'll receive after you win.
Key Highlights
You'll get a new challenge – a new Dordle every day.
The game is entirely free on almost all the websites and you can play as much as you want.
8. Word Square 
Word Square is one of the most popular games on the list, with simple gameplay. In this game, you will have to rearrange a grid full of letters to form as many words as you can.
There are practically no limitations on how you can form letters because you can go forward, backward, up, down, and diagonal – everything is allowed as long as it is a straight line.
Moreover, after you have completed the level, the letters will be counted and scores will be added up. There's also a level target, and if you are successful in reaching it or surpassing it, then only you'll be progressing to the next level.
Key Highlights
You can check the local high score list to check your progress and achievements.
If you have successfully surpassed the target and completed the level within a short while, then you'll also receive a time bonus accordingly.
9. Flagle 
Flagle is another unusual trivia game where keeping aside words and numbers, you will have to guess hidden country flags in a daily puzzle game. 
The game is, indeed, not for those who barely know the flags of 5 to 10 countries because, with this game, you will be exploring and learning flags for hundreds of countries.
The gameplay is quite interesting, you will be given 6 attempts, and you can choose any country around the world. As you go on choosing countries, the different blocks in the flag puzzle will reveal that part of the flag.
Key Highlights
After you have chosen one country, beside it, you will get the distance between your chosen country and the hidden flag country, along with an arrow to direct you on the world map.
The platform also has a bonus round where you can guess the country's shape, but you will only have 3 chances for this.
Final Words
Not going to lie, the Internet has many more interesting games, like Semantle, with unique gameplay, colorful backgrounds, and more fun.
But, if you don't want to waste your time searching for the ideal game for you, then you must try the ones mentioned in our list of the top games like Semantle.
With this, we have successfully presented all the top Semantle alternatives, and hope the article was helpful to you.
Frequently Asked Questions
Which is a good Semantle alternative?
Flagle, Wordle, Dordle, Waffle, Hello Wordl, Custom Wordle, Word Square, Nerdle, and Word Master or some of the good Semantle alternatives. 
Are there any good word guessing games like Semantle?
Yes, there are plenty of good word-guessing games like Semantle, some of the top ones being — Wordle, Word Master, Word Square, Custom Wordle, and Dordle. 
Try Similar Games-