Daybreak App Review: Legit or Scam? [2023]
We may earn small commission from the products mentioned in this post.
Daybreak App Review: Drinking is surely addicting, whether you have started it while in depression, or just because it tasted good.
Now, talking about you, have you been drinking excessively? Did it finally start to hit you that your drinking habits are going out of favor and you need to put a stop to it for your own good?
If yes, then you might have come across multiple ways to get it, while some may offer some medicines, others might recommend some good apps that help with alcohol support, like the Daybreak app.
The Daybreak app, as you might have come across or recommended, might seem good from the outside, but is it actually worth it? Is it legit? If you want to know the answers to these questions, then our Daybreak app review mentioned in the article below is exactly what you need to read right now.
What is the Daybreak App?
The Daybreak app – an alcohol support application, is here to help you and change the way you look at alcohol. It helps you to alter your entire relationship with alcohol, whether you are interested in only reducing your alcohol consumption or you wish to completely stop it and get rid of it.
Moreover, the Daybreak app is developed and operated by experts in the alcohol support area – who have already helped thousands in changing their drinking habits.
Indeed, it is extremely hard to change your behavior and consumption of alcohol – but with the Daybreak app, you won't be doing the work alone.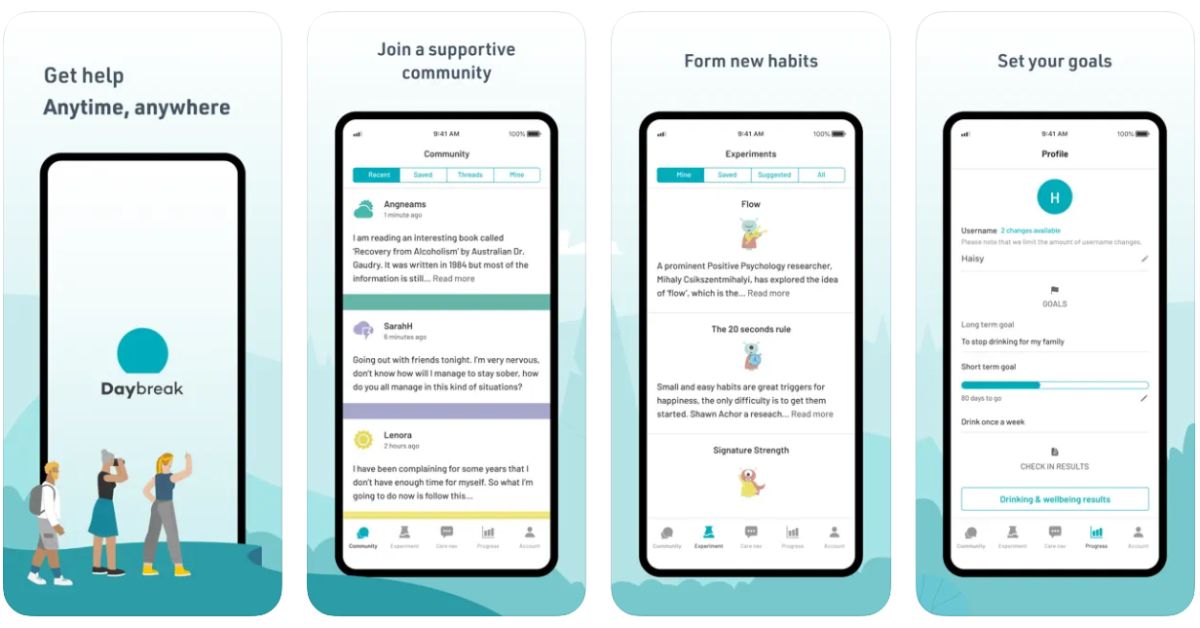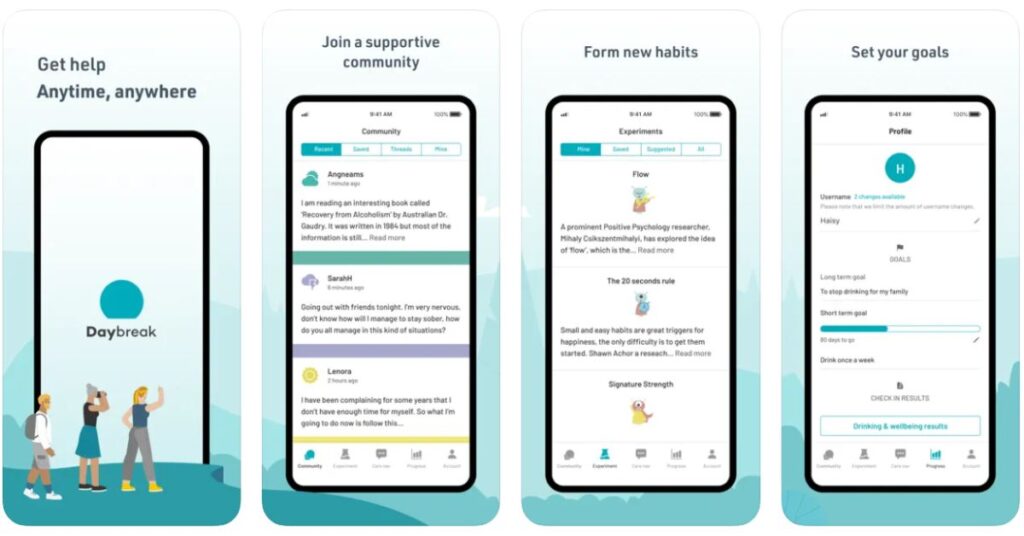 How Does it Work?
The working of the Daybreak app is not exactly complicated to understand – it works simply and offers support through 3 major highlights, as mentioned below:
Peer community — This community has no judgemental people and is only filled with people like you. Here, you get to take tips and advice from other users, share experiences, and get different types of support.
Personal improvement — You will see improvement after you participate in more than 100 suggested activities to try – all with one goal: to help you reduce your consumption, or end it.
Safe and secure environment — The environment in the app and community is anonymous, safe, and secured, where you can get and share experiences anonymously.
Pricing
The Daybreak app is 100% free to install and use because it is completely funded by the Department of Health, from the Australian Government.
Key Features
Anonymous: you don't need to expose yourself and your identity, you can keep it private and still have a good time in the community.
You get to save experiences, tips, and anything you see on the community board.
You can share whatever you want through the board, whenever you want – and you can check what you have updated in the 'Mine' column of the community page.
Pros & Cons
Pros:
The app offers more than 100 exercises.
It connects many people who are struggling with the same issues as you – and you all can share your progress.
It acts as the best anonymous tool to use when you don't need to face anyone in-person.
Cons:
Although the app says it can help you completely get rid of alcohol consumption, according to many, it can only solve mild and moderate issues.
Other expert clinicians have recommended the app only to those who are already going through treatment.
Could Daybreak App Help You Drink Less?
Honestly speaking – it is up to you whether you are determined and fully motivated to stop drinking once and for all. Why? Because if you are going to join the exercise of living alcohol half-heartedly, then you won't be able to see the change you desire and expect.
Moreover, according to the reviews we have seen on the internet from both the Google Play Store and App Store, the app has not been tried by millions, but the only handful of reviews it has gotten are mostly positive and in its favor.
In addition to that, many people have commented that they have actually experienced waking up without any hangovers and feeling healthier — that they have more time to spend with their loved ones and participate in all the activities they love.
In conclusion, before starting to get support from the Daybreak app, we highly suggest you make up your mind and motivate yourself to change – knowing well, the road is going to be filled with hardships.
If you are determined, then the app will do its best to support you and actually help you reduce your drinking – or completely stop it.
With this, we have completed the Daybreak app review and hope you now know everything you needed to know about the app. 
Frequently Asked Questions
How much does the Daybreak app cost?
The Daybreak app is free for all the people living in Australia, it is completely funded by the Australian government, specifically the Department of Health. 
Is the Daybreak app free?
Yes, the Daybreak app is absolutely free for all Australians.