11 Top Companies Like JSX for Affordable Private Jet Travel! [2023]
We may earn small commission from the products mentioned in this post.
Companies Like JSX: Whether you are a regular traveler or someone who doesn't usually travel but still values better airline options — if you don't know — there are plenty of better options than economy and even first class, where you can easily book private and semi-private jets all for yourself.
Yet, that certainly doesn't mean you have to pay an expensive amount. Depending on the route and program you choose, you might even get a cheaper ticket than the first class, where you won't face crowds and a busy airport at all.
Don't know what services we are talking about? It's the companies like JSX that offer you to fly a private or a semi-private jet, with plenty of benefits at hand. So, if you are interested to know more, then continue reading our article containing info about some of the best companies like JSX.
List of Companies Like JSX:
1. NetJets 
NetJets is one of the most reliable American companies, selling fractional ownership shares through private business jets. It is also known for becoming the first-ever private business jet charter and autographed management firm across the world.
Moreover, it is basically the world's leading private jet company where you can explore a diversified collection of private aircraft fleets globally. It also offers a full range of customized private aviation solutions.
Additionally, it has about 5 programs to offer. The list includes NetJets share, lease, card, sustainability, and 25-hour solutions.
Key Highlights
Fleet: 750 (updated in June 2020)
Route: remote and private locations along with multiple cross-country stops in a day
Pricing: about $6500 per flying hour
2. Wheels Up 
Wheels Up is another popular provider of on-demand private aviation in the US, and it is also known as one of the biggest private aviation companies globally. 
Founded in 2013, the company is a reliable, private jet charter provider that will allow you to book short and medium-range, private charter planes. It has an all-inclusive hourly rate policy and a good collection in its fleet to offer.
Overall, it offers good services for individuals, businesses, first-time private flyers, long-term private flyers, families, and whole aircraft owners to experience a premium private aviation experience.
Key Highlights
Fleet: more than 1250
Route: over 500 local, regional, and national Airport across the US and Canada
Pricing: membership costs $17,500 the first year and $8500 starting from the second year
3. La Compagnie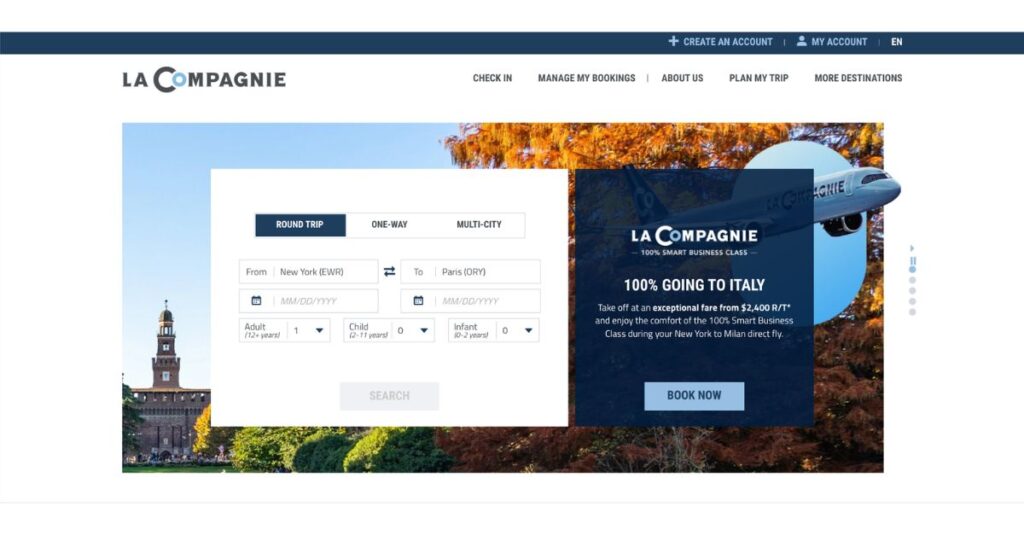 La Compagnie is a French boutique airline company, offering all-business class flights between Newark Liberty International Airport and Europe. It claims to offer you a unique yet modernized and affordable experience.
Moreover, the working and booking process at La Compagnie is almost similar to any other flight booking website where you start with your destinations, the type of trip you want to book, departure and arrival date, and the number of people going.
Overall, La Compagnie is known to offer a reasonable experience where with every flight book, you get serious loyalty points. You get 100% business class with 76 full flat seats along with healthy and delicious meals with unlimited free Wi-Fi.
Key Highlights
Fleet: 2
Route: 4 destinations
Pricing: starting from $2400
4. Tradewind Aviation 
Tradewind Aviation is another trusted American airline where you can pay for shared charter in the Caribbean, and the northeast, along with getting access to aircraft management services.
At Tradewind Aviation, you get to enjoy systematically scheduled private trips to some of the most famous and luxurious locations across the aforementioned destinations — with many additional benefits unlocked further.
In addition to all that, it has a very simple method of tracking flight status, but all you need to do is add your flight number and track the flight — stay updated with every moment.
Key Highlights
Fleet: 26
Route: 11 destinations
Pricing: starting from $1300
5. BLADEone 
BLADEone is a scheduled jet service that works according to seasonal policies, allowing you to fly between Monaco to Nice in only 7 minutes. Otherwise, you can also opt for a charter flight to fly to the French Riviera. 
Furthermore, it claims to offer you a stress-free experience where you can get in contact with their team 24/7 in case of any issues or emergencies. Also, if you are a fan of iconic lounges, then you can find them here at its most featured locations.
Keeping that aside, it has a dedicated car service to bring you to its lounge upon departure and take you to your final destination after arrival.
Key Highlights
Fleet: n/a
Route: a good bunch of locations across Europe, the US, and Canada
Pricing: starting from $2450
6. Aero Contractors 
Aero Contractors is from Nigeria, a street-controlled Nigerian airline company, founded back in 1959. It is where you can find semi-private jet flights that can take you to some of the world's best in-demand locations.
Similar to the one mentioned above, working on booking on its platform is simple and you have to fill in the usual form. It includes your origin, destination number of adult infants, and if you're also taking pets with you.
Key Highlights
Fleet: 7
Route: 9 domestic destinations
Pricing: starting from $1000
7. XOJET
XOJET, now known as XO, is another one on the list for being an on-demand private jet company, offering you private charters, along with the ability to buy individual seats on shared flights. 
At XO, it claims to provide you with a better and more accessible experience, and you are allowed to either go for a one-time purchase or buy a luxurious jet membership.
Overall, it is one of those companies that values flexibility and allows you to enjoy elevated services. It also offers a private and safe travel experience and allows all types of travelers to make the most of their time.
Key Highlights
Fleet: 2400
Route: typically major cities like Los Angeles and New York
Pricing: membership starting from 995 per year
8. Jet Linx 
Jet Linx seems to be only offering services to its members, who experience a unique private jet traveling because it has blended its national sleet with a personalized approach.
Additionally, there are multiple benefits you can enjoy at Jet Linx, some of them being — you get to enjoy 100% aircraft ownership by being only 50% of the price, while it also offers guaranteed availability.
Along with that, as expected from an interested service provider, you get to enjoy the usual first-class services like delicious food, a good variety of beverages, and more such advantages – with no limits.
Key Highlights
Fleet: over 100 private jets
Route: 8 destinations
Pricing: starting from $6795 per hour
9. Surf Air 
Surf Air is based in Los Angeles, an aviation marketplace providing its members access to regional semi-private flights. It offers services with scheduled flights from San Carlos Airport to Hawthorne Airport, Truckee Tahoe Airport, and Santa Barbara Airport.
At Surf Air, as expected, it allows you to skip crowded airports and highways, and you can save about 2 hours with every trip. Along with that, it seems to be offering a sustainable and convenient flying experience.
Key Highlights
Fleet: 12
Route: 4 destinations
Pricing: starting from $109 per hour for charters
10. SetJet 
Set Jet is another trusted one on the list, a private jet membership program where seats are unlimited, but once you become an approved member, you get multiple benefits showered on you.
At Set Jet, you get to experience luxurious private travel, offering a good bunch of highlighted benefits for a comfortably reasonable price, even better than a first-class commercial ticket.
As for those who aren't sure, you have to start by becoming a member, and then you can book tickets online or on the phone, you only need to check in 20 minutes prior to the departure time and fly while enjoying a complimentary experience.
Key Highlights
Fleet: 5
Route: 8 destinations
Pricing: starting from $99.95 per month or $750 per hour
11. Boutique Air 
Boutique Air is a commuter airline from California offering charter services along with scheduling passenger services. It is well-known for operating the second-biggest BC-12 fleet in the US.
At Boutique Air, you get to pay the price of a commercial ticket and fly with a private expedience. In addition to that, you also get to rent a car after arrival at the destination from the same site, which also has the easiest method of checking your flight status.
Key Highlights
Fleet: 26
Route: over 10 destinations
Pricing: n/a
Final Words
Although we were initially talking about only private jets and semi-private jets, to give you a better idea of what exactly is available for you in the market, we have also included other types of services.
With this, we have successfully provided you with a list of some of the best companies like JSX, and hope the article was helpful to you.
Frequently Asked Questions
Are there other companies like JSX?
Set Jet, NetJets, Tradewind Aviation, XO, Jet Linx, Surf Air, Boutique Air, Wheels Up, La Compagnie, BLADEone, and Aero are other companies like JSX.
Which are good companies like JSX airlines?
Wheels Up, Aero, La Compagnie, Set Jet, XO, BLADEone, Jet Linx, NetJets, Surf Air, Boutique Air, and Tradewind Aviation are some of the good companies like JSX for services related to private and semi-private jet programs.