8 Best Alternative Sites Like Thingiverse [2023]
We may earn small commission from the products mentioned in this post.
Are you looking for the best sites like Thingiverse? You're at the right place! In this article, I've mentioned few Thingiverse alternatives that you can use. Not all 3D printer users are 3D design experts. 3D printing community is specially characterized by the fact that they openly share their own models and designs with others.
One of the best 3D printing platforms named Thingiverse has the largest collection of over a million free 3D printing files, and upholds one of the most active online groups of 3D printing enthusiasts. Thingiverse is a flourishing resource where creators freely share their creation with the greater community.
8 best sites like Thingiverse
In Thingiverse's huge library of 3D printing files, you may not always find what you are looking for. Fortunately, there are several Thingiverse alternatives with comparably high-quality file selection to broaden your search. Check out the guide below for more information on 8 best sites like Thingiverse.
MyMiniFactory
MyMiniFactory is one of the best sites like Thingiverse which is working to produce a reorganized environment for 3D creators to share paid or free 3D printable designs. It is available in different languages, including English, Chinese, German, French, Spanish and Italian. It is home to the largest collection of 3D scanned artifacts and statues from across the world.
Every object is definite 3D printable; this means any file uploaded to the site is authorized for 3D printability on an ordinary desktop 3D printer. MyMiniFactory has associated with various organizations and brands which share their values and have a wish to support the community.
Cults 3D
Cults 3D is a French site which attempts to offer the best quality of STL files on the internet. It has both free and paid versions available. The designs uploaded on this platform are usually simple and artistic. Also, the user interface is very advanced and easy to use.
Cults 3D is currently the second most leading repository that is dedicated to 3D printing. It has more familiar community features such as likes, makes, collection, but no remixes. It has an entire section for sponsored contents, recent community prints and an alluring random button.
Pinshape
Pinshape is organized into seven categories with no subcategories, although it has extra filters to specify 3D printers, licenses and prices. Every design has a helpful tog to show if it is optimized for SLA and FDM printing. There are usual community features like likes, community prints and collections but no remixes.
Its main feature is its education hub with guides covering hardware and software projects, 3D printing materials, post-processing and much more. They also offer lesson plans for teachers to introduce students to 3D printing.
CG Trader
CG Trader is another best site like Thingiverse and a unique designer-centric platform for 3D models. It has over 1.2million free and paid models that are easily filtered. This includes files not optimized for 3D printing, so you can just browse through the 3D print models section.
The community section consists of lots of user-made tutorials and an active forum. The most popular CG Trader feature its Freelance 3D Projects section to request and find commissions and a "hire me" button on model pages to ask certain designers.
GrabCAD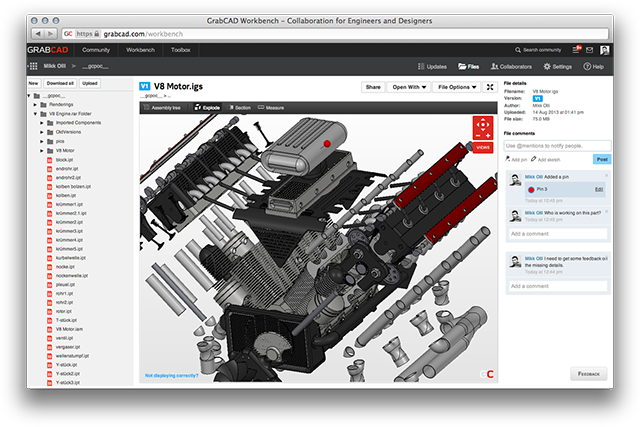 GrabCAD creates a free cloud-based collaboration environment which helps people to manage, vie and share CAD files. So, if you have any experience in 3D modeling and designing, GrabCAD can be the best option.
As the name suggests, it allows users to download free CAD designs that includes obj and stl files. It has a very active community of industrial designers sharing information and designs often. Also, they have a distinct repository for 3D printing.
YouMagine
YouMagine is one of the best sites like Thingiverse that has a solid repository of 3D printable files. Open source and print files and designs are accessible for you to build upon or just download and 3D print. This community is Ultimaker's effort to step into the 3D printing community platform.
Some popular features are the browser-based 3D file viewer to check things out in detail before you even download. It has only 16,000 designs which makes it a lot smaller than other platforms, and most of the designs can be easily found in Thingiverse and other sites mentioned in this article.
Treatstock
Treatstock is an online platform mainly focused on offering innovative technology organization for suppliers, manufacturers and consumers. It associates several companies and individuals from across the world into one online network.
It mainly focuses on Laser Cutting, 3D printing, CNC machining and more. You can be able to upload files for instant and upfront prices on 3D printing. So, you can become a creator and provide services via Treatstock.
3D Export
3D Export is one of the oldest 3D marketplace and best site like Thingiverse. Their designs are not really exclusive to 3D printing. Its catalog has more than 250,00 free and paid designs with a filter to seamlessly separate them. It provides file conversion to make sure designs are always in the format you want.
Furthermore, it also has a tutorial section on 3D Export with nearly a hundred free and extremely precise 3D modeling information to take you step-by-step by design processes through pre-recorded video.
The Bottom Line
Basically, Thingiverse remains the top of site for hosting 3D models, regardless of free or paid. In fact, it's the first choice for many users whenever they are looking for a good project to work on.
Nevertheless, you don't have to limit yourself by the idea that Thingiverse is the only option for 3D designs. There are several best sites like Thingiverse that offer the best 3D printer and STL files. So, I hope the above article has helped you to pick up the best 3D printing site.