8 Best Screen Recorders for Roblox [2023]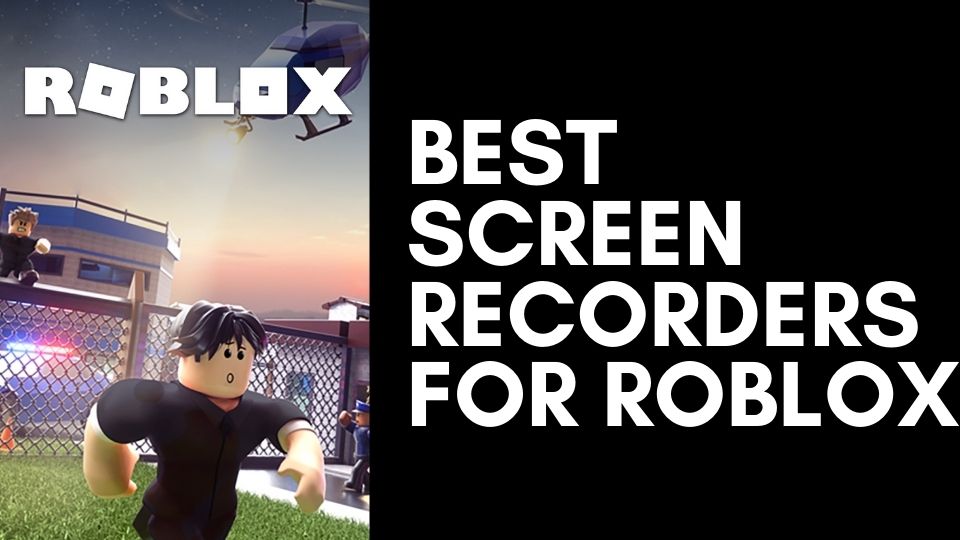 We may earn small commission from the products mentioned in this post. visit here for more details.
Are you looking for best screen recorders for Roblox? Want to share Roblox tips and tricks with other gamers? Or want to record your game and make some memories? Whatever your reason may be, you've come to the right place! In this article, I'll show you 8 best screen recorders that you can use it with Roblox.
Roblox is an open-source multiplayer online game creation software that has collection of several games that are created and developed by its community of players.
8 Best Screen Recorders for Roblox
Even though Roblox has in-built screen recorder, many gamers prefer using external screen recorder to record their favorite game with better video and audio quality. Check out the guide below for detailed explanation on best screen recorders for Roblox.
OBS Studio
OBS Studio is one of the best screen recorders for Roblox. It is a free and open-source software for live-streaming and video recording. It is prepared with powerful API, qualifying plugins and scripts to offer additional customization and functionality precise to your needs and requirements.
You can use innate plugins for better performance integrations or scripts written with Python or Lua that interface with already existing features. With its studio mode feature you can preview your sources and scenes before pushing them live and then regulate your sources and scenes or even make new ones and make sure they're flawless before your viewers see them.
Features:
Easy to use configure options.
High-performance real time audio/video mixing and capturing.
Custom transitions.
Multiple sources include window captures, webcams, images, capture cards, text, browser windows and more.
In-built audio mixer with pre-source filters.
It can be perfectly integrated with all your favorite platforms such as YouTube, Facebook, and more.
Camtasia vs OBS Studio: Which One is Better for you? [2022]
Wondershare DemoCreator is not an ordinary screen recorder, it is an easy-to-use video recorder as well as video editor. You can easily capture any onscreen activities, webcam, and audio and even screenshot while playing the game and it'll give you a definite image of the video outlines.
It is one of the best screen recorders for Roblox which makes it easy to capture video demos, presentations, tutorials, games and edit them instantly. With its in-built editor, you can edit microphone audio, system sound and video in distinct ways. You can be able to add transitions and green screen effects to enhance the video clips.
Key Features:
Edit audio and video separately.
Enhance your videos with several visual effects.
Add marker to highlight the main sections of the video while recording.
Ability to record the entire screen or a selected section.
For fast paced-games, 120fps is ideal
Instantly share the video t YouTube, Facebook, Vimeo, and Twitch.
Screencast-O-Matic
With Screen-O-Matic, you can capture your computer screen, your voice for narration and a webcam for free. It is mainly used by educators, gamers, students, and working professionals for simple and clear video communication, where the videos demonstrated are for enhanced learning, video conversations, marketing, demos, assignments, training, and more.
With their several editing tools you can personalize your videos and Its safe and private online back-up lets you to keep your recordings securely in a dedicated space allocated in your computer.
Features:
Easy to use and configure.
Share your videos and set that privacy options.
Offers affordable and intuitive video creation tools.
It is typically used for tutorials, demos, and many more.
Import music and use auto-captions, add text, shapes, images.
Make fun animations and fluid transitions to involve your viewers.
Upload your recorded videos YouTube, Google Drive, Dropbox, and more.
6 Voice Changers for Roblox in 2022!
Camtasia
Camtasia is one of the best screen recorders for Roblox. It is prominently used for video tutorials, demo videos, Webinar, YouTube, instructional, meeting recordings, presentation recordings, training videos and much more. With its in-built video templates, you can easily edit your videos and reduce the editing time.
Customize any of the royalty-free assets in the Camtasia library and add them to your video for a professional elegance. You can record and edit your audio clips by using a microphone, or any sound from your computer or import clips to get the seamless audio for your video.
Features:
Import audio, video, or image files from your device.
Use annotations to highlight the important part in your video.
Make custom templates for videos you regularly create.
Instantly access your most utilized tools and effects by marking them favorite.
Drag and drop editor makes adding, trimming, removing, or moving sections of audio or video easy.
Share templates, favorites, themes, libraries, shortcuts, and presets in a single file.
Bandicam
Bandicam is one of the best screen recorders for Roblox. It is a lightweight screen recording software for Windows which can capture your game with high-quality video. You can even record your voice and system audio at the same time. It offers the best performance than the other screen capturing software with similar functions.
With Bandicam, you can record a particular area on a PC screen or capture a game which uses Vulkan, DirectX, OpenGL graphic technologies. Its real-time drawing feature lets you draw and outline on your screenshot or video in real-time.
Features:
Captures video with high compression ratio while preserving the original video quality.
Save the recorded videos as AVI, MP4, or image files.
Record several 2D/3D games with 4K UHD Video up to 480FPS.
Schedule your video recording at a particular time.
Chroma key for Webcam overlay.
Record external video devices like webcam, smartphone, Xbox, PlayStation and more.
Add mouse click effect and animation while recording.
AceThinker
AceThinker screen recorder is a free software to record your screen with high quality audio and save them on your device or directly to the cloud. You can select the size of the screen that you want to record or even create a custom size as well as the sound or video source.
Its interface provides a great ease of use with the primary options in view at a glimpse while the more progressive ones can be altered in the settings such as choosing whether you want the mouse to be seen in the recording.
Features:
Convert video in any format for playing and sharing on mobile devices.
Take screenshots and capture whatever you want from your computer screen.
Save the recorded video as MP4, Move, WMV, AVI and more.
Edit your videos with various editing features to make it look professional.
Mirror your Android or iOS device screen to your computer and record in real time.
EaseUS RecExperts
EaseUS RecExperts is one of the best screen recorders for PC/laptop. It lets you capture What's happening on your computer screen with external audio, system sound and your webcam simultaneously. If you are a gamer, you can also record high fps gameplay without any lag issues. It is pretty to use, you just choose the game recording mode with a mouse click.
With this great screen recording software, you can capture and create different types of videos, such as online lectures, instructional videos, product demos or entertaining videos for sharing online. So, it is an amazing tool for teachers, small business owners, trainers, and individuals to create videos.
Features:
Adjustable mouse cursor effect.
The real-time zoom effects.
Spotlight effect.
Different built-in annotations.
It is quite simple to use
Edit your screen recording while recording the screen by adding arrows, lines, boxes, etc.
You can add watermark to your video, add video intro, outro.
Several sharing options for YouTube, Vimeo, Google Drive and Dropbox too.
Screencastify
Screencastify is one of the best screen recorders for Roblox. It is a simple, extraordinary, and easy to use tool that will modify the way you can communicate at work, or school or even at games. You can effortlessly deliver your message more rapidly and clearly with a screen video, rather than typing long reports, email or documentation.
Features:
Create videos including tutorials, demos, lessons, games, presentation and more.
Annotation tools to add text, and other elements to videos.
Perfectly integrates with Google Suite and several other platforms.
Ability to screen capture or video capture a user's full desktop, specific window, or a small portion of one's screen.
Edit and share the video across numerous websites with highlights on the screen.
24 Best Screen Recorders for Mac
Final Words:
Even though there are several screen recorders, I have only mentioned 8 best screen recorders for Roblox that have various features and are perfect for anyone even without having technical knowledge.
Among them, I would recommend OBS Studio for Roblox, as it is free and easy to use and mainly used for live-streaming and video recording.
Also Read: