7 Best Guardzilla App Alternatives to Spy your Home [2022]
We may earn small commission from the products mentioned in this post.
Are you looking for best Guardzilla app alternatives? Want to know which home security system app offers best features? Don't worry, you've come to the right place! In this article, I'll show you 7 best apps that are like Guardzilla.
Guardzilla is an all-in-one home security system that can be simply plugged in and sync to your Wi-Fi. It is highly customizable providing the users to sue the device in several ways. Other major features include infrared night vision, auto arming ad disarming, 100dB siren, pet immunity, two-way audio and much more.
List of Best Guardzilla App Alternatives
Even though Guardzilla is one of the best home security apps, it is for indoor use only. Hence, many people are looking for Guardzilla alternatives. Check out the guide below for more information on 7 best Guardzilla App alternatives.
XFINITY Home
Xfinity Home is one of the best Guardzilla app alternatives that includes advanced technologies and professional monitoring, all powered by Wi-Fi from Xfinity and installed by experts. It comes with various options depending on your equipment package and service tier. Equipment choices can consist of Door and Windows Sensors, Motion detector, Touchscreen, Wireless Keypad and Cameras.
Its major features are: 24/7 professional monitoring, monitor activity and manage your system directly from your mobile phone on the Xfinity Home app, say commands like "Arm my System" to control your security, live video monitoring with 24/7 video recording, and you can also integrate your compatible smart home devices into your system to control everything directly from a app.
Frontpoint
Frontpoint security is simpler, smarter, safer DIY home security system which is easy to install and affordable. Its safehouse package costs $294.30 which includes one motion sensor, a set of five hub one hub and keypad, window decals, one yard sign, a door sticker, two door and window sensors, and a set of five window decals.
It can be perfect for those who are looking for easy installation with full provision as it offers a wide range of useful home security devices that are competitively priced. Unlike other DIY home security, Frontpoint offers more equipment options, so that it can protect both outside and inside your home.
Alarm.com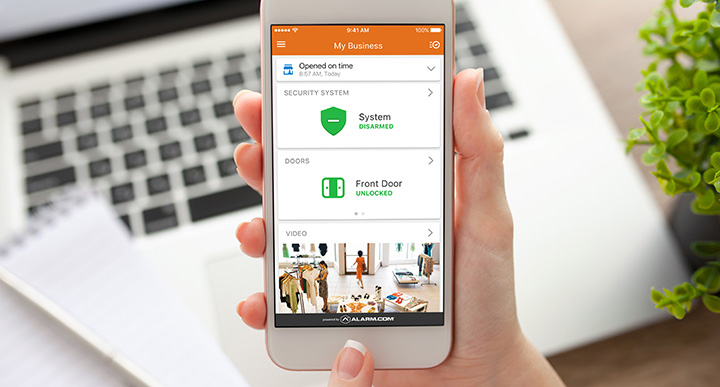 Alarm.com is another best Guardzilla app alternatives which offers cloud-based services for home automation, remote control, interactive security and monitoring services. These monitoring services can comprise contracts through third-party contractors such as ADT. You can easily keep your business or home connected and protected by Alarm.com.
Users can be able to secure and monitor their property via a web-based and mobile applications, as well as Google Home, Apple TV, Amazon Alexa and Amazon Fire TV. You can be able to talk to your visitors through your doorbell camera and unlock your door from the same screen. So, it is helpful every day, reliable in emergencies, and is all-in-one solution for the protected, connected business or home.
Reolink
Reolink is an easy-to-use security camera surveillance app. It allows you to remotely or locally access your NVRs on mobile devices and IP cameras. You can be able to monitor and watch live streaming of your business and home anytime and anywhere. Schedule video recording at any time.
Likewise, it has an easy and friendly user interface for all users. Get push notifications or emails in real time when any motion recognition is activated. It lets multi-channel viewing (up to sixteen channels) on screen at the same time. Remotely playback video recording from your camera SD card and NVR HDD.
Protection 1
Protection 1 is one of the best Guardzilla app alternatives. It provides wireless home security packages which employ triple-redundancy monitoring. This means, protection 1 security systems use sensors all over your home to communicate activity and possible threats. The signal routes straight to Protection 1 monitoring center whenever an alarm is activated.
Furthermore, its key features include wireless system, intrusion protection, remote control, home automation, medical response, professional installation, environmental protection, low monitoring fees, home automation, mobile alerts, surveillance cameras, 24/7 monitoring, smart home options, power outage protection, and much more.
iSmartAlarm
just like Frontpoint, iSmartAlarm home security is also a DIY, self-monitored and self-controlled smart home security system with no monthly cost and no contracts needed. iSmartAlarm app lets you to monitor, arm and disarm your iSmartAlarm home security system in real-time, at any time, from anywhere. You can be able to see who is home, when family members return or leaves.
Not only that, it also alerts all selected members with push notifications, text messages, emails, and automated phone calls when the iSmartAlarm home security system senses illegal or break-in activity. It manages all your iSmartAlaram products, including motion sensors, iCamera KEEP, contact sensors, iCamera, Smart Switch and much more.
Presence
Presence Video Security Camera is another best Guardzilla app alternative which is available on both iOS and Android mobile phones and tablets. You can be able to remotely switch between front and back cameras and turn on camera flash for enhanced visibility. You'll get several free encrypted cloud video storage for your motion detection recordings.
Presence makes a great DIY home security camera system with live video/audio streaming and on-demand video recording. You'll be alerted by email, push or in-app notifications when something happens, and you're not there. It supports multiple simultaneous viewers connecting to a single camera at the same time.
Final Words: I hope the above article has helped you to choose the best option from the above-mentioned list on 7 best Guardzilla app alternatives.