10 Best Apps like Periscope for Smooth Live Stream [2023]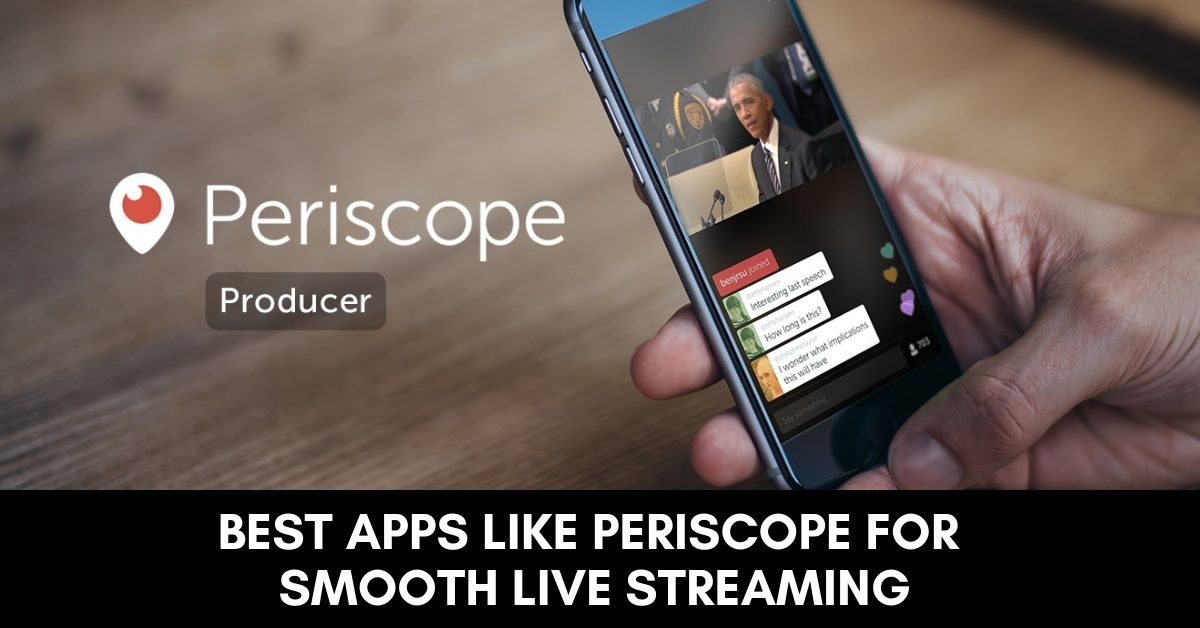 We may earn small commission from the products mentioned in this post. visit here for more details.
Are you looking for the best apps like Periscope? Wondering which will offer better features? You are at the right place! In this article I'll show you 10 best periscope alternatives.  Live streaming is the best way to communicate with people. No matter where your audience is, you can easily get in touch with them with a single click.
Periscope is a popular live streaming service out there. It is free to use and offers all significant functions for live streaming. Although it provides several advanced features, it might be not or you. So, check out the below on best periscope alternatives.
List of Best Apps like Periscope [Best Periscope Alternatives]
YouTube Live
YouTube Live is one of the best apps like Periscope, offers both live streaming and pre-recorded videos. It is a feature of the YouTube mobile application that allows creators with at least a thousand subscribers and giving them easy access to stream while on the go.
You can easily start a live stream from your mobile with the existing YouTube app. Schedule your live streaming and add multiple options such as live chat, monetization, age restriction and much more.
Twitch
Twitch is one of the best American video live streaming service which mainly focuses on video game live streaming. It further offers music broadcast, esports competitions, personal streams, creative content, in real life streams and much more.
Every live stream with Twitch includes a chat room intended to immerse viewers within the live streaming experience. It claims that community interaction is what it makes them exclusive. Likewise, it offers chances for followers to meet up and grow their friendship in real life.
Facebook Live
Facebook Live is a live video streaming service on Facebook which permits you to broadcast a live video to your viewers via a company page or from your personal profile. It was released on 2016 and is considered as one of the best apps like Periscope.
Once you've started a live video, it'll reside on your profile or page so that the viewers who have missed it can watch it later. Professionals or businesses using Facebook live on their page can have the capability to customize and control their audience.
Instagram Live
Live videos on Instagram usually lasts up to an hour and your followers get a notification whenever you start a live stream. You can be able to start a live video with another person, which is a perfect feature for online collaboration and interviews.
It offers a "Pin a Comment" feature, this pinned comments could be an amazing way to frame the video, also encourages interaction and responses from your followers and make everyone knows what's going on.
Vimeo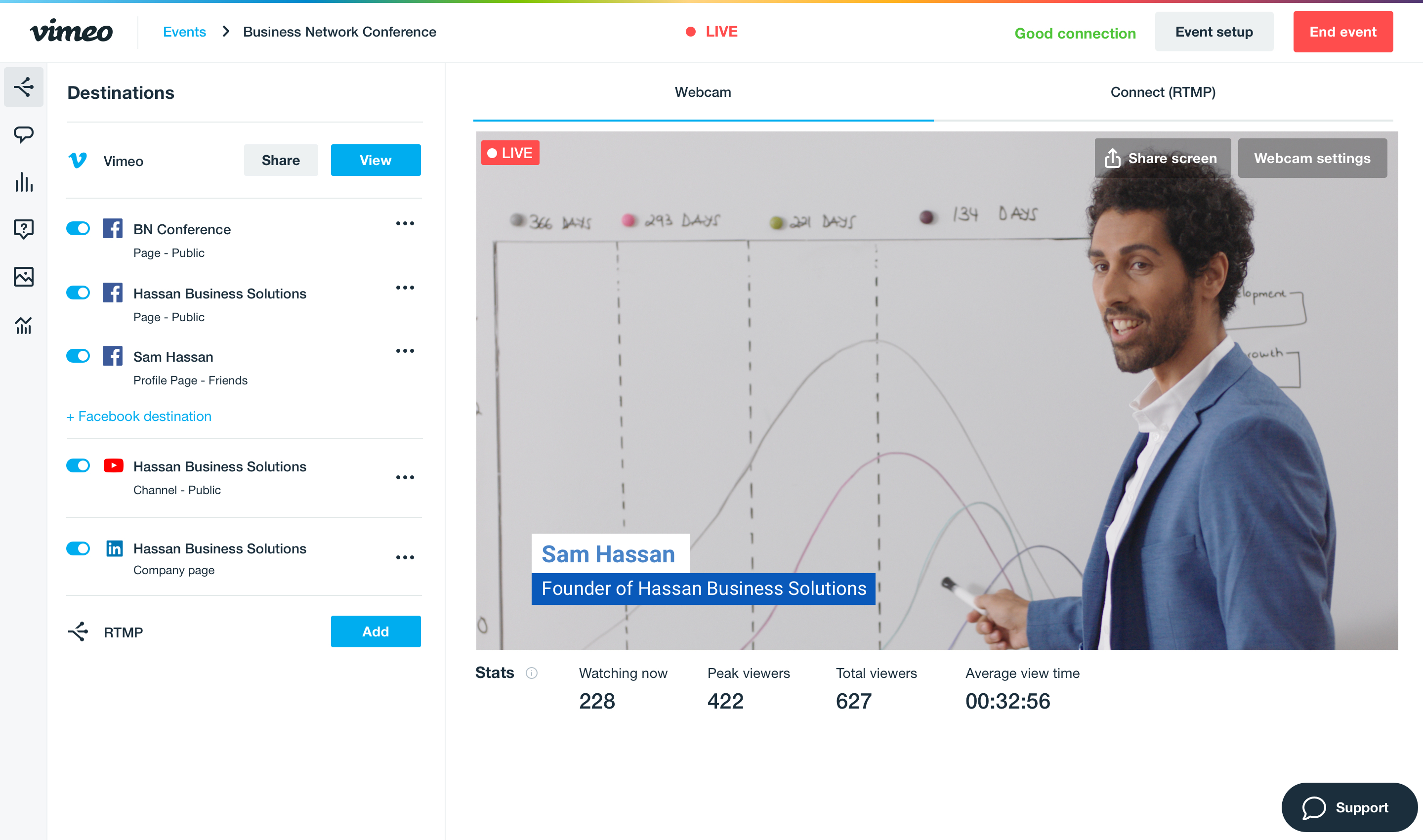 Vimeo is another Periscope alternative that level up your live streaming with reliable and high-quality videos. It offers several features such as storage management, post-production collaboration, marketing, monetization, high-quality live streaming, speed controls and much more.
Vimeo live streaming service is perfect for events and performances, webinars, classes, community engagement, company announcements, product launches, panels and virtual conference and many other video conferences. You can be able to customize your audio, visuals and graphics and can even test your setup in the preview screen.
YouNow
YouNow is one of the best apps like Periscope. This allows you to interact with live streaming broadcasters and go live to connect with your audience. All you need to do is to simply tap the green "Go Live" button on your profile and start your live stream video instantly.
You can have fun guesting onscreen, sending gifts, chatting with broadcasters, taking selfies and creating moments. In the Moments feed, you can browse live video broadcast and catch up on what you've missed. Here, you can find musicians, creators, and your favorite artists & personalities.
Streamyard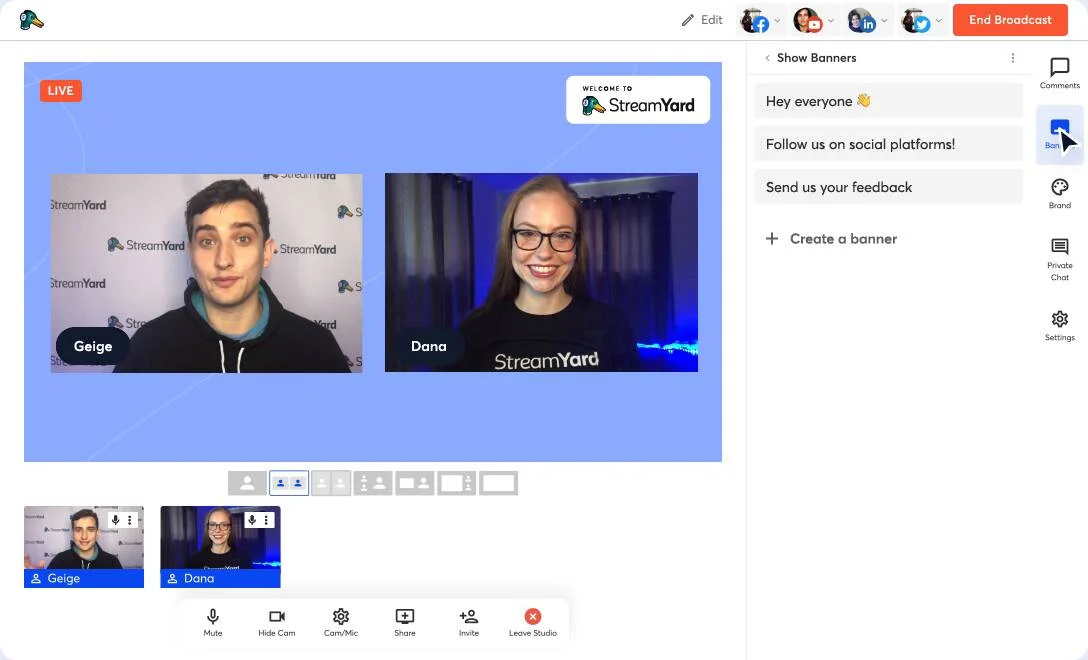 Streamyard offers an easy way to create professional live streams in your browser. You can stream directly to other social media platforms like YouTube, Facebook, Twitch, LinkedIn and much more. Even though it is paid, you can get a 14-day free trail without any card required.
You can interview guests to have your audience come back again and also show your comments section on screen. You can get your own private server, this ensures that if your mobile real-time stream gets disconnected, your stream will not go offline.
Livestream
Livestream allow you to reach everyone in real time, whether you're live streaming a conference or your company all-hands. Engage your followers, employees or customers across the world. You can also easily stream from any devices across your own website or social media platforms.
With live productions tools and graphics, you can easily add transitions, lower-thirds, create live polls and Q&A into your broadcast. You can also centralize your organization's live and on-demand video and create a secure viewing destination.
Streamgo
With Streamgo, you can make your online webinars, live webcasts, podcasts and events better. You can have a secure access this means; it'll only allows the people you want to attend to view your live stream and you can add as many attendees as you want.
Furthermore, it offers branding, live engagement data, HD streaming quality and much more. Streamgo features include audience analytics and engagement, event management and scheduling, multi hosts, live chat, customizable branding and more.
HangW
With HangW, you can let everyone to get involved into your lifestyle and all other exciting activities that are happening around you. It is one of the best apps like Periscope which provides a way to adventure with its several amazing features.
Likewise, it perfectly works on Android as well as iOS devices. You can also be able to get tips for virtual coin from other live streamers and viewers on this network.
The Bottom Line
What did you choose? It might be difficult to choose since there are several options out there. However, the article I mentioned above on 10 Best apps like Periscope will provide you an easy way to select any live streaming app that suits your needs and preferences.