6 Apps Like Truebill to Check Out [2023]
We may earn small commission from the products mentioned in this post.
Bill negotiation apps like Truebill can help you lower your monthly utility bills like internet, cable, phone, subscriptions, and other bills.
Moreover, they even help you track your expenses, income, and also save your money by reducing pricing and fees.
Since a lot of people don't know how much they spend monthly, these apps really come in handy to track finances and save money.
So, keep on reading to know more about apps like Truebill and how they work!
List of Apps Like Truebill
Before going any further, first, let's understand what is Truebill and how Truebill works.
What is Truebill?
Truebill is a financial service that aims to help you save money on your monthly bills like phone, satellite TV, cable, radio, internet, phone service, and home alarm and security systems.
It keeps track of your monthly bills and avoids drafts, automatically categorizes and tracks your spending, manages and cancels unwanted subscriptions, monitors your credit score, and puts your savings goals on autopilot.
Although its website doesn't give you much information about the types of bills they can't negotiate, it does let you decide what portion of your savings they get to keep.
How Does Truebill Work?
Truebill is mainly divided into four services – Managing subscriptions, Premium Services, Lowering your Bills, and Seeking Refunds.
Lowering Your Bills: Once you create an account, it'll prompt you to enter data of your monthly bills through a four-step process.
Managing Subscriptions: It monitors your bills through a credit card statement or bank and gives you the option to add your preferred account.
Premium Services: Besides lowering and managing subscriptions, it offers some tools that might help you make potential financial decisions with your monthly budget.
Its premium subscription offerings include Premium Chat, Custom Categories, Smart Savings Plans, Balance Syncing, Cancellation, and Unlimited Budgets.
Seeking Refunds: It sends letters to banks to request refunds for overdrafts or late fees on linked accounts. It also monitors outages on things like your internet, cable, and phone service.
Besides all this, it takes 40% of savings and requires access to sensitive personal information. So, it's worth checking Truebill alternatives.
Here is are the best apps like Truebill that help you manage your finances.
Trim
First and foremost, we have Trim in our list of the apps like Truebill. Trim is a money-saving app for automatically negotiating lower rates on utility bills and cancelling unused subscriptions.
It negotiates internet, cable, phone, and medical bills, cancels an old subscription, and more. All you need to do is to share some basic bill info and their team will negotiate to find you savings.
So, you don't have to spend hours and hours on the phone with your providers to get the best rates.
Moreover, it connects to your credit card account & checking account and takes a look at your transactions, and even sends an alert when it finds recurring purchases that you might be able to cancel.
Features
Trim analyzes your spending patterns to find ways.
It continues to monitor for opportunities and get you more savings.
Grow your money with a goal-based savings account.
Have unlimited access to Trim financial planners through email.
It will cancel unwanted subscriptions for you.
Offer personalized spend alerts and reminders.
Have Trim negotiate with your bank to lower interest rates (APRs), waive interest charges, and get refunds on unfair bank fees.
How Does Trim Work?
In order to use Trim, all you need to do is to create an account with Trim and connect your credit card and checking accounts, and determine which transactions are recurring.
You will get to see how much you're spending on these transactions; choose which ones you would like to cancel and then wait for Trim to update you on the status of the cancellation.
It works with your credit card providers to offers low APR. And with the Trim premium version, you can access to Simple Savings – an automated savings account which provides you a 4% annual reward.
So, Trim actively tries to help you manage your finances, including saving money by using artificial intelligence.
Fees: Trim has both free and paid versions. The paid version of the app costs $9.99 a month. And if you enroll in their most popular feature – Bill Negotiation, it'll charge you 15% of the total first year of savings. Visit here for information.
BillShark
BillShark is another bill negotiation tool that assists you to lower your bills and easily cancel unwanted subscriptions without any hassle.
It helps you get lower prices on your monthly services, such as internet, cell phone, home security, and TV by negotiating with your service providers on your behalf.
You can use its calculator to see how much you can save. All you need to do is to input your monthly bill amount, bill type, service provider, and it'll give you an estimate of your yearly savings.
BillShark uses top technology to keep your info safe, and they only supply negotiators with the data essential to get your bills lowered.
Features
It's the easiest way to lower your bills, cancel unwanted subscriptions, and lock in the best rates for insurance.
Its team of experts handles all of the bill negotiations and gets you the best rates available.
Get started with the savings calculator to see how much you can save.
It will get to work lowering your bills and cancelling subscriptions.
Easily cancel unwanted subscriptions without the hassle.
Keep track of your new savings expires and will automatically restart negotiations.
How Does BillShark Work?
You can easily set up your BillShark account by entering your email, phone number, Social Security Number, and selecting your bill's service provider.
Once you sign in, you'll have to choose with negotiation service that you want to use. Then, wait for BillShark to fill you in all the details.
When negotiations are successful, you'll get a confirmation through phone or email. If you want to cancel multiple bills, you'll have to go through the same process again and again.
Note that the more contracts you let BillShark negotiate, the higher your savings ceiling. Now, you'll need to upload digital copies or photos of your bills, so that your BillShark representative will have all the data they require to negotiate a reduction.
Fees: Billshark charges a one-time fee of 40% of savings and $9 per cancelled subscription.
Prism
Prism is a bill management app that states itself as a 'Free app that helps you get control of your money' and let you view and pay all of your bills.
Although Prism works like a financial aggregator it aggregates income and expenses instead of bank and investment accounts.
You'll have to link your bills and payment accounts through which Prism will monitor your bills for you. And whenever a new bill is available, Prism sends a push notification to your phone.
Prism doesn't use a third-party payment platform, so you can pay any bill right away without any delay. Moreover, you can access Prism only through its mobile app, there is no web version.
Features
See your income, account balances, monthly expenses & spending
Manage personal finances, view checking and savings account.
Track bills, monthly expenses, money & debt with an easy-to-read graph.
Automatically track bills and send due to date bill reminders.
Ability to schedule your bill payment the same day or weeks out.
Prism bill organizer combines all of your financial accounts together.
Easy-to-understand graphs of your personal finances & expenses.
Automatic bill tracking, due dates, bill totals and payment history.
How Does Prism Work?
To get started with Prism, download the Prism app on your iOS or Android device and add your bills. It will then integrate your account balances and bills, so you get a complete picture of your budget.
From there you can pay your bills and precisely match your expenses against your income. And since it works with over 11,000 billers across the United States, it can automatically pull up balances and due dates.
This consists of banks and credit unions, cable companies, mortgage lenders, student loan lenders, utilities, and many more.
If you see that any of your billers are not included in its list of 11,000 billers, you can easily request for the biller to be added.
Fees: Although many billers offer free payment options, some of them charge a fee for all options. However, Prism states that it always lists the cheapest options first.
Mint
Mint is a personal financial management service that allows users to track bank, investment, credit card, and loan balances and transactions through a single user interface.
It also helps you manage all your financial aspects, such as assisting you to reach your financial goals with customized insights and customs and even set financial goals, and create budgets.
This app like Truebill also makes it easy to track credit factors and check your credit score anytime, anywhere. Additionally, users can customize their features and functions to meet their requirements.
And from the 'Ways to Save' section, you can access the valuable information that Mint offers, which usually comprises data about various financial products like personal loans, credit cards and life insurance.
Features
Use Mint as a subscription manager and track your money spending.
View your monthly bills, create budgets, grow savings, & build stronger financial habits.
It provides budgeting tips & advice to help you save for your financial goals.
Connect your cash, credit cards, loans, track investments, etc with just one tap.
Control spending with our money spending tracker.
Track transactions, account balances, monthly expenses, and get bill reminders.
It calculates your spending trends and helps you with your budget plan.
How Does Mint Work?
After you create a Mint account, you can enter your personal information, debit or credit card information as well as any bills that you would like to be reminded to track or pay.
Then, connect your mortgages, credit cards, PayPal, and as many bank accounts as you like. Once you connect all your accounts, it will provide you with an overview of your finances.
You can also set up your budget and then according to your finances, it'll offer a budget for you that can adjust later.
Then, you can use Mint to check your spending habits and monitor progress on your budget. And with time, you can even analyze your money habits and discover ways to improve them.
Fees: It is completely free for everyone; you can sign for free and access all the app's features for free.
YNAB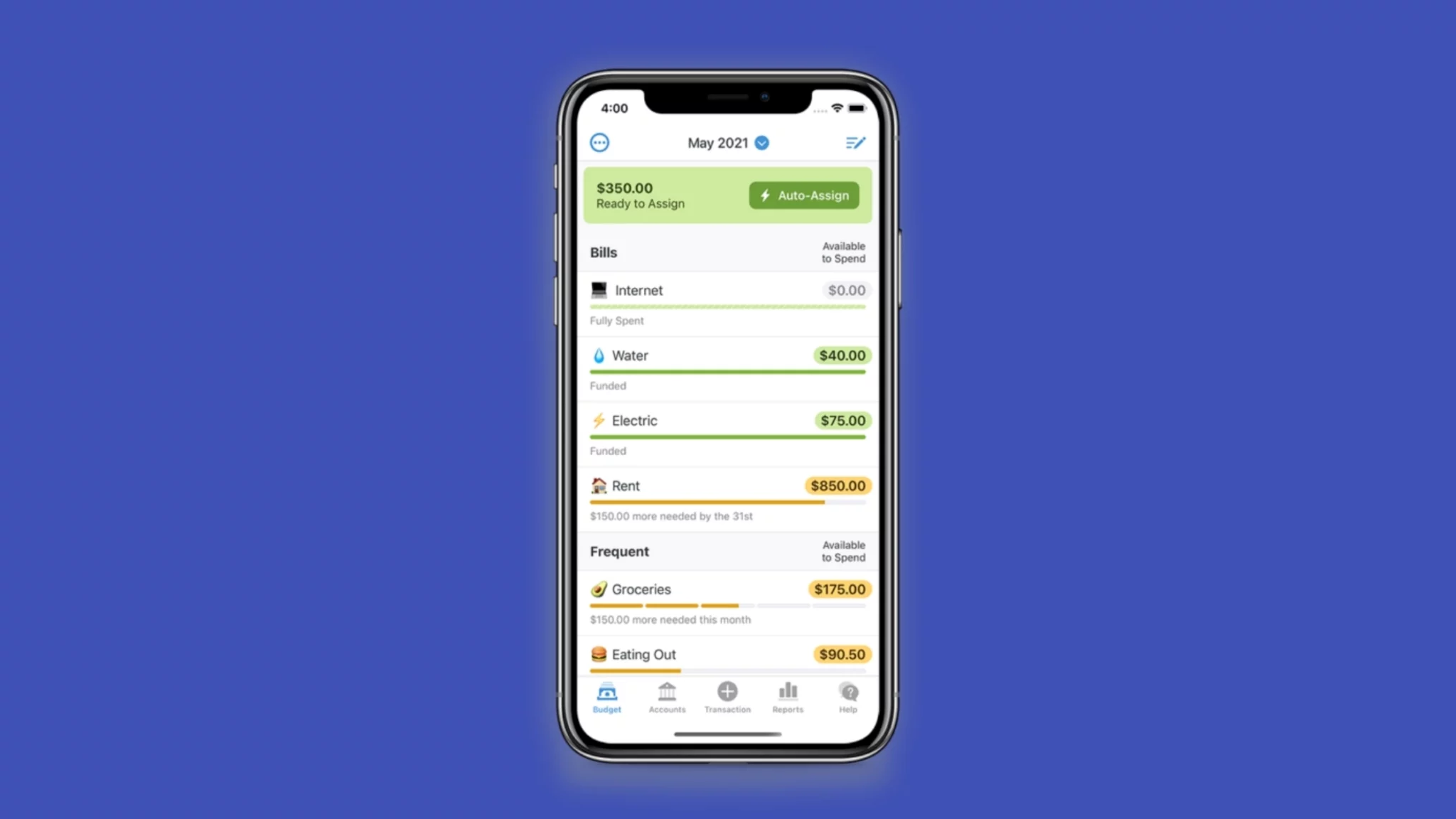 You Need a Budget is an American multi-platform personal budgeting program that can be used across desktop computers and mobile devices.
It usually works on a theory – Give Every Dollar a Job, which means each dollar is allocated to a certain resolve, including annual car insurance payment, college savings, long-term housing repair funds, and more.
It encourages users to consider repeated expenses every month to prevent spending 'surprises' and break the paycheck-to-paycheck cycle.
Moreover, the app uses the 'Open Banking' feature which gives limited read-only access to your bank account and to your credit card accounts.
Features
Pay off more debt, grow your savings, and reach your goals faster.
View changes to your budget in real time across devices.
Securely link your accounts and see your complete financial picture in one place.
See a complete view of your personal finances.
It'll calculate the interest and time saved for every extra dollar you put towards debt.
Easily connect all your accounts at one place for a big-picture view.
Visualize your spending and obsess over your progress with budget reports.
How Does YNAB Work?
Unlike other budgeting services, YNAB works by making you assign every free dollar to a category. Through this, you can plan where your money is going to go before you spend it.
You just have to download the YBAN app or visit YNAB's website and create your account. Once you've logged in, you can immediately start setting goals and finishing your profile.
Not only that, buy you'll also have to add credit card accounts, checking accounts, or saving accounts. And choose to have information imported automatically like account balances and cleared transactions.
Or you can simply enter your current balance and then manually keep up with transactions. If it finds that you've spent more than you budgeted on a category, it'll make you move that money from another group to cover the overspending.
Fees: Its charges membership fees which costs $14.99 per month or $98.99 per year, which you can cancel anytime. It also offers a 34-days free trial.
Emma
Emma is a financial app advocate which helps users avoid overdrafts, find wasteful subscriptions, and let users control their finances.
It aims to allow users to understand how much money you have left to spend until payday, track and find wasteful subscriptions or alert you when you are paying over the odds-on utility bills.
You can connect your bank accounts, credit cards, and investment accounts to analyze your spending in one place.
It collects info of all of your regular payments through which you can identify if you have any duplicate or wasteful subscriptions and even get a detailed breakdown of your spending.
Features
Helps you in avoiding overdrafts, finding wasteful subscriptions, and giving the control you need over your finances.
Automatically tracks and categorizes your expenses across accounts.
Analyzes your transactions to give you the complete list of recurring payments across your accounts.
Connects to all your bank accounts in just a few taps.
Add your cards, current accounts, savings, cryptocurrencies, and even pensions.
Get advanced insights into your spending behavior.
How Does Emma Work?
Emma describes itself as a 'Fitness Tracker for Money' and it is developed to sync your budgets to your payday and track all of your payments through the month.
Creating an account is really easy and simple. All you need to do is to search for your credit card or bank account within the app and link them up.
It aggregates all your bank accounts and credit cards in one app and offers different features like spending categories, budgeting tools, subscription breakdowns, cryptocurrency integration, and fee tracker.
Fees: Emma is free unless you want to access more features. Emma Pro is a version that costs $59.99 a year paid upfront.
Final Words: Apps Like Truebill!
So, these are the best apps like Truebill that help you with your finances. If you are wondering how to choose the best budgeting app, well, you should mainly look for the service that lets you track your income and your spending habits.
Because you get the ability to categorize your expenses into categories and view trends over time so that you make better decisions and comprehend your spending habits.
Hopefully, the above article may have helped you to choose the perfect budgeting service that meets your requirements.