6 Best Apps Like Hooked You'll Love! [iOS & Android]
We may earn small commission from the products mentioned in this post.
Apps Like Hooked: Do you like reading thrilling chat fiction or short stories? Well, Hooked and its alternatives are for you! In this article, we've mentioned the 6 best apps like Hooked. But, firstly, let's understand what Hooked is.
Hooked is an addictive chat story app that offers original stories in a chat-based format. You can download the audio recordings to hear actors recite the messages clearly as they show up onscreen.
Besides reading, it also offers short films to watch. It has become so successful that it has surpassed Snapchat and Instagram in the iTunes charts.
Even though there is a three-day free trial, you'll need to sign up for a subscription to access every content that Hooked has to offer.
So, to overcome this disadvantage, there are several Hooked alternatives you can check out. Keep on reading to know about the 6 best apps like Hooked that you can use for free or sign up for a paid plan!
Apps Like Hooked
Here are the 6 Hooked alternatives that you can use!
Texting Story
With TextingStory, you can create your own! In other words, unlike Hooked alternatives listed in this article, which let you read existing chat-style stories, Texting Story allows you to create your own.
You can write a text conversation, create a video for your story, watch your creation and share it with your friends. It is specifically developed for those who wish to write their own stories and get instantaneous feedback.
Although it let you write conversations like any other messaging app, you can only switch sides by swiping left or right over the message area. Moreover, you can also choose the characters' names.
Besides, add pictures and GIFs in the stories, which you can purchase from the settings by selecting 'Add Pictures.' It will unlock character pictures and the camera icon in the typing part and the capability to paste pictures or GIFs in the typing zone.
Key Highlights
It is entirely free to download and use
In-app purchase to unlock pictures and GIF feature and to add custom alert sounds
Write conversations just like any messaging app
Create a video from your story and share it with your friends
Videos are automatically accelerated for a consistently fast-paced result
You can press the characters' names
Add pictures and GIFs by purchasing the 'Add Pictures' option
You'll need to buy an extra in-app purchase to get rid of the Texting Story watermark
Price: Free and in-app purchase to unlock some features
Compatibility: iOS and Android
Yarn
We have Yarn next in our list of the apps like Hooked. If you ever wanted to spy through people's conversations, then Yarn is for you!
Yarn is a free social app that makes you feel as if you are peeking through other people's text messages and learning about their life. A few examples include hypothetical conversations between celebrities and fictitious group dating chats.
Yarn makes your reading fast, fun, and fabulous, and it releases new episodes and conversations daily. Moreover, it even allows you to pick on your own response to alter the path of a chat conversation.
Although it is a free app, it offers a premium subscription to unlock features like movies, images, and audio snippets and access unlimited exclusive content.
Key Highlights
Yarn story is told as a short text message conversation
It makes reading fun, fast, and fabulous
New stories, episodes, and conversations are updated regularly
Offers weekly, monthly, and annual subscriptions
Ability to change character's response to modify the conversations
Publishes short video episodes to watch
Follow your favorite publishers and stay up to date with the latest content
Price: Its subscriptions cost $4.99 per week and $69.99 per year. It also offers a 7-day free trial.
Compatibility: iOS and Android
Mustread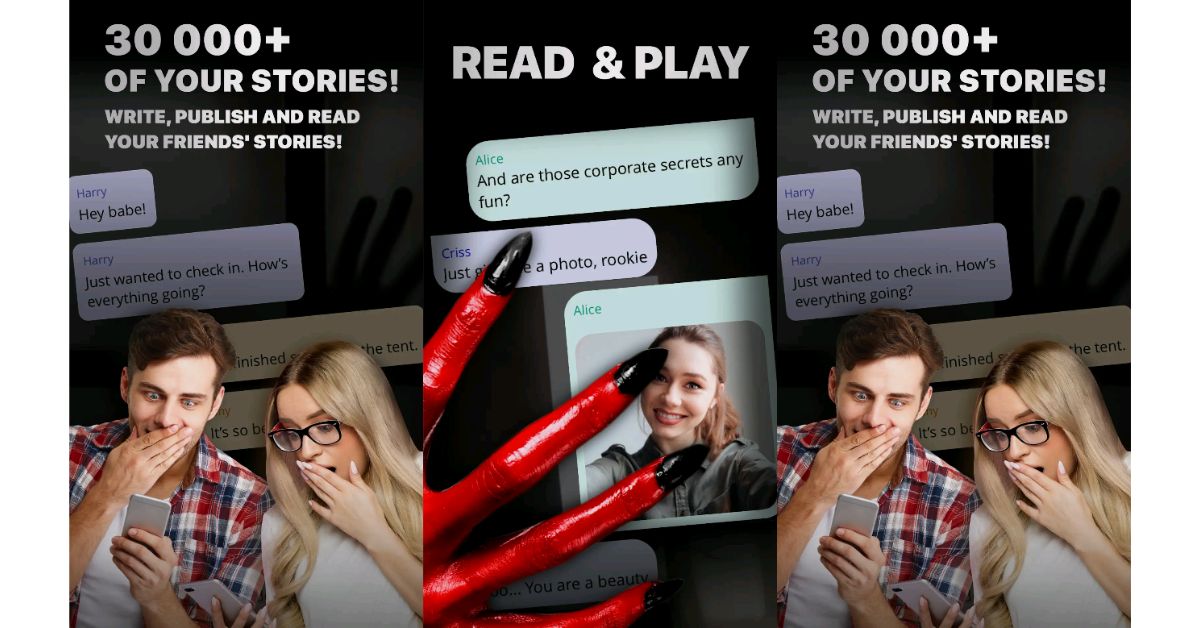 With Mustread, enjoy reading books anywhere and anytime! There are thousands of breathtaking chat stories, including funny, scary, romantic, sad, dark, mysterious, horror, sci-fi, and many more.
To make you feel more connected to the stories, Yarn combines storytelling and quest games to take the interactions to a new level. All you need to do is to read the chat story, decide on the main character, and pass the quest by finding objects and snapping photos to unfold the story.
Like Hooked, Mustread is a contemporary story writing app with short tries that is for all ages, any mood, and with several genres. Moreover, just like Yarn, it lets you choose a character's response to alter the course of chat conversations.
You can have access to unlimited texting stories for free. However, to unlock features like videos, photos, and calls with a rewarding action, you'll need to purchase a premium subscription plan.
Key Highlights
Make a choice and decide how the story unfolds
Read already written stories or try yourself novel writing
Unlimited access to a collection of free stories
Share your own stories and get popular among readers
Easily view your reading progress with the progress bar
It contains books for all ages – teen stories and adult stories
It barely takes 2-3 minutes to complete one episode
Price: Although it is free, you can choose the premium subscription to unlock various features. It costs $0/99 per week and $9.99 per year.
Compatibility: iOS and Android
Scary Chat Stories – Addicted
Next, we have another amazing Hooked alternative – Scary Chat Stories – Addicted. Just like the name suggests, you'll find yourself coming to this again and again as all free chat stories are really addictive.
This means you can find immersive lure text stories that make 'Addicted' the best app that keeps you on the edge of your seat. And unlike most of the apps listed in this article, it is completely free.
So, if you cannot afford the subscriptions, Addicted is the best choice for you. Once you start reading the lure stories that Addicted offers, you'll need to be ready for creepy texts, yarn, and unexcepted plot twists.
Besides scary stories, you can also have several other stories, such as love stories, science fiction stories, granny horror, chat fiction, wit stories, romantic stories, action and thriller text stories, humor stories, creepypasta, text games, and more.
Key Highlights
Read amazing, scared chat stories free without pauses
You can find immersive lure text stories
Every Addicted story feels as if you were reading someone else's yarn chat history
It allows you to write and share your own stories and get real-time feedback
Read a lot of spooked chat stories and text fiction with your friends
Grammar and spellings are not as good as in other text-based story apps
Price: Since it is entirely free, you'll need to watch ads that you can skip after a few seconds.
Compatibility: iOS and Android
Lure
Lure is another interactive chat stories app that features bite-sized chat stories expressed in the set-up of text message conversations as if you are viewing somebody else's messenger app texts.
It comprises several types of stories, such as thrillers, romance, horror stories, suspense, romance, hilarious stories, and many more. Every genre includes various options to explore.
Moreover, the app also consists of multiple prominent features, including discovering, top-quality stories, and sharing new stories. To make the stories spooky, snappy, and addicting, Lure has been inspired by Snapchat to take the fun of interest with bite-sized content.
At the top of a story's introduction screen, statistics show how many people viewed and loved every take. Not only that, but the introduction screen also tells you how long you are supposed to spend reading that certain story.
Key Highlights
Hundreds of the hottest bite-sized romance stories
Lure's chat stories deliver conventional stories in a fascinating, engaging new way
It adds new titles to explore every day
Adds descriptions and actions between the messages to help you follow what is exactly happening
For a free user, there is a waiting period that prevents you from viewing the next section.
Price: After a three-day free trial, it charges $2.99 a week, $7.99 per month, and $39.99 per year.
Compatibility: Unfortunately, it is only available for iOS devices
Mistory
Lastly, we have Mistory in our list of the apps like Hooked. On Mistory, find funny chat stories, scary chat stories, romantic chat love stories, sci-fi, mystical stories about vampires and werewolves, and many more.
Mistory allows you to become a popular author. You can write offline stories and diversify your texting stories with images, music, and sounds. So, write your own horror stories, fan fiction, love stories, or creepypastas and share them with your friends and family.
As soon as you publish your story, it might end up in the catalog or users can search in the app to read it. There are also in-game coins for authors, which you can spend to purchase additional features or can skip ads.
What makes Mistory interesting is that it allows you to save the stories to your devices and let you enjoy the offline reading.
Key Highlights
Write your own horror stories, fan fictions, or love stories
Best stories are added to the Mistory recommendations
Earn in-app coins to skip ads
Read interactive scary chat stories, funny chat stories, mystical stories, and romantic chats
Enjoy reading books offline for entirely free
Become the main character or make choice in episodes of the story
Price: Free and in-app purchase
Compatibility: iOS and Android
Final words: Apps like Hooked!
All the apps listed in this article offer everything that you are looking for, whether it is for nail-biting stories, thrilling, sci-fi, fantasy, romance, or horror stories.
Although most of them are free, you'll need to purchase a premium plan to access their complete features. Hopefully, the above article has helped you to pick up the best Hooked alternative that suits you the best.