Twitch Error Code 788078d4 [How to Fix]
We may earn small commission from the products mentioned in this post. visit here for more details.
Issue: Twitch Error Code 788078d4 (Unable to Stream on the Twitch)
Many Twitch users are encountering Error code 788078d4 and due to this bug, people are unable to stream on the Twitch.
This error is mostly occurring in the Xbox one, users are receiving the error message as
"Error Code: 788078D4
Two-factor authentication is required to stream, Please visit your Creator Dashboard Settings".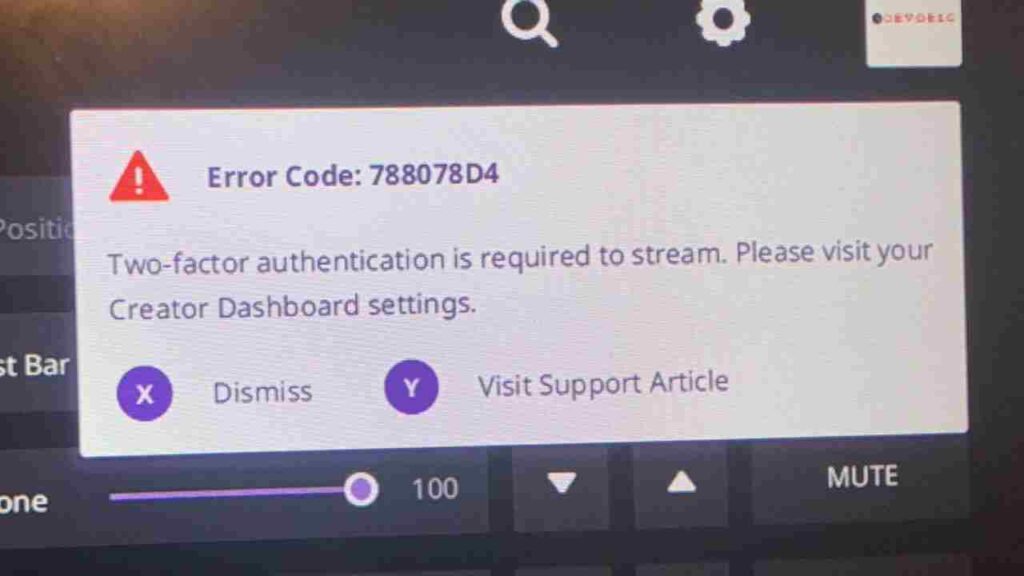 Fix: Twitch Error Code 788078d4
You need to follow the below ways and step by step guide to resolve this issue.
Perform Power Cycle/ Restart
First, you need to perform the power cycle in your Xbox One. It can help you to resolve many issues in Xbox One.
Here is the step by step guide to perform a power cycle in Xbox one.
How to Perform Power Cycle in Xbox One?
Press and Hold the Xbox Button which is located in the center of your Console.
It will open the Power Center.
Select Restart Console.
Select Restart.
Now, open the Twitch and Stream again, if your issue is not fixed, move to the next instructions.
Check your Internet connection
Sometimes your bad internet connection could be responsible for various problems on Twitch and Xbox. So, make sure you use stable and working internet.
You can also use cable, instead of router for best results. Also, you can restart your router to avoid speed-related issues.
Check your Account
If you are using a child profile, this error will occur. Hence, use the adult account.
Xbox Live Account Reputation
If the reputation of your Xbox Live account is very low, you will not be allowed to stream.
Also, the app will not support HDMI games. So, do not try to stream HDMI games.
If any of the above troubleshooting steps don't work, you can follow the below step by step guide to easily get rid of the Twitch Error Code 788078d4.
Enable Two Factor Authentication
Many Xbox users are able to resolve their issue by just enabling the 2-Factor Authentication. Now, it's mandatory to use 2 Factor Authentication feature.
Here are the steps to enable 2-Factor Authentication:
Log in to your Account.
Go to the Security Settings Page.
Select Enable Two Factor Authentication.
Enter the Twitch Password & Valid Phone No.
Enter the Verification code.
After login, try to stream from the Twitch again, if the error still continues, follow the next methods.
Reset Stream Key
You can also reset a stream key to avoid this issue. Additionally, don't forget to enable Two Factor Verification, because Twitch will ask you to do it before getting the new stream key.
Watch how to reset stream key:
Reinstall Twitch
If any of the above methods won't work, reinstalling the Twitch is a last option. Here are the steps to reinstall the Twitch:
How to Reinstall Twitch?
Navigate to the Connections Page.
Disconnect your Xbox from Twitch.
Navigate to the My Games & Apps.
Select the Twitch.
Click on the Menu button.
Select Manage app -> Gamertag.
Select Delete Saved Data.
Find the Twitch App, Open and Uninstall it.
Restart the Xbox and reinstall Twitch.
After applying all of the above steps, try streaming to Twitch again.
Hopefully any of the above methods will help you resolve this issue, after applying all the ways, the error still persists, you should finally contact the official Xbox support.
You can also check various forums for more information or solution regarding this issue.
You can contact the official Xbox by going here:
https://support.xbox.com/contact-us
If you are getting other problems or error regarding the Twitch, let us know in the comment section below. We will try to resolve your issue as soon as.
Conclusion:
Twitch Error Code 788078d4 is related to the Twitch Streaming on Xbox. In this article, we shared all the information and fixes regarding error 788078d4.
Trovo vs Twitch: Complete Comparison