PS4 Error Code E-8210604a [Fix 2023]
We may earn small commission from the products mentioned in this post.
Issue: PS4 Error Code E-8210604a, PS4 Error E-8210604a, Playstation Error Code E-8210604a
Many PS4 users facing Error Code e-8210604a, and they cannot renew their subscription or purchase anything.
So, what exactly is PS4 error E-8210604a? Well, it has to do with the PlayStation4 transactions. When you go ahead and buy something on the PlayStation Store, it won't let you make that purchase.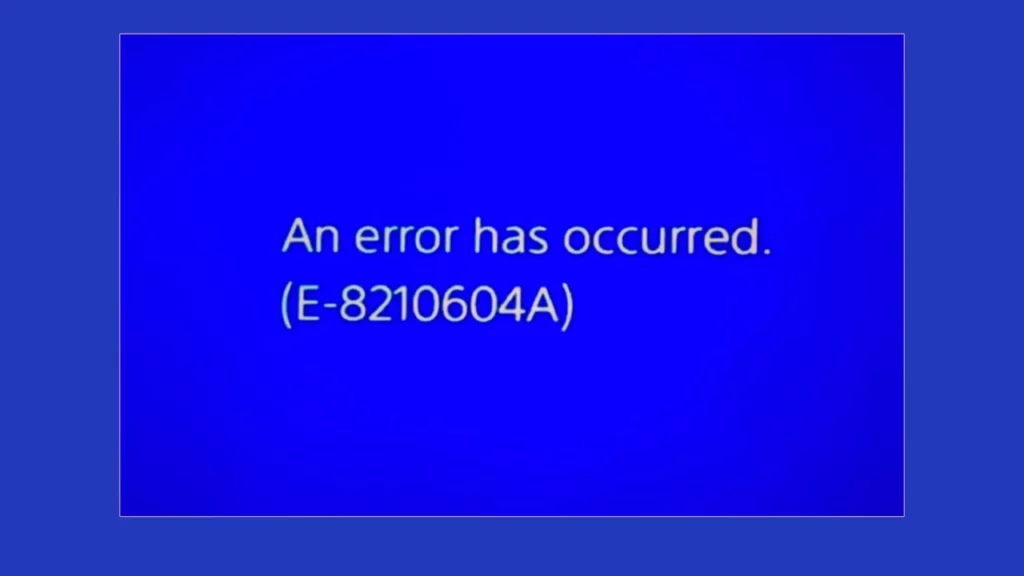 How to Fix: PS4 Error Code e-8210604a
Change your Email
You can easily resolve this error code by just changing your PS Store connected email address. So, make sure what you type is completely authentic.
Once you go ahead and change your email address, go down to confirm and follow the instructions to verify your email.
You can change your email by using the following method:
How to Change Email[For PC]
Go to your Account.
Navigate to the Security Section (At the left side Navigation Menu).
Enter the Login id/Email Address.
Enter the new Email.
How to Change Email[For Playstation]
Navigate to the Menu.
Open Settings.
Navigate to the Account Management Section -> Account Data
Select Login ID/Email.
Enter the New Email.
Once you've changed your email address, you log out of your PlayStation4, and you'll have to sign in with your new credentials (email address and password). So, you are supposed to have a phone or a computer available for you to complete this process.
PS4 Error Code WS-43689-0 [How to Fix]
Delete and Re-add payment method
According to various, you might face this error if the debit or credit card you want to use is no longer completely authorized by the bank.
In this case, you can be able to solve this issue by completely deleting and adding your payment again. Follow the steps:
On the Home Screen of the PlayStation4, go to top and scroll over to Settings.
Now, select Account Management.
Navigate to Account Information.
Scroll down and click on Wallet to change your payment methods.
Click on Payment Methods.
All you need to do is to delete your credit information and then add it again. If this method didn't solve your issue, check out the below-mentioned methods.
Add Funds
You can easily fix PS4 Error Code e-8210604a by following the below instructions:
Go to the Settings in your Console
Navigate to the Account -> Account Management -> Account Information.
Go to the Wallets.
Click on Add funds.
In this way you can add some money directly to your account like a 12 digit code.
It will simply solve the error and you can buy whatever with your PayPal, debit card or credit card or even purchasing with a redeem code online such as from Amazon.com.
After applying this method, if you cannot add a credit card, follow our next way to learn how you can easily pay with your credit card.
Add PayPal
If you can't use the credit card on your account, you can go to Paypal and add the credit card there. After that, you have to add Paypal to your PS5 account.
It will simply fix the Credit card issue in your account. Follow the steps listed below:
Open your device and sign in to your PlayStation account.
Go to PlayStation Network and select the Payment Method.
Now, click on Add Payment Method and select PayPal and follow the on-screen prompts.
Once you've finished adding your PayPal account, open another tab and go to Sign-in page of PayPal. Follow the steps below:
Enter your PayPal credentials in the PayPal's sign in page and click the PayPal Balance link.
Now, select the Link a Card option at the top left side of your screen and follow the prompts to add the credit card.
Go back to your PlayStation console and add the PS+ subscription to the checkout page.
Select your Payment Type and choose PayPal.
Purchase the Subscription from Amazon
You can try buying a subscription from Amazon. Follow the steps mentioned below:
Open Amazon and sign in to your account. Now, type PlayStation plus in the search bar and press enter.
Scroll down and select the PS+ membership plan from the list of available option, which will be suitable for your plan.
Now, choose the available edition before selecting the Add to Cart option.
Go to the checkout page and finish your transaction.
Once you've made the purchase, you'll get a code that you can use to redeem on your PlayStation console. If you want to know how to redeem the code, follow the steps:
Open the PlayStation Store and navigate to Redeem Codes sections and select X on your controller.
Type the 12-digit code that you've received from Amazon and press Continue to allow it.
Now, click Confirm to successfully redeem the PS+ subscription code.
Once you see the confirmation message, you can know that your PS+ subscription is active and you have successfully solved the PS4 error code E-8210604A.
Log-out & Log-in of PlayStation Network
A lot of users who encountered this issue have proved that they fixed this issue by simply signing out and logging in immediately to their PSN account. Follow the steps listed below:
Navigate to the Settings (or click on the gear icon) from the main dashboard of your PS4 console.
Scroll down and click on Users and Account option.
From the list of available options, click on Others and choose PlayStation Network and then select Sign Out.
Once it is done, Log in back and try buying the Ps+ subscription to see if this issue is fixed.
Change the DNS Settings
PS4 error e-8210604a can be a server issue. So, if this is a server issue, you can get rid of it by altering the DNS settings.
You have to modify the DNS settings to manual and change the primary DNS to 8.4.4.8., and then modify the secondary DNS to 8.8.8.8.
Restart your PS4
If none of the above solutions helped, you can try restarting your PS4 as sometimes temporary files get generated during PS4. If these files are corrupt, an error like e-8210604a may occur.
You can easily remove these files. All you need to do is to restart your PlayStation4. Once you have restarted, you can check if the PS4 error code e-8210604a has been solved or persists.
Restart Your Router
Since there is a possibility that this issue is due to an unstable network connection, you can try restarting your router and ensure error code e-8210604a is fixed.
By restarting your router, it'll refresh your current IP and TCP information which your router is using without making any persevering changes.
Once your turn your router off, remember that disconnecting the power and waiting for a couple of minutes is significant because it lets the power capacitors enough time to clear any network-related data.
You can also reset your router, but remember that it'll reset back to its factory reset. This means it'll reset any blocked items, forwarded ports and other custom settings.
FAQs:
What is PS4 Error Code e-8210604a? Causes of it
PS4 Error Code e-8210604a is related to the payment error in the PS4 account. Due to the error, PS4 users are unable to purchase any service with their accounts. There is no any information about its causes.
How do I fix the PS4 error code E-8210604a?
You can try changing your email address by adding a new one. You can also try deleting your credit card information and adding it again or simply adding a PayPal account.
How do I error code on PS4?
These are the few troubleshooting steps to fix the error code on your PS4:
·       Completely turn off your PS4 Controller and Console.
·       Reboot your PS4 console and then your controller.
·       Try opening the game in which the error has occurred.
Why does my PS4 keep saying error has occured?
You can simply fix this issue by logging in to your account on a different PS4 console and log out again. After logging out of the console, you can try logging in to your PS4 again and check if this helped.
Also Rea
All Playstation Issues: