Nike Error Code 98D2586B [How to Fix]
Nike Error Code 98D2586B, Nike Error 98D2586B – Many Nike app users are encountering the Error code 98D2586B on their device.
However, Nike hasn't released any official statement or update regarding this bug. After doing some research, we manage to find out the some information regarding this problem and what can be the solution of it.
Nike Error Code 98D2586B [Explained]
The issue is happening from Nike's end, and the error message is shown as
ERROR

Sorry, we are unable to process your order. For more information please call 1-800-806-6453 for help.

[Code: 98D2586B]
According to many users, the error occurs if you order more than 1 item per day. However, many users have been facing this problem with their new account or while placing orders for the first time.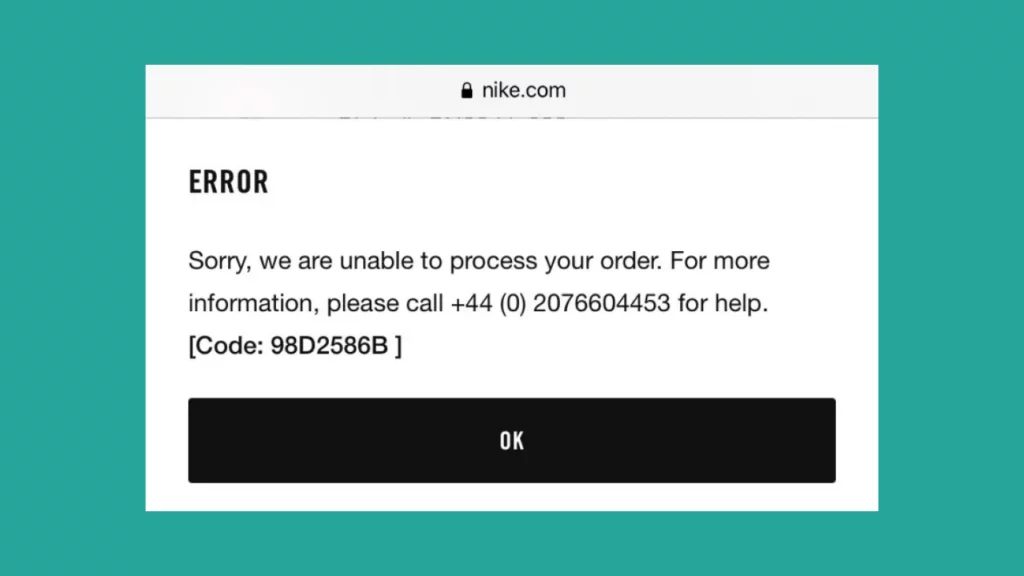 So, how can you get rid of this problem? Nike help center is replying after the 2-3 days. In this scenario, you should apply the below solutions to resolve this issue.
How to Fix Nike Error Code 98D2586B?
It is quite difficult to solve this issue since it is happening from Nike's end. Still, you can apply the following troubleshooting steps to resolve this problem.
Clear your Browser's Cache and Cookies
Contact Support
You can tweet or message at @nikestore or post your issue on Twitter.
You can contact to Nike's official support by visiting here: https://www.nike.com/help/
First, if you are using PayPal or any other payment method, try to resolve the issue by clearing the browser's cache and cookies.
If it doesn't work, move to the next method.
Use Different Account
If you are getting this error code while ordering more than one order, you can create more than one account to resolve this problem.
Additionally, make sure you are not getting this error code because of the following issues:
Check your Internet Connection
Make sure your internet connection is working perfectly, if there is any problem with your connection, first resolve it. After that, try to order on the Nike app.
Wait a While
There can be several causes behind this error code. Sometimes, this problem may occur from Nike's end. In this case, you should wait until the error gets automatically fixed or the next update from Nike.
You can check various Twitter, Forums, Social media to get more information or solution regarding your problem.
Use Different Browser
Sometimes, your browser may prevent your access to certain websites due to its corrupted cache or cookies. In this case, you can try clearing your browser's cache and cookies or simply use different browsers like Google Chrome, Safari Browser, Firefox, or Microsoft Edge.
Hopefully, you will find this information to solve your problem. If you are getting other issues in your Nike app, let us know in the comment section below, we will surely try to resolve your problem.
Conclusion:
Nike Error Code 98D2586B is related to the ordering on the Nike app. This article has explained all the details regarding this error code and some possible methods to resolve it.