HBO Max Error Code 100 & 420 [How to Fix]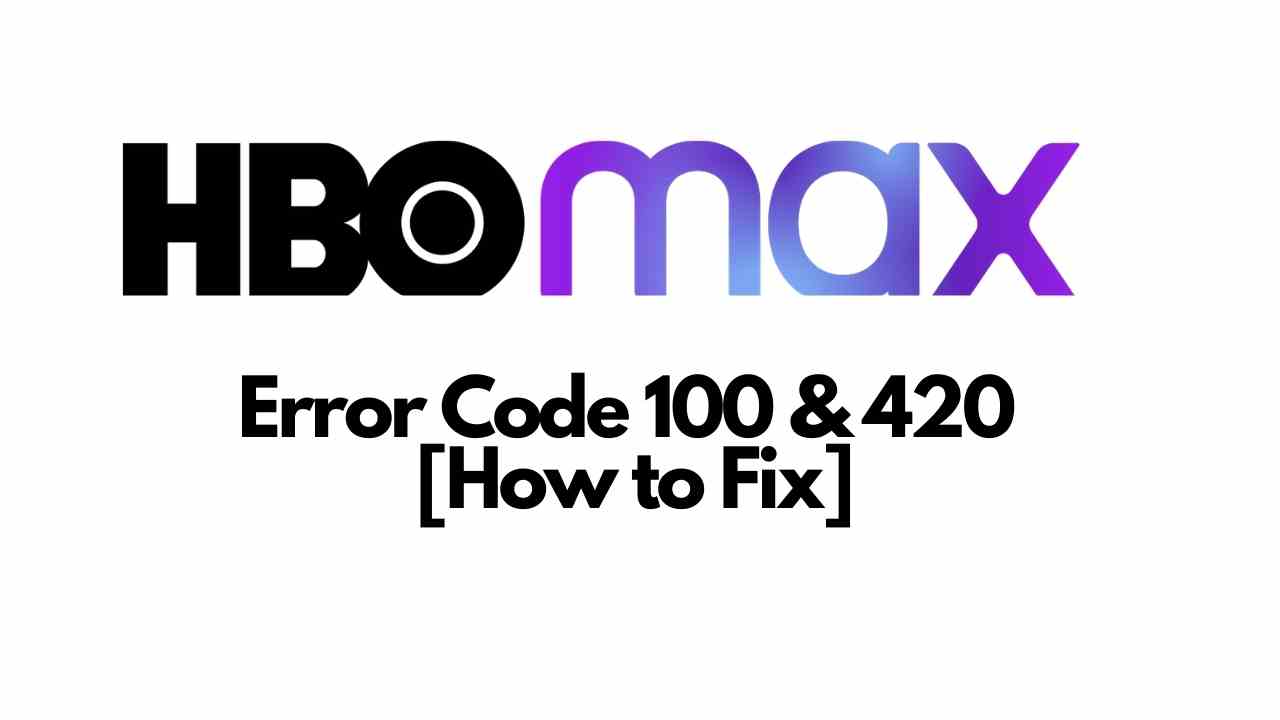 We may earn small commission from the products mentioned in this post.
Did you got troubled with an HBO Max error code 100 & 420? Wondering how to get rid of this error code? Don't worry, you've just come to the right place! Many HBO Max users are encountering HBO Max Error Code 100 & HBO Max Error Code 420.  Due to these error codes, HBO users are unable to access the any service.
People are getting the issue regarding Video streaming, logging issues and various other server connection issues. However, there is no any official statement or solution provided by the HBO Max officials.
After doing some research, we manage to find out some information and a few ways to fix HBO Max Error 100 & 420.
HBO Max Error Code 100 [Explained]
HBO Max Error Code 100 represents issue related to the service connectivity issue. There are multiple reasons behind this error like VPN, Out of Area, server being down, etc.
HBO Max Error Code 420 [Explained]
HBO Max Error Code issue is occurring due to the mainly two reasons. 1. VPN 2. Out of Area
So, let's understand how you can get rid of these error codes and how you can avoid it in the future.
How to Fix: HBO Max Error Code 100 & 420
You need to read the below instructions carefully to resolve the issue.
Check Server
Firstly, check if the HBO Max's server is down. For this, you can visit https://www.downdetector.com to see if server is down in your area.
Wait for Some time
Sometimes, these errors may happen due to the temporary service outage, high traffic or server down issues. Hence, everyone is encountering these error codes.
Therefore, we have to be patient and wait until the issue get automatically fixed.
Update HBO Max
First thing you have to do when you get HBO Max error code 100 & 420 is to update the HBO Max application. So, make sure you are using the latest version of the HBO Max. An outdated app may also responsible for the HBO Max Error Code 100 and 420.
Uninstall and Reinstall HBO Max
If the above solutions didn't work, you can try uninstalling the HBO Max app on your device and reinstall it again after some time, and check if this helps.
Check Internet Connectivity
Once of the most common reason behind this error is poor internet connection. So, make sure that you are connected to a proper internet connection. Also, if you are using Wi-Fi, try connecting your device to mobile data or vice versa.
Disable VPN/ Web Proxy
If you are using any VPN or Web proxy, it's probably the reason behind the error code 100 & 420. Hence, you need to disable VPN and Web proxies to avoid these type of issues. Once you turned the VPN off, you might have to wait for around 10 minutes for the HBO Max app to detect your location.
You should use your real IP to get rid of these errors.
Check your Location
You can access the HBO Max only in the U.S. and some U.S. Territories. Hence, make sure you are accessing the HBO Max from the United States.
If you want to use it on the out of the United States, find some other ways to do it.
Clear Cache
Process to clear HBO Max cache depend on the device you are streaming. If you are streaming HBO Max on a browser, you can try clearing the browser's cache from settings.
If you are using HBO Max on a smart phone: navigate to Settings -> Apps -> HBO Max -> Clear cache or data.
Restart HBO Max app
Restart your device and HBO Max app to avoid these types of problems.
After applying all the above ways, if the issue is still not resolved, then you need to contact with the official support of the HBO Max.
Contact Support
You can contact to the HBO Max support by visiting here:
https://www.hbo.com/about/contact-us
Hopefully, this article will help you to get the solution of your issue. You can also share your results in the comment section below.
Conclusion:
HBO Max Error Code 420 and 100 are happening due to the many reasons, in this article we briefly explained all the information on how to fix the HBO Max error 100 & 420.