7 Anime like Trinity Seven & Where to Watch [2023]
We may earn small commission from the products mentioned in this post.
Anime like Trinity Seven: Action along with a bit of romance and comedy, and maybe if you are lucky, then you can even get adventure as an add-on to make the series interesting from all over!
But, the question is, do you have any such anime that can give you a part of every genre mentioned above? If not then we highly suggest you have a look at some good anime like Trinity Seven.
About Trinity Seven
Trinity Seven anime starts when one day, the bright sun stops shining and due to the breakdown phenomenon, destruction spreads across Arata Kasuga's town and the people disappear.
However, by using a magical grimoire given to him by his good friend and cousin named Hijiri Kasuga, Arata is able to construct the world artificially. To study the phenomenon, a girl named appears before Arada and gives him two choices – he can either give her the book or die.
The twist in the story arrives when Arata chooses the third option which includes him becoming a student at the top-secret magic school named Royal Biblia Academy, where six different magical users are already present.
Together with the other six, therybare trinity seven, elites of the school set on a goal to save Arata's cousin while preventing the destruction to reach his beloved hometown.
Trinity Seven has a good story and is a part of romance, comedy, adventure, and action all together. In case you have watched it, liked its concepts and story, and are searching for more animes like Trinity Seven, then hold tight because, in the article below, we mentioned a list of 7 best anime like Trinity Seven and platforms that you can watch it.
Devil is a Part-Timer
Episodes: 13
Premiered: 4 April 2013
Genre: Comedy and Fantasy
IMDB: 7.6/10
Where to watch: Hulu, Vudu, Netflix, Tubi TV, Funimation, Crunchyroll, and Disney+
The Devil is a Part-Timer! Starts with the Demon Lord Satan fighting to conquer the land of Ente Isla with his demon armies, but his efforts are thrown in a gutter when the hero Emilia forced him to make a fast retreat through a dimensional gate that landed him in the human world.
The man, along with his loyal general named Alsiel, has a goal to return to conquer the continent but before that, now he is subjected to earn a living for himself and his general and is determined to climb the corporate ladder in the human world.
He changes his identity to Sadao Maou, and begins working at a local fast food restaurant. Further in the story, you will meet the demon king while he is doing the household chores, working part-time, and simply trying to pay the rent on time, along with more hilarious scenes regarding his hardworking life in the human realm.
Rosario + Vampire
Episodes: 13
Premiered: 3 January 2008
Genre: Comedy and Supernatural
IMDB: 6.9/10
Where to watch: Hulu, Netflix, Funimation, and Crunchyroll
Rosario + Vampire includes the Youkai Academy – an ordinary boarding school except that the students are monsters training to exist within the human realm.
All students attend the Academy in the human form and study normal subjects like foreign language, mathematics, literature and gym. But, there is one strict rule and academy that says that any human found in the school should be executed right away.
Tsukune Aono is a normal teenager who is finding it hard to get into any high school because of his bad results.
His parents unknowingly enroll him in the Youkai Academy as a last effort to secure his academics. Not knowing what the world has for him, he enters the school and bumps into the most attractive lady – Moka Akashiya.
The boy decides to stay in the strange school just to secure his relationship with the girl, without knowing that beneath her beauty lies a cunning vampire.
Is This a Zombie?
Episodes: 12 + OVA
Premiered: 11 January 2011
Genre: Action, Comedy, Fantasy, and Romance
IMDB: 6.9/10
Where to watch: Crunchyroll and Funimation
Is This a Zombie? Talks about Ayumu Aikawa, a normal high school student who is tragically murdered at the time investigating a suspicious house. But, he soon awakes next to an unknown armored girl named Eucliwood Hellscythe.
She introduces herself as a necromancer who has revived him and consequently turns him into a zombie.
Now that Ayumu is immortal, he sets on a journey to hunt down his killer. One day, while still searching in a cemetery, he bumped into a wild girl named Harouna who is fighting against a beer with the help of a chainsaw while outfitted like a magical girl.
After killing the beer, she tries to erase Ayumu's memories that include her but, instead, Ayumu absorbs her magic.
Now that her powers are gone, she orders Ayumu to take the responsibility of killing strange creatures called Megalo – monsters who wander across the human world and disturb the people.
The anime further follows the daily routine of human-turned-zombie Ayumu as he begins his new life where supernatural things are normal.
The Ambition of Oda Nobuna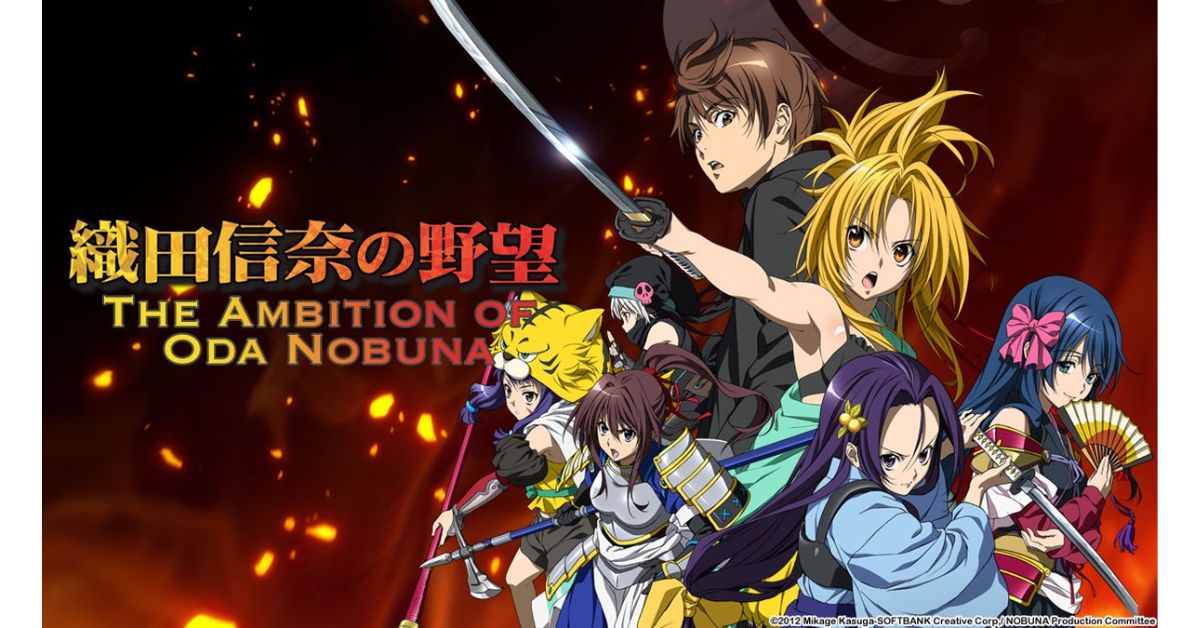 Episodes: 12
Premiered: 9 July 2012
Genre: Comedy, Romance, and Action
IMDB: 6.5/10
Where to watch: Crunchyroll
The Ambition of Oda Nobuna begins with an ordinary high schooler Yoshiharu Sagara waking up in the middle of a powerful Sengoku period war.
The boy is saved by the legendary Hideyoshi Toyotomi but he sacrifices himself instead and pleads to Yoshiharu to become the Feudal Lord in his replacement.
The course of history is changed and Yoshiharu is determined to keep the timeline from getting disturbed any further. But, after rescuing Nobuna Oda, he discovers that she is a female version of Nobunaga Oda and that all the Japanese historical warlords are cute girls in this different world.
The Ambition of Oda Nobuna is a good anime like Trinity Seven in case of action, good plot, and has interesting characters.
Yusibu: I couldn't become a hero, so I reluctantly decided to get a job
Episodes: 12
Premiered: 5 October 2013
Genre: Fantasy, Romance, and Comedy
IMDB: 6.3/10
Where to watch: Crunchyroll
Yusibu: I couldn't become a hero, so I reluctantly decided to get a job, starts with Raul Chaser, who has a dream of becoming a hero and defeating the demon king. In hopes, he enters the hero training program.
But, after the demon king is defeated and peace is brought into the world, the training program is suspended making it impossible to become a hero.
2 years after the incident, Raul is reluctantly working at a small electronics shop called Magic Shop Leon. His life working in a small shop is boring but everything changes after the new hire arrive.
The hire first pretends that it is a boy but soon reveals that it's a girl: a female demon named Fino Bloodstone.
To make things worse, she's not only a demon but is the daughter of the late demon king. Now Raul has the responsibility to train the new employee, and further he finds out that life with Fino is not that bad and he is, in fact, getting livelier than before.
So, I Can't Play H!
Episodes: 12
Premiered: 6 July 2012
Genre: Comedy and Action
IMDB: 6.2/10
Where to watch: Crunchyroll
So, I Can't Play H! has the rare perverted teenager named Ryousuke Kaga who spends his days drooling over women and indulging in lewd activities. Due to this personality, he doesn't have many friends except for his one childhood friend named Mina Okura, who knows that behind his perverted persona is a compassionate boy who respects women.
One day, Ryousuke runs into a soul reaper from a noble family named Lisara Restall. Her primary objective in the human world is to find a magically potential person to fuel her movements with magic.
She finds the same potential in Ryousuke and decides to form provisional contact with him – with the term that his sexual desires will act as a basis of energy.
In an attempt to help Lisara carry on the arrangement, Ryousuke runs into many different individuals and complications while learning interesting and dark secrets surrounding the world.
Majikoi
Episodes: 12
Premiered: 2 October 2011
Genre: Comedy and Action
IMDB: 5.7/10
Where to watch: Crunchyroll
Majikoi: Oh! Samurai Girls Stadstad samurai is a very important part of Japan's history and to be associated with it is probably one of the most motivating things that a young high schooler can wish for.
The anime takes place in Kawakami City which is popular for containing several samurai ancestors and is usually surrounded by the atmosphere of fighting spirit, dedication to work, and loyalty.
In Kawakami Academy, students use their knowledge of samurai daily, then it doesn't matter if they're studying for exams or competing in sports tournaments.
Yamato Naoe is one among these students and along with his six close friends, they make the perfect team for rivalry, motivation, and friendship. But, let's not forget that even samurai have weak points.
The stability of their friendship has been uninterrupted for a long time but when new girls enter the team, things start to get more interesting.
Now, while maintaining the samurai tradition, they are also supposed to deal with lots of distractions along the way.
READ MORE ABOUT ANIME-
11 Anime like Rosario + Vampire to Binge Right Now! [2023]