11 Anime like Noblesse That Will Keep You Coming Back for More!
We may earn small commission from the products mentioned in this post.
Anime like Noblesse: Noblesse is a popular anime about Raizel, who has awakened after 820 years of sleep. He is given the special title of Noblesse, which means a pure-blood noble and a protector of all the other nobles.
Moreover, it is adapted from South Korean Manhwa and was released as an anime on 4 February 2016 with 13 episodes. In addition to that, it has received an average 6.9/10 rating with over 120,000 votes on MAL – a fairly popular response.
However, if you have already watched the anime, did you like its overall concept? If yes, then there are many more titles you must try, and if you are interested in knowing more about them, then continue reading because the article below contains a list of the top 10 anime like Noblesse.
List of Anime like Noblesse:
1. The Irregular at Magic High School 
The Irregular at Magic High School (Mahouka Koukou no Rettousei) is a story about Tatsuya Shiba, a bodyguard working for his sister Muki Shiva. She is a candidate to succeed in the leadership title of the Yotsuba clan – one of the 10 master clans governing Japan's magicians.
Since both of them have magic abilities, they enroll in the first high school that helps its students improve in magic skills based on their magic abilities.
2. One Punch Man 
Where to watch: Netflix, Crunchyroll, Amazon Prime Video, Apple TV, Google Play Store, and Hulu
One Punch Man is one of our favorites on the list, filled with Comedy and immense Action, although a punch is all our hero needs to send the villain flying away.
The story is about Saitama, the strongest, yet underrated superhero, who can defeat any enemy with just a single punch.
For the same reason, he grows bored from lack of challenge, because every enemy in both the seasons is defeated with a single punch except a couple of them, who needed more than that.
3. Mob Psycho 100 
Mob Psycho 100 is another one from our favorites list, an interesting Supernatural tale filled with great Action scenes and the type of Comedy that has to make anyone laugh at any cost.
The story includes Shigeo Kageyama, your ordinary, middle school boy, nicknamed Mob. Although he doesn't look like an important person at all, he is, in fact, the most powerful esper with ample psychic abilities.
To make sure he doesn't lose control over his powers, he constantly chooses to live life under an emotional shackle and is indeed a truly humble and innocent child.
4. Misfit of Demon King Academy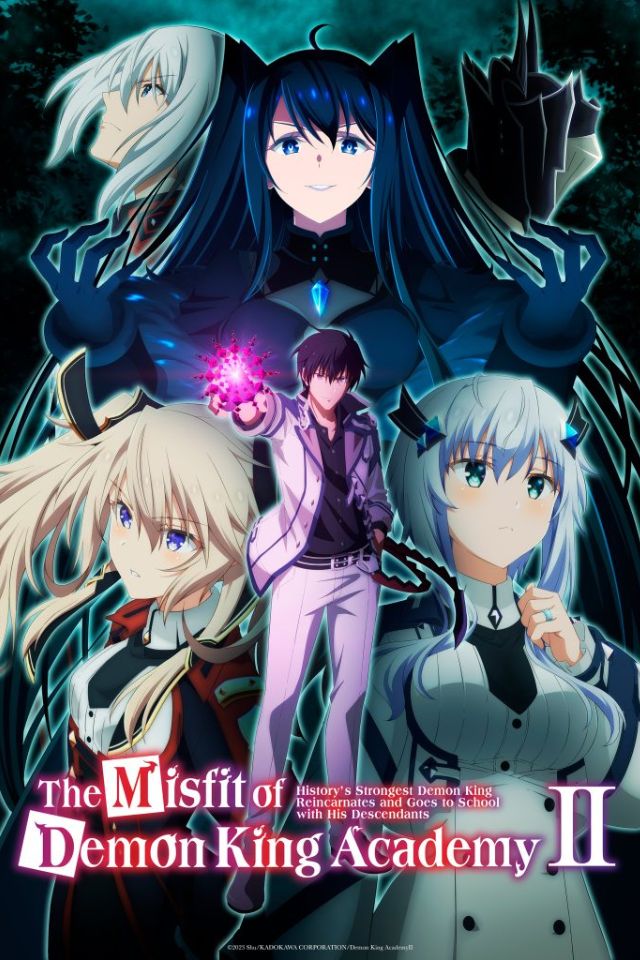 Misfit of Demon King Academy (Maou Gakuin no Futekikakusha) talks about the unbeatable Demon King Anos Voldigoad, who has been living a life filled with death, warfare, and destruction.
However, he decides to leave everything behind and reincarnate into a future era, hoping to find a peaceful life filled with tranquility.
As he planned, he is indeed reborn into a peaceful age, where magic is common, and every person with magic ability has to attend an Academy. This is to develop and improve their abilities, and so, Anos' life at the Demon King Academy begins.
5. Wise Man's Grandchild 
Wise Man's Grandchild (Kenja no Mago) starts like a usual isekai anime, where an ordinary salaryman dies in an accident, and is reborn in another world filled with demons and magic.
Starting from a baby stage, he was adopted by the patriot hero Sage Merlin Wolfhord, and was named Shin. He was raised as Merlin's grandson and learned his teaching, acquiring some irresistible abilities and powers.
6. Death March to the Parallel World of Rhapsody
Death March to the Parallel World is another popular Isekai anime listed in the article, a story starting with a computer programmer, named Ichirou Suzuki, being transported into a Fantasy world.
In the Fantasy world, life is full of different adventures, which is fun because mainly the hero is surrounded by plenty of girls. However, is it going to be the same till the end?
7. Hellsing Ultimate 
Hellsing Ultimate is a TV mini-series based on the original Hellsing anime. It includes some really intense action scenes, and since it is from the horror category, you can expect gore and similar scenes.
The story includes the vampire Alucard, his master Sir Integra Fairbrook, Wingates Hellsing, and the new sire ward called Seras Victoria. All these people try to protect England from an SS-Major, seeking to start an eternal war alongside his vampire army.
8. Akame Ga Kill
Akame Ga Kill follows Tatsumi, a young fighter, who embarks on a journey along with his two best friends, to make money and send it back to his small town.
The story follows the main character as he travels to the capital city and joins the military, hoping to live a better life, only to find out that the capital is corrupted from all over.
9. The Seven Deadly Sins 
The Seven Deadly Sins (Nanatsu no Taizai) includes a group of warriors who were once an active group of knights in Britannia but disbanded for plotting something they didn't do.
Rumors spread that the group was defeated by holy knights, but people believed that they were still alive.
10 years later, when holy knights captured the king and took the kingdom in their evil hands, the third princess Elizabeth embarked on a journey to find the seven deadly sins to ask them to help her get the kingdom back.
10. Bungou Stray Dogs 
Bungou Stray Dogs includes one of our favorite characters, Dazai Osamu, alongside the main protagonist, Atsushi Nakajima, and it is probably the most popular anime listed in this article.
The fantastical story concentrates on a weretiger, the lead character, who joins others with Supernatural abilities to complete different missions, including solving mysteries, running a business, and carrying out tasks assigned by their agency.
Frequently Asked Questions
Are there more dark Fantasy anime like Noblesse?
Yes, One Punch Man, Mob Psycho 100, The Irregular at Magic High School, Misfit of Demon King Academy, Wise Man's Grandchild, Death March to the Parallel World, Hellsing Ultimate, The Seven Deadly Sins, and Bungou Stray Dogs are some more dark Fantasy anime like Noblesse. 
Are there any good TV shows like Noblesse?
Yes, there are plenty of good TV shows like Noblesse, but the best ones among them are Bungou Stray Dogs, One Punch Man, Mob Psycho 100, The Irregular at Magic High School, Hellsing Ultimate, The Seven Deadly Sins, Wise Man's Grandchild, Death March to the Parallel World, and Misfit of Demon King Academy.