7 Best Anime like Hundred You Can Binge Today! [2023]
We may earn small commission from the products mentioned in this post.
Anime like Hundred: Are you in search of some anime that can give you equal amounts of romance, comedy, and action with mystery? If so, then in search of such series, we are assuming you might have come across anime like Hundred – an anime filled with all the aforementioned genres.
About Hundred
Hundred starts when a destructive organism, now called 'Savage' strikes humanity, and the only object capable of fighting against the enemy is a newly invented weapon called Hundred.
Hayato Kisaragi is a saviour of the monster's attack, a teenager whose boasting level has the highest compatibility score. For the same reason, he is invited to polish his combat skills at a prestigious military school called Little Garden.
While he is going through intense training for the battle, due to his high compatibility level, he is quick to attract interest from various female peers and is eventually drawn into a great set of mishaps while fighting against the cruel creatures.
Furthermore, you will see him fighting alongside a good number of females – all basically in love with him.
Hundred is a good anime with enough space for all the aforementioned genres. Moreover, its action and romance are what catches the viewer's attention.
But, if you have already given it a try, liked its concept, and were searching for more shows like Hundred, then we are delighted to inform you that the article mentioned below contains a list of the 7 best anime like Hundred you can binge!
Campione!
Episodes: 13
Premiered: 6 July 2012
Genre: Action, Romance, Comedy, and Fantasy
IMDB: 6.8/10
Where to watch: Crunchyroll and Amazon Prime Video
Campione! Matsurowanu Kamigami to Kamigoroshi no Maou speaks in the favour of various gods of the world, which are simply not just legends or myth.
They truly do exist, although unknown to humans, fighting their own battles. Other people experience these heretic gods and their fights as nothing but natural disasters they simply can't escape.
Godou Kusanagi is a 16-year-old high schooler traveling to Italy as requested by his grandfather. Everything is going normal for the boy until he somehow gets driven into a battle between two heretic gods, along with a witch trying to protect other people called Erica Blandelli.
To his dismay, he ends up managing to defeat a god of war in mortal combat and defense, which gains him the title of Campione, or more like god slayer whose new duty is to fight against other heretic gods to save humanity.
Godou's new title and status are quick to attract other gods who wish to challenge him. In the process, he gets tangled up within a band of devoted followers, majority of them being women who are willing to help him in his battles.
Infinite Stratos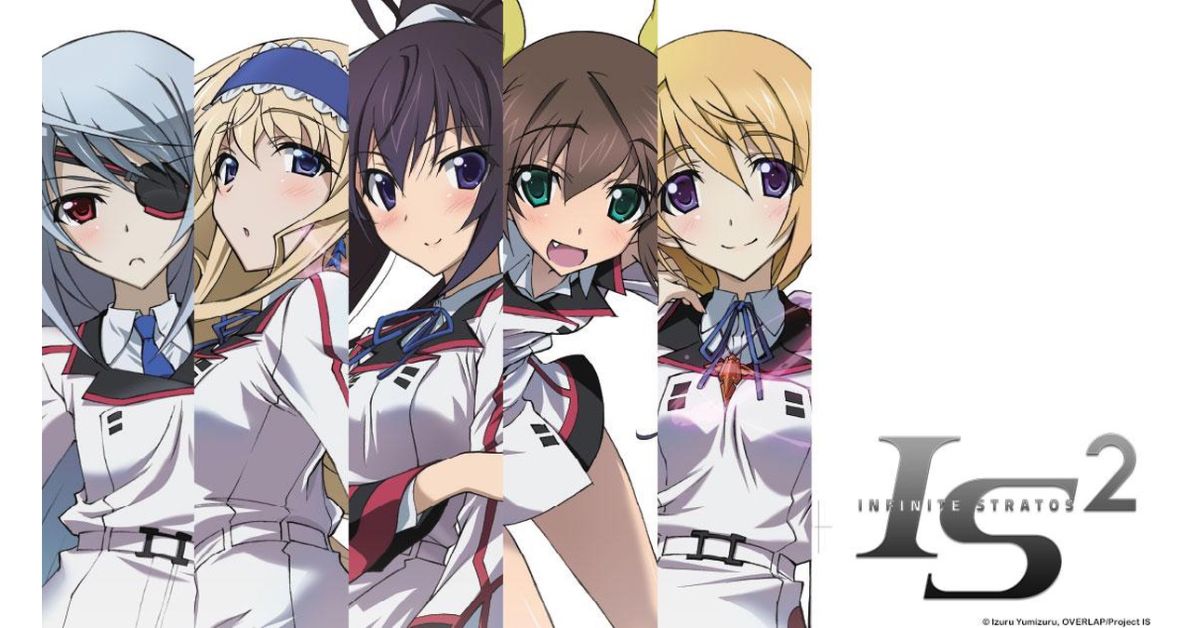 Episodes: 26 + 3 OVAs
Premiered: 6 January 2011
Genre: Comedy, Science fiction, and Adventure
IMDB: 6.6/10
Where to watch: Crunchyroll and Amazon Prime Video
Infinite Stratos talks about an exoskeleton weapon manufactured by Japan named Infinite Stratos, IS which can only be handled and managed by women. Its powers are so extreme that an international treaty has been made prohibiting its use for other than military purposes.
However, it is soon discovered that Ichika Orimura, a normal 15-year-old boy, is the only male with the ability to use IS. Thereon, he is forced to enter the Infinite Stratos Academy – an all-female boarding school where the students are trained, made to strengthen their skills, and graduate to become IS pilots.
After entering the Academy, Ichika meets his two childhood friends named Houki Shinonono and Lingyin Huang, and makes friends with Cecilia Alcott, an IS representative from the UK.
Their class is taught and guided by a legendary pilot – Chifuyu Orimura, who is also Ichika's older sister. Further in the story, it shows how Ichika and the girls will have to polish their defense, learn how to use their IS systems flawlessly, and rise to the top against evil in the Academy.
Sky Wizards Academy
Episodes: 12
Premiered: 9 July 2015
Genre: Science Fantasy and Magic
IMDB: 6.5/10
Where to watch: Funimation
Sky Wizards Academy narrates the story where humanity is close to extinction when years ago the huge magical armored insects made their way to the earth and now had become much stronger and more aggressive to handle. Because of these insects, humanity doesn't live on earth anymore and has found residence in floating cities instead.
However, all this doesn't mean that everything is ruined entirely because we have some wizards from prestigious floating wizard schools, who are training and fighting against these monsters to get humanity back to the earth.
The story is now focusing on Kanata Age, a young man who was once praised as Black Master Swordsman but is now seen as a Traitor. But, he is given another chance to get back his good reputation by guiding a team named E601.
The team seems to be facing some complications and consists of three girls named Misora Whitale, Lecty Eisenach, with Rico Flamel – each having personal problems.
Sky Wizards Academy has a beautiful plot and is one of the most interesting anime like Hundred because it also contains similar romantic, action, and comedy scenes to entertain you till the end.
When Supernatural Battles Became Commonplace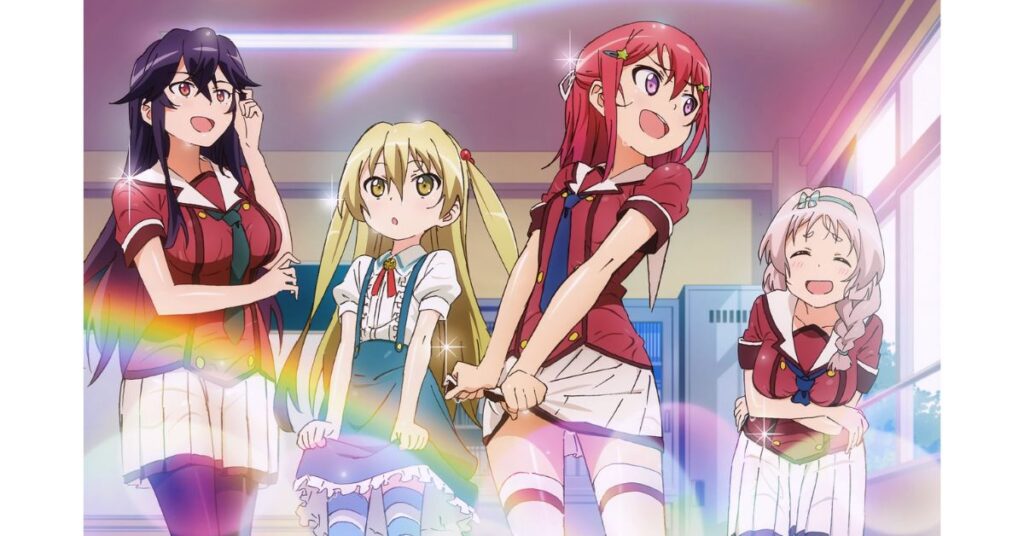 Episodes: 12
Premiered: 7 October 2014
Genre: Comedy and Supernatural
IMDB: 6.4/10
Where to watch: Crunchyroll
When Supernatural Battles Became Commonplace starts when during a normal literature club meeting, the four club member group with their faculty advisor's niece suddenly discovers that they have magical powers.
These students can now forge black flames and the one who is the happiest about this discovery is Jurai Andou, whose abilities, unfortunately, are just for show and unable to complete any task.
All the other members have amazing powers but further in the story, they will understand the mystery behind their powers while still living a regular school life.
When Supernatural Battles Became Commonplace may not have an immense action against supernatural threats like Hundred, but it's still one of the must-watch anime like Hundred because of enough scenes of drama, romance, and other supernatural issues.
Anti-Magic Academy: The 35th Test Platoon
Episodes: 12
Premiered: 7 October 2015
Genre: Supernatural, Action, Fantasy, and Romance
IMDB: 6.4/10
Where to watch: Crunchyroll
Antimagic Academy 35th Test Platoon narrates the story of a world affected by magical threats and dangers, to which we have special warriors called Inquisitors, who have the responsibility to protect the world from these threats by using nonviolent actions and movements.
Anti-Magic Academy is a specialised academy where these special warriors are sent to educate and train. The Academy splits the students into small groups to train them to work together.
Among the several talented groups is the 35th test Platoon, also called a small fry platoon, named this way because of its low-ranking and unfit members.
The group lives with the same title for days until the entry of Ouka Ootori, a strong but rebellious former inquisitor who is forced to join the group because of her habit of breaking rules. She also committed a serious violation by killing a witch.
Upon her entry, she directly clashes with the group's clumsy captain named Takeru Kusanagi, and argues with others, talking and babbling about her views on the witches.
Further, you will see how the strange group will succeed in completing quests, and climbing the ladder of rank at Academy while they push aside the differences and consider similarities between them, through which they can work together as a good team.
Demon King Daimao
Episodes: 12
Premiered: 2 April 2010
Genre: Action, Comedy, Romance, and Fantasy,
IMDB: 6.6/10
Where to watch: Crunchyroll and Amazon Prime Video
Demon King Daimao has Akuto Sai, who has a dream to change the world and so, he joins the Constant Magic Academy. Along the way, he meets Junko Hattori, a ninja clan member, and befriends her.
On the way to the school, both promise to make the world a better place together, but, the situation takes a sudden twist and for the worse, it is announced that Akuto will become the new demon king.
As word about the announcement spreads across the school, even before the boy can enter the lands of his new Academy, the students and people start to fear him while Junko's trust in him weakens. But, Akuto is still determined to change the future and control his fate.
Demon King Daimao can be one of the best anime like Hundred because they have quite a good amount of similarities including the concept of plot and the balance of romantic and action genres.
Absolute Duo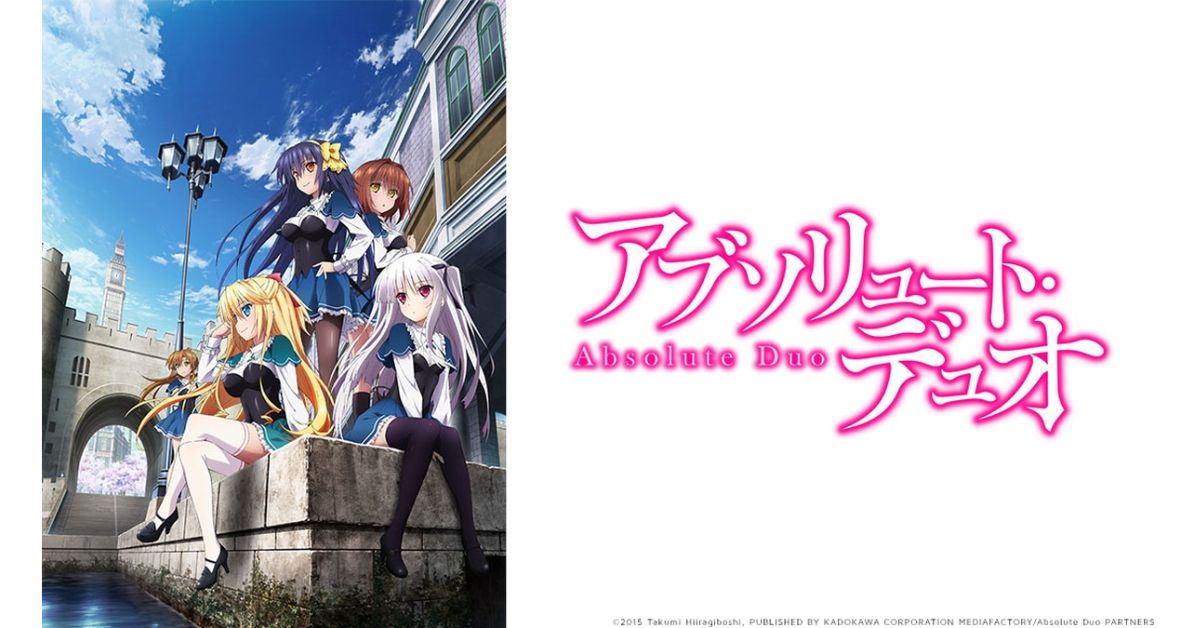 Episodes: 12
Premiered: 1 January 2015
Genre: Fantasy and Action
IMDB: 6.3/10
Where to watch: Funimation, Crunchyroll, and Amazon Prime Video
Absolute Duo shows us some individuals get to materialize weapons directly from their souls and are called blazers. These kids are attending Kouryou Academy High School to harness their powers with each student with the requirement to have a partner, in hope that one day the partner will be the key to unlock their absolute powers.
The focus is now on Tooru Kokonoe, who has enrolled in the academy to gain power and take revenge on the mysterious man who violently killed his friends and sister.
But as soon as he steps on the Academy grounds, in the opening ceremony, he is somewhat forced to fight against the person sitting next to him and the loser will be expelled without any second thought.
While Tooru is set to give his best in the duel, instead of a weapon manifesting from his soul, a shield appears – an unusual thing that is quick to catch the attention of a foreign student called Julie Sigtuna.
READ MORE ABOUT ANIME-
7 Best Anime like Chivalry of a Failed Knight to Watch Right Now! [2023]
11 Anime like Rosario + Vampire to Binge Right Now! [2023]