7 Best Anime like Chivalry of a Failed Knight to Watch Right Now! [2023]
We may earn small commission from the products mentioned in this post.
Anime like Chivalry of a Failed Knight: Watching supernatural action anime sounds like a good plan, but you also want to watch some extremely romantic and comedy scenes at the same time!
Now then, do you have any anime that can give you the perfect fantastical action with a romantic comedy? If not, then we have quite a good bunch of anime like Chivalry of a Failed Knight that will do the work! 
About Chivalry of a Failed Knight
Chivalry of a Failed Knight, also referred to as Rakudai Kishi no Cavalry, talks about how the world has only a few humans left alive who contain the power to exploit their own souls to create strong weapons.
These people train and study how to control the powers at a prestigious school named Hagun Academy. Among all the talented students of this academy, there is one and only F-rated student, and a total failure called Ikki Kurogane. 
To worsen the situation, the same student encounters Stella Vermillion, one of the most talented and A-rank students in the Academy with no clothes on.
She's a princess and enraged by the mistake, she challenges a duel and the loser has to act like the winner's slave. Chivalry of a Failed Knight contains enough action, romance, fantasy, and comedy to satisfy all your moods and preferences in a good anime.
However, if you have already tried the aforementioned anime and are currently searching for more shows like Chivalry of a Failed Knight, then worry not! Because in this article, we are going to present the complete list of the 7 best anime like Chivalry of a Failed Knight that you must watch right now!  
Golden Boy
Episodes: 6
Premiered: 27 October 1995
Genre: Comedy
IMDB: 8/10
Where to watch: Crunchyroll and Amazon
Golden Boy is known as an expert in exploring part-time jobs while riding across the highways and byways in Japan, on his trustworthy vehicle named Mikazuki 5.
These adventures bring the boy knowledge and experience that simply can't be taught and found in a classroom. From political tactics and corruption to the fragility in a young woman's heart – he is to experience different joys and sorrows of life on his bike.
Kintarou has nothing but a widely presented road before him alongside the many beautiful ladies coming along the way. That is how the boy is persuaded to follow his education while attempting to follow several jobs, even and odd even if they are undignified at some point.
Golden Boy may not have the fantasy, action and thrill you may be wanting in anime like Chivalry of a Failed Knight, but it has enough scenes of romantic comedy with romance going to other level at some point – automatically giving itself the title of one of the must-watch on anime like Chivalry of a Failed Knight.
Heaven's Lost Property 
Episodes: 13
Premiered: 4 October 2009
Genre: Romance, Drama, Action, and Comedy
IMDB: 7.2/10
Where to watch: Funimation, Crunchyroll, Vudu TV, on Amazon Prime Video
Heaven's Lost Property starts with how Tomoki Sakurai has been waking up with tears in his eyes after dreaming about an angel since he was a child. His childhood friend named Sohara Mitsuki is worried about his condition and so she decides to ask for help from a strange sky maniac named Eishirou Sugata.
He concludes that the dream is connected to a new world, a floating anomaly founded by scientists but failed to understand the concept. After that, one day while trying to recruit the first members of the New World Discovery Club, Eishirou set a time to meet up with others to observe the mystery in the sky.
The same day, Tomoki's peaceful regular life is changed drastically when a strange girl falls from the sky and starts to see Tomoki as her master. 
Heaven's Lost Property has the perfect concept that includes romantic comedy with action and drama alongside. It is one of the best anime like Chivalry of a Failed Knight because it also has a somewhat similar plot to Chivalry of a Failed Knight.
The Familiar of Zero 
Episodes: 13
Premiered: 2 July 2006
Genre: Comedy, Action, Fantasy, and Adventure
IMDB: 7/10
Where to watch: Crunchyroll on Amazon Prime Video
The Familiar of Zero involves the tale of Louise Françoise Le Blanc de La Vallière, a self-absorbed mage in a world filled with royalty, cloaks, and wands.
She is one of the students at a prestigious high school, specializing in magic. However, Louise comes with a problem – that she can't use magic properly which has earned her the nickname 'Louise the Zero' by her classmates.
One day, all the first-year students are commanded to perform a summoning ritual which causes Louise to summon a catastrophic explosion. Seeing the explosion, everyone states that this is yet another failure but when the smoke disappears, a boy named Saito Hiraga makes an appearance.
Since he was summoned from another world, Saito is seen as a slave which automatically means he has to eat food off the ground and clean his master's clothes. However, when a sign is noticed on his hand, it is believed that the mark belongs to a powerful familiar called Gandalfr.
Further on, the story follows the monster as she proves to everyone that she can do much more than the suggested nickname and her slave as he adjusts to his new life.
With the anime including enough space for magic and supernatural scenes, it is one of the best anime similar to Chivalry of a Failed Knight. 
Trinity Seven
Episodes: 12 + OVA
Premiered: 7 October 2014
Genre: Romantic Comedy, Fantasy, and Action
IMDB: 6.8/10
Where to watch: Crunchyroll and Funimation
Trinity Seven starts when the bright red sun stops shining suddenly, resulting in a Breakdown Phenomenon – which disturbs Arata Kasuga's town till the core.
Not only the surrounding environment is ruined but the people who inhabited the phenomenon also disappeared. But, with the help of a magical grimoire passed on to him by his childhood friend and cousin called Hijiri Kasuga, he can rebuild the world artificially.
To study the phenomenon, Lilith Asami makes an appearance with her artificial world suddenly being disintegrated. The boy is then asked to choose between only two choices, he can either give the book or choose to die.
However, the smart boy chooses the third option which includes him enrolling in a top-secret magical school named Royal Biblia Academy, with the school having six other magical users. 
Arata further set a goal to save his beloved cousin with the help of his new friends, while stopping the destruction caused to his beloved hometown by evildoers.
Freezing
Episodes: 12
Premiered: 8 January 2011
Genre: Action
IMDB: 6.8/10
Where to watch: Crunchyroll call my Funimation, Vudu TV, and Amazon Prime
Freezing States that further in the future, humankind is under the rules of a special race of aliens known as Novas. These inhuman creators seem to be spreading devastation whenever they visit the Earth.
To fight against these aliens, young women called Pandoras and young men called Limiters, are chosen to be implemented with stigmata that will give them superhuman abilities.
The students train in military schools and are required to learn about their powers and work together to help humanity survive.
The story further follows Kazuya Aoi as he steps on the grounds of his new school, West Genetics military academy. At the same time, a battle royale is being undertaken involving Pandoras.
By mistakenly thinking of Satellizer el Bridget, a strong Pandora as her little sister who's no more, he hugs her suddenly, which costs the girl to lose her match.
On the contrary, she thinks that his touch isn't that bad and decides to take the young man as her Limiter. Further in the story, you will see both of them being partners to survive the tricks and tactics of their upperclassmen while working together in the battles against Novas. 
Hundred
Episodes: 12
Premiered: 5 April 2016
Genre: Action and Romance
IMDB: 6.3/10
Where to watch: Funimation, Crunchyroll, and Amazon Prime Video
Hundred is a school and mecha-themed anime starting when an extraterrestrial element called 'Savage' strikes humanity. The only technology invented to fight against the enemy is a new weapon called Hundred.
The story has Hayato Kisaragi as the main protagonist who has recently survived the enemy's attack which has resulted in a drastic increase in his boast, which gave him the highest compatibility level with the weapon.
Therefore, he is now invited to polish his skills at a prestigious military school located on a battleship called Little Garden.
As days pass and he trains to fight against the creatures, his training gets intense step-by-step as multiple female characters are drawn towards him to befriend the boy.
7 Best Anime like Hundred You Can Binge Today! [2023]
Unlimited Fafnir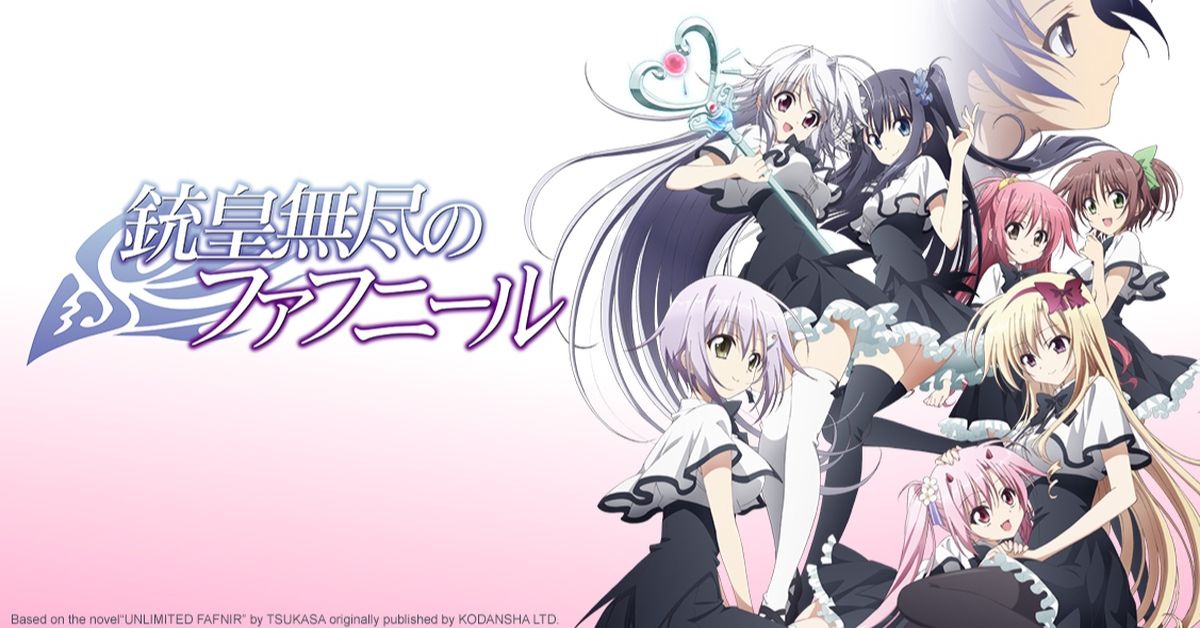 Episodes: 12
Premiered: 9 January 2015
Genre: Fantasy and Romance
IMDB: 5.6/10
Where to watch: Crunchyroll
Unlimited Fafnir includes Midgar Academy, an all-girls school, which would have made a noticeable exception when it accepted its only male student named Yuu Mononobe.
But, there is more to the Academy – it is a school exclusively made for a group of girls known as D's. All these girls possess extremely powerful abilities in manipulating dark matter into powerful weapons.
The academy and goals were not invented for years, at least in the last 25 years, and only came into action after some mysterious and destructive monsters called Dragons started infecting the world. But the strange thing is, they came and suddenly disappeared on a whim.
After that, some girls who were born after the incident had some kind of symbols crafted on their bodies – hinting that they are more than just normal human beings.
Today, these girls are attending the prestigious school in hopes to utilize their powers and fight against these monsters to save the world. 
Talking about the boy, Yuu is the latest admission and an extraordinary student to be only called male D. Alongside, he is to create relationships with all the girls, which also includes his long-separated sister, and work with them to find and eradicate the dangerous threat of dragons.